Natural Prevention for Diabetic Retinopathy
Can turmeric and its natural vitamins and nutrients help prevent or treat diabetic retinopathy? With progress lagging in conventional treatments, some researchers are looking to herbal remedies for safe and more effective alternatives. The search for solutions is especially urgent since the number of people with the condition is growing quickly. Studies suggest turmeric compounds could help delay the onset or progression of this common diabetic eye disease. (viii.73-75, 86)
What Is Diabetic Retinopathy?
Diabetic retinopathy is the most common eye condition associated with diabetes. It's also the leading cause of blindness in American adults. The other two eye diseases associated with diabetes are cataracts and glaucoma. (viii.78, 81)
Chronic, progressive damage to the small blood vessels of the eye leads to diabetic retinopathy. Without treatment, damage promotes development of fragile blood vessels on the surface of the retina. In a process called diabetic macular edema, leaking blood from these weak capillaries and blockage by hard deposits on the retina then causes vision loss. (viii.78, 81)
Risk Factors for Diabetic Retinopathy
Not everyone with diabetes will have diabetic retinopathy, but many do. What increases the risk of developing diabetic retinopathy? Experts say the following are some of the factors that make it more likely: (viii.86)
All these factors increase free radicals and oxidative damage to the retina, which is already prone to damage because it is: (viii.81)
How Can Turmeric Help Diabetic Retinopathy?
Research shows that turmeric and its compounds can help alleviate the effects of diabetes and cardiovascular conditions. (viii.34)
Turmeric compounds also work in many of the same ways researchers say conventional therapy for diabetic retinopathy works, including:
Table

VIII

.5: Turmeric Compounds Compared to Conventional Therapy Modes of Action for Diabetic Retinopathy
ACTION
PROPOSED/USED CONVENTIONAL TREATMENT/DRUGS
ACTIVE TURMERIC COMPOUNDS/FORM

Anti-inflammatory.

Block inflammatory molecules: (viii.86)

NSAIDs. (viii.86)

Salicylate-based drugs. (viii.86)

Steroids. (viii.86)

Topical COX-2 inhibitors. (viii.86)

Etanercept, a TNF-α trap. (viii.86)

Inhibiting leukostasis & leakage: (viii.86)

NSAIDs. (viii.86)

Salicylate-based drugs. (viii.86)

Steroids. (viii.86)

Topical SAR 1118. (viii.86)

Anti-CD49a neutralizing antibody. (viii.86)

Blocking formation of AGEs. (

viii

.86)

Aspirin. (viii.92)

LR-90 advanced glycation inhibitor. (viii.86)

PPAR-γ stimulating drugs (e.g., rosiglitazone and troglitazone). (viii.93)•

Reduce oxidative stress: (viii.86)

Quench excess free radicals.
Block NADPH oxidase (an enzyme that increases free radicals).
Increase natural antioxidant levels.

Apocynin. (viii.86)

Block renin-angiotensin system (RAS) that increases blood pressure, free radicals, and inflammation in blood vessels. (

viii

.86, 100)

Reduce formation of excess, abnormal blood vessels (angiogenesis) that lead to diabetic macular edema: (viii.101)

↑

PPAR-γ, a protein important to metabolism and artery health, that can also help block the formation of abnormal blood vessels. (

viii

.103)

↓

Vascular endothelial growth factor (VEGF).

Intravitreal pegaptanib. (

viii

.101)
Pre-Clinical and Clinical Evidence of Benefit
Animal and clinical studies show the following potential benefits of turmeric compounds:
Table

VIII

.6: In Vivo Benefits of Turmeric Compounds for Diabetic Retinopathy
TURMERIC COMPOUND
HOW IT CAN HELP
Alpha-linolenic acid (

viii

.4)
(an omega-3 fatty acid)
Ar-turmerone (

viii

.22)
Caffeic acid (

viii

.22)
Curcumin (

viii

.22)
Fisetin (

viii

.40)
Myricetin (

viii

.40)
Niacin (

viii

.46)
Protocatechuic acid (

viii

.39)
Resveratrol (

viii

.50)
Quercetin (

viii

.40)
Vitamin C (

viii

.46)

Antioxidant protection. (

viii

.30)
Some, but not all, population studies show a link between low plasma levels of vitamin C with higher incidence of diabetic retinopathy. (

viii

.109)

Vitamin E (

viii

.46)

Antioxidant protection. (

viii

.30)
Population studies don't show a link between vitamin E plasma levels and rate of diabetic retinopathy. However, a recently published small, randomized, controlled clinical trial suggest that vitamin E in combination with other antioxidants could help reduce free radical levels and preserve retina thickness in patients with diabetic retinopathy. (

viii

.109-110)

Whole turmeric extract
Join the 1000s of People Who Are Discovering the Benefits of Turmeric.
---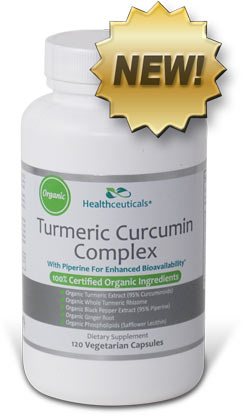 Healthceuticals® Turmeric Curcumin Complex
100% Certified
Organic ingredients
Organic Turmeric Extract - standardized to 95% curcuminoids.
Organic Whole Turmeric - provides full spectrum antioxidant, anti-inflammatory turmeric benefits, including turmerones and numerous vitamins, minerals, and phytonutrients
Organic Black Pepper Extract - standardized to 95% piperine; dramatically enhances bioavailablity.
Organic Phospholipids - markedly improve absorption.
Organic Ginger - works synergistically with turmeric to provide more powerful benefits.
Absolutely FREE of potentially harmful additives and fillers such as magnesium stearate.