Alzheimer's Disease
Find out how turmeric and turmeric's antioxidant and anti-inflammatory compounds (such as curcumin) may be able to help prevent or slow down Alzheimer's disease. (iv.1, 3, 5, 45)
What do modern medical experts say about using turmeric to prevent or treat Alzheimer's disease? Learn more about the symptoms of Alzheimer's and how turmeric is linked to lower rates of dementia. (

iv

.1, 3)
Subcategories
Causes and Risk Factors for Alzheimer's Disease

Article Count:

4

Did you know diabetes, low thyroid hormone levels, and immune system problems can contribute to Alzheimer's disease? Learn about these and other causes of Alzheimer's.

Natural Help for Alzheimer's Disease

Article Count:

4

Turmeric compounds show beneficial anti-Alzheimer's activity in the brain, but how effective are they? Find out what current research says.
Join the 1000s of People Who Are Discovering the Benefits of Turmeric.
---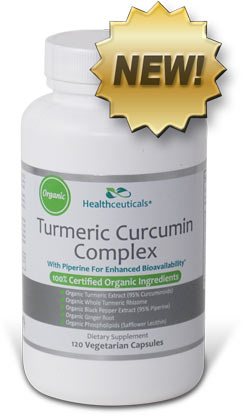 Healthceuticals® Turmeric Curcumin Complex
100% Certified
Organic ingredients
Organic Turmeric Extract - standardized to 95% curcuminoids.
Organic Whole Turmeric - provides full spectrum antioxidant, anti-inflammatory turmeric benefits, including turmerones and numerous vitamins, minerals, and phytonutrients
Organic Black Pepper Extract - standardized to 95% piperine; dramatically enhances bioavailablity.
Organic Phospholipids - markedly improve absorption.
Organic Ginger - works synergistically with turmeric to provide more powerful benefits.
Absolutely FREE of potentially harmful additives and fillers such as magnesium stearate.