10 Best Ways to Use Fresh Turmeric Rhizome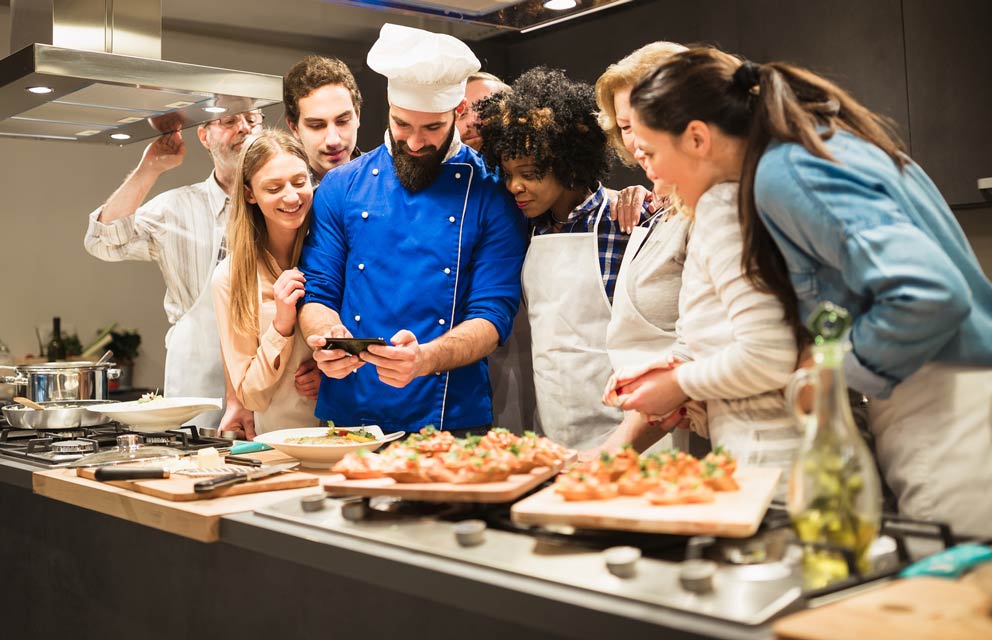 Turmeric is a common dried ground spice, easily found in grocery stores and online. But did you know you can also buy and use fresh turmeric rhizome and even turmeric leaves? As turmeric becomes more popular because of its many health benefits, fresh turmeric rhizome can often be found in mainstream grocers as well as smaller ethnic foods stores.
Buying and Storing Fresh Turmeric
In the USA, look for fresh turmeric rhizomes in the autumn, when turmeric is harvested. Buy in bulk—turmeric keeps well in the refrigerator for several weeks, and you can also freeze unpeeled turmeric in an air-tight freezer bag. Fresh turmeric is usually found near fresh ginger in stores. You can also find fresh turmeric online year-round as autumn occurs at different times around the world.
You may be able to find fresh turmeric leaves (also loaded with beneficial micronutrients) in local ethnic markets, depending on where you live. Look for markets that specialize in Southeast Asian foods. Fresh turmeric leaves are unfortunately difficult to find online. Another option would be to try growing your own turmeric plants—they are beautiful and easy to grow in climates like Florida.
Prep Tips on Using Fresh Turmeric
Okay, so now that you have some fresh turmeric on hand, how do you use it?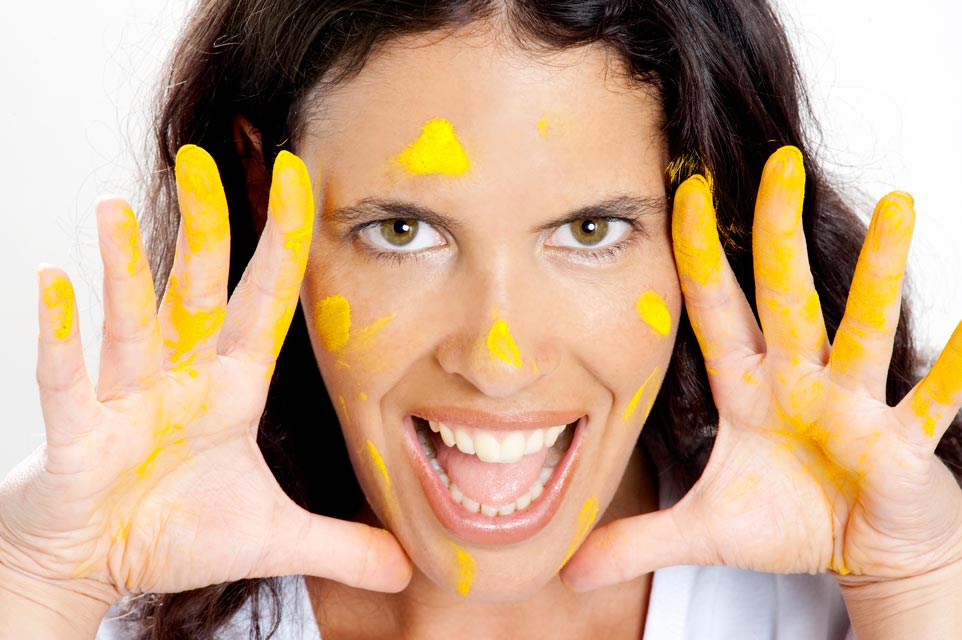 First, put on gloves!! Fresh turmeric rhizome is loaded with powerful curcumin pigments that will stain your hands…and clothes (so put on a dark apron, too). (If you do end up staining your clothes or counter, try these tips to get rid of turmeric stains.)
Next, use a potato peeler or sharp knife to peel the thin, brown papery skin. You may find it easier to cut the rhizome wherever there's an offshoot before peeling:
Speaking of cutting, don't use a white cutting board. (Yes, turmeric will stain that too!)
Fresh turmeric is really versatile and easy to use. Like carrots, fresh turmeric can be eaten raw or cooked. In all the recipes, be sure to add a little black pepper and some oil, butter, or ghee to optimize turmeric's powerful antioxidant and anti-inflammatory benefits.
Adding Fresh Turmeric to Recipes
Here are 10 of the best ways to incorporate fresh turmeric into your favorite recipes:
Grate fresh turmeric rhizome into soups before or after cooking. Fresh grated turmeric is especially good in autumn harvest soups made with sweet potatoes, pumpkin, or acorn squash.

Alternatively, slice fresh turmeric rhizome as you would a carrot and add to clear broth soups, such as chicken or vegetable soups.

Chopped fresh turmeric is also terrific in soups and sauces made with a coconut milk base.

Add grated or chopped fresh turmeric to rice. We recommend stir frying it with butter, ghee, or your favorite flavored oil before stirring in the basmati rice grains to toast. Then add water or broth to finish cooking the rice.

Make a grain bowl with stir fried fresh turmeric, garlic, and pre-cooked wheat berries, bulgur, or quinoa. Garlic is loaded with quercetin, a beneficial antioxidant compound with anti-inflammatory effects (turmeric also contains quercetin). Top with chicken or a fried egg for extra protein.

Slivers of pickled fresh turmeric are a terrific topping for grain bowls! And it's easy to make pickled turmeric—no cooking involved. Just peel and slice fresh turmeric and combine with lemon juice and salt in a sterilized glass jar. As a rule of thumb, use a ratio of 8:4:1—8 ounces of fresh turmeric root, juice from 4 lemons, and 1 tablespoon of salt. Store in the refrigerator for up to 2 months.

Marinade tofu cubes for an hour with fresh grated turmeric, ginger, garlic, and olive oil. Fry until golden brown.

Fresh turmeric adds a spicy kick to a dressing made with tahini sesame paste or a few tablespoons of almond butter. Add honey or mashed garlic and lemon, depending on whether you want a sweet or savory profile. Use the nutty dressing to flavor grain bowls, leafy salads topped with chick peas, or even drizzled over steamed broccoli or a bean salad.

Following a keto or gluten-free diet? Try making turmeric fat bombs! Blend grated fresh turmeric, lemon zest, a pinch of black pepper, stevia (or other non-sugar sweetener) and coconut oil. Roll in toasted almonds or coconut. Scoop into a silicon mini-muffin pan and freeze. Once frozen, pop out and store in a container or Ziploc bag in the freezer.

Fresh turmeric makes delicious smoothies, too. Try out a terrific banana-mango smoothie made with almond milk or coconut milk.
Join the 1000s of People Who Are Discovering the Benefits of Turmeric.
---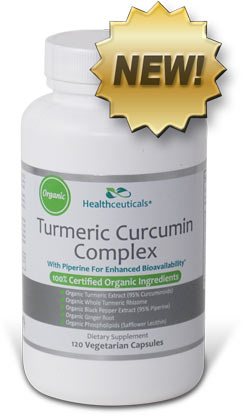 Healthceuticals® Turmeric Curcumin Complex
100% Certified
Organic ingredients
Organic Turmeric Extract - standardized to 95% curcuminoids.
Organic Whole Turmeric - provides full spectrum antioxidant, anti-inflammatory turmeric benefits, including turmerones and numerous vitamins, minerals, and phytonutrients
Organic Black Pepper Extract - standardized to 95% piperine; dramatically enhances bioavailablity.
Organic Phospholipids - markedly improve absorption.
Organic Ginger - works synergistically with turmeric to provide more powerful benefits.
Absolutely FREE of potentially harmful additives and fillers such as magnesium stearate.