Turmeric Compounds May Relieve Asthma Symptoms
Effects of Turmeric and Turmeric Compounds in Asthma
LUNG CONDITION
TURMERIC COMPOUND(S) AND TYPE OF STUDY

ASTHMA

CURCUMIN AND 1,8-CINEOLE

Animal and Human Clinical Trials

EFFECTS

Preclinical Research

Animal studies suggest that turmeric's curcumin compounds may be able to help prevent and treat asthma symptoms caused by allergies. Some examples include:

Animals given curcumin injections before being exposed to allergens had less of an inflammatory allergic response. Oral doses of curcumin given daily to mice after exposure to allergens also reduced inflammation and excess mucus. (

v

.214, 215)
In lab studies, scientists exposed white blood cells from people with asthma to house dust mites. Treating the cells with curcumin stopped the allergic response. (

v

.109, 216)

Reduces Asthma Drug Side Effects

Turmeric compounds could also help reduce risk of fungal yeast infection in people with asthma. Thrush is one of the side effects of conventional drug treatment for chronic asthma. In an animal study, mice given curcumin alone or in combination with the dexamethasone derivative had lower levels of the yeast that causes thrush. Curcumin's anti-inflammatory effects were similar to the drug as well. (v.109, 217)

Clinical Research in Asthma Patients

Results from clinical studies using turmeric or its curcumin compounds in patients with asthma have been mixed:

In a 6-month clinical trial, 15 patients with allergic asthma were randomly assigned to take either a placebo or curcumin. Daily doses of curcumin supplements (2000 mg) did not significantly reduce symptoms in the 7 patients who took it. (

v

.218)
However, an herbal formula containing curcumin was as effective as conventional asthma drugs in a 12-week clinical trial. This study involved 94 patients. The herbal formula benefited 50% of patients who took it. In comparison, 48-58% of patients who took medications and 26% of those given a placebo showed improvement. Those who took the herbal formula also reported an improved quality of life. (

v

.219)
Another herbal formula containing frankincense, licorice root, and turmeric also proved successful in managing bronchial asthma. In a clinical study, patients took either the herbal supplement or a placebo for 4 weeks. The herbal supplement with turmeric significantly reduced levels of inflammatory markers and free radicals. (

v

.220)

Although curcumin supplements alone did not reduce symptoms, the doctors in that clinical trial suggested higher doses or taking a form with improved bioavailability could prove beneficial. They also noted that a larger study involving more patients might also be helpful. Other researchers indicate that a clinical study in humans showed turmeric provided relief from bronchial asthma symptoms, including cough. (v.184, 218)

Clinical trials in asthma patients show that 1,8-cineole, another compound in turmeric, helps stabilize asthma better than placebo. Patients taking 1,8-cineole reduced oral steroid use by an average of 36% while still controlling asthma symptoms. (v.155)

How Does it Work?

Analysis indicates turmeric's curcumin compounds could help attack asthma in more than one way: (v.202, 214, 215, 221, 222)

Inhibits nitric oxide types of free radicals that damage lung tissue.
Blocks the transcription factor NF-κB from producing inflammatory proteins.
Helps regulate the immune system — suppresses the exaggerated immune system response that causes asthma, and reduces high levels of inflammatory immune system cells (such as macrophages and neutrophils).
People with allergic asthma have significantly higher levels of IgE antibodies. These antibodies make them much more sensitive to allergens. In animal studies, curcumin lowered IgE antibody levels and reduced hypersensitivity in the lungs.
Curcumin helps prevent the changes in lung tissue thickness that occurs in chronic asthma.

1,8-cineole suppresses inflammatory proteins produced in allergies. (v.155)
200 mg/kg of body weight.
(

v

.215)
Oropharyngeal candidiasis.
(

v

.109)
A drug derived from corticosteroids.
(

v

.109)
DCBT4567-Astha-15.
(

v

.219)
Salbutamol (12 mg/day) by itself or combined with theophylline (200 mg/day).
(

v

.219)
Randomized and placebo controlled.
(

v

.219)
Often abbreviated as NOS.
Join the 1000s of People Who Are Discovering the Benefits of Turmeric.
---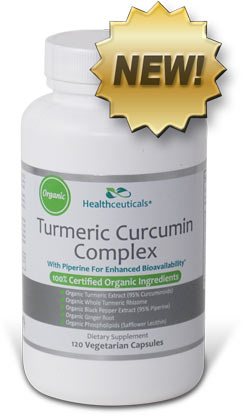 Healthceuticals® Turmeric Curcumin Complex
100% Certified
Organic ingredients
Organic Turmeric Extract - standardized to 95% curcuminoids.
Organic Whole Turmeric - provides full spectrum antioxidant, anti-inflammatory turmeric benefits, including turmerones and numerous vitamins, minerals, and phytonutrients
Organic Black Pepper Extract - standardized to 95% piperine; dramatically enhances bioavailablity.
Organic Phospholipids - markedly improve absorption.
Organic Ginger - works synergistically with turmeric to provide more powerful benefits.
Absolutely FREE of potentially harmful additives and fillers such as magnesium stearate.