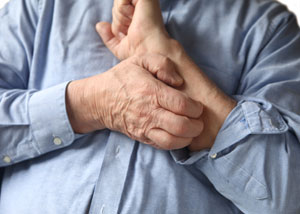 Natural Herbal Cure for Scabies
Often an extremely itchy skin condition, scabies is caused by infestation with the Sarcoptes scabiei mite. The mite is a tiny relative of ticks, spiders, and scorpions that burrows tunnels beneath the skin. Scabies can appear with or without a rash, and can last for years if untreated. The mites live in the skin and lay hundreds of eggs. In the type that causes crusted scabies, over a million mites might be present in a single patient. (ix.19)
How Can Turmeric Help?
When mixed with another herb called neem into a topical paste, turmeric was reportedly effective in healing scabies and chronic skin sores. The study included over 800 people in India, and 97% of the patients were cured within about two weeks. (ix.17)
Reduction of Inflammation
Turmeric's curcumin compounds may help too. In an animal study, curcumin in doses of 200 and 400/mg per kg of body weight significantly reduced paw skin swelling and inflammation. (ix.84)
The curcumin extracts were administered an hour before the rats were injected with a substance that induces inflammation. By the third hour after the injection, swelling was reduced by over 96% in those given 200 mg/kg and by over 87% in the 400 mg/kg curcumin-treated group. Curcumin reduced inflammation significantly more than in both the untreated control group of rats and those treated with 200-400 mg/kg of Dermatol™, a multi-herbal cream used to treat skin disorders. (ix.84)
Relief of Itchy Skin
In an open clinical study, patients suffering from skin conditions with severe itchy skin as a symptom were treated with a topical herbal cream containing 16% turmeric. They experienced significant improvement, compared to baseline measurements at the beginning of the study. (ix.2)
Results were measured by: (ix.2)
Reductions in patient assessment of level of itchy skin.
Improvement in sense of well-being.
Clinical assessment for evidence of dry skin and scaliness.
Benefits in the herbal treatment group were comparable to results in the control group of patients treated with the commercial product Moisturex™ cream. (ix.2)
Join the 1000s of People Who Are Discovering the Benefits of Turmeric.
---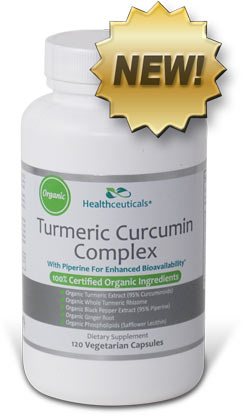 Healthceuticals® Turmeric Curcumin Complex
100% Certified
Organic ingredients
Organic Turmeric Extract - standardized to 95% curcuminoids.
Organic Whole Turmeric - provides full spectrum antioxidant, anti-inflammatory turmeric benefits, including turmerones and numerous vitamins, minerals, and phytonutrients
Organic Black Pepper Extract - standardized to 95% piperine; dramatically enhances bioavailablity.
Organic Phospholipids - markedly improve absorption.
Organic Ginger - works synergistically with turmeric to provide more powerful benefits.
Absolutely FREE of potentially harmful additives and fillers such as magnesium stearate.