Herbal Turmeric Help for Head and Neck Cancers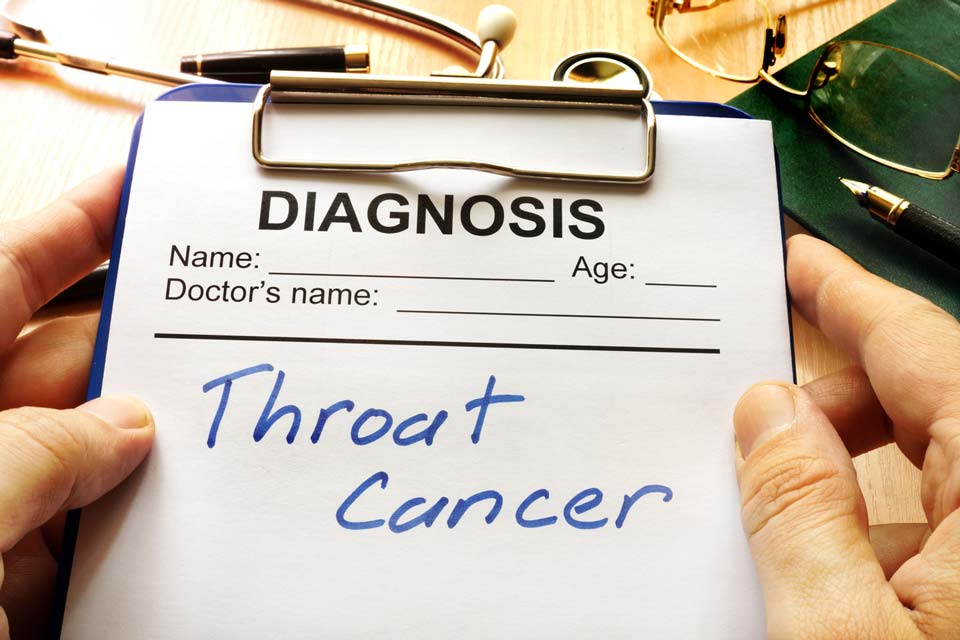 Recent medical research suggests that the antioxidant, anti-inflammatory, antimetastatic, and non-toxic properties of turmeric compounds could help prevent and treat tumors in the head and neck. Most cancers of this area of the body are head and neck squamous cell carcinomas (HNSCC), which is the 6th most prevalent cancer worldwide. 5-year survival rates are still as low as 50%, in part because many head and neck tumors are often not discovered until later stages. (vi.13, 136)
Because radical surgery to remove head and neck cancers can be so disfiguring and even cause loss of organ function, current conventional treatments have tended toward a combination of platinum-based chemotherapy drugs and radiation to spare organs in patients with advanced cancer. However, these treatments come with some serious adverse side effects, including: (vi.13, 136, 178)
Mucositis: Both chemotherapy and radiation can cause inflamed, extremely painful mouth ulcers that make patients more susceptible to infections and difficult eating. In severe cases, cancer treatment must be interrupted, which decreases treatment effectiveness.
Salivary gland damage: The combination of radiation and chemotherapy (radiotherapy) can cause damage to these glands in the mouth, resulting in loss of taste and dry mouth.
Oral candidiasis: Thrush, a yeast infection in the mouth, is a common side effect of radiotherapy.
Kidney damage and failure: Can be a side effect of chemotherapy, depending on dosage.
Hearing loss: Platinum-based chemotherapy may cause the inability to hear high-frequency sounds.
In animal studies, curcumin helps prevent and alleviate some of these adverse side effects. (vi.13)
Causes of Head and Neck Cancers
Tobacco use is by far the largest contributing factor to the development of all head and neck cancers (90-95%), and HNSCC patients who continue to smoke are much more likely to develop additional primary tumors. Other risk factors include: (vi.7, 13, 219)
Recent research suggests that oral lichen planus may also be a risk factor for these types of cancer. (vi.310, 311)
The good news is that turmeric compounds can help counteract cause-specific activity at the molecular level in different types of head and neck cancers (e.g., esophageal, HNSCC, and mouth cancers). (vi.13)
Turmeric Activity against Head and Neck Cancers
Numerous lab, animal, and human studies show turmeric and its compounds (especially curcumin) exert antitumor activity that researchers suggest could help prevent and/or treat head and neck cancers. For example, studies in patients with precancerous mouth lesions show that turmeric's curcumin compounds protected against DNA damage caused by these painful sores. Curcumin also helped preserve levels of antioxidants vitamin C and vitamin E in these patients, which are typically lower than normal. (vi.13-14, vi.17, 91, 312)
Turmeric compounds could also help prevent and treat conditions associated with metabolic syndrome, which are associated with increased risk of esophageal cancer. These include obesity, diabetes, and heart disease. (vi.213, 234-237)
Anti-Inflammatory and Antioxidant Effects of Curcumin Compounds in Turmeric
↓ NF-κB and ↑ PPAR-α: HNSCC tumors are known to have activated forms of NF-κB. This inflammatory transcription factor is involved in all steps of cancer, from development to metastatic spread to other areas of the body. Inhibiting NF-κB with turmeric's curcumin compounds also blocks the production of Inflammatory enzymes (e.g., COX-2) and cytokine proteins (such as IL-6) that contribute to cancer progression. On the other hand, curcumin stimulates PPAR-α, which produces proteins that may help control the unregulated growth of cancer cells. (vi.13, 38, 61)
↓ Free radicals: Curcumin inhibits the formation of these tissue-damaging molecules by suppressing production of iNOS, an inflammatory enzyme produced by macrophage immune system cells when defending cells against pathogens. Curcumin also breaks up and neutralizes free radicals, limiting the inflammation and toxic damage they cause that can lead to cancer development, including oral cancer. (vi.13)
↓ Akt and mTOR: Nicotine in tobacco products and other oral toxins that cause carcinogenic DNA damage also activates these transcription and kinase proteins, which are expressed in over 90% of head and neck cancers (including cancer of the tongue). Both Akt and mTOR are involved in transforming precancerous cells to malignant tumors, as well as cancer progression and metastasis. Both lab and animal studies show that low doses of curcumin block the activation and activity of both Akt and mTOR, as well as the deregulated transcription factor, metalloprotease, and cancer-growth promoting proteins they stimulate: (vi.7)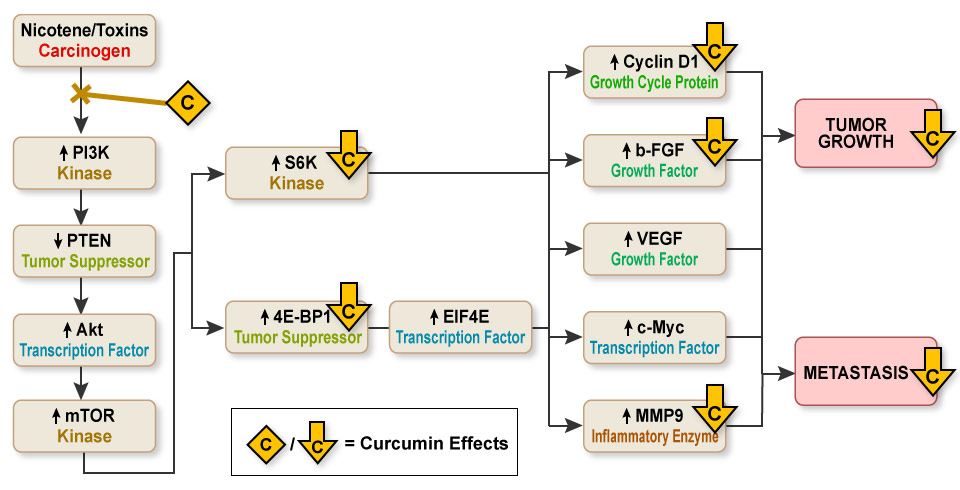 ↓ Pro-Metastatic Factors and Proteins: Curcumin may help prevent the spread of laryngeal cancer cells by blocking MMP enzymes. It also reduces the activity of proteins that help throat cancer cells survive by inhibiting their receptors. (vi.81)
Other Turmeric Compounds That May Help Prevent Head and Neck Cancers
Animal studies suggest that eating foods spiced with turmeric could help prevent oral cancers. In addition to curcumin, turmeric contains phytochemical compounds and nutrients that research shoes could have beneficial effects against head and neck cancers. (vi.313)
These include:
Turmeric's Phytochemical and Nutrient Effects in Head and Neck Cancers
Turmeric Compound
What It Does

↓ Growth of oral squamous cancer cells by arresting them in the G phase of the cell cycle. This stops the cancer cells before they get to the S phase where they replicate. (vi.111)

↓ Development of oral cancer by neutralizing free radicals. (vi.313)

↓ Growth of squamous cell carcinoma cells, especially when combined with vitamin C (which turmeric contains). (vi.131)

In large population studies conducted in Europe, eating 1-7 servings/week of onions, which are particularly rich in quercetin, was linked with lower rates of laryngeal cancer. (vi.250)

In case studies involving people in Italy and Switzerland, high consumption of onions, which are particularly rich in quercetin, was linked with significantly lower rates of esophageal cancer. (vi.250)

↓ Oral cancer cells, especially when combined with vitamin C (which turmeric contains). (vi.131, 313)
Evidence of Benefit
Head and Neck Cancer Animal and Clinical Studies with Turmeric Compounds
Method and Dosage
Cancer Type & What It Does
Type of Study

Oral Curcumin

Esophageal Cancer

---

Animal

Oral Curcumin

HPV Negative Head and Neck

Squamous Cell Carcinoma

---

Animal

10-20 μmol/L Curcumin

Nicotine Induced Head and Neck

Squamous Cell Carcinoma

---

Induced cell cycle arrest in phase G1 of the cell cycle at the higher treatment level. (

vi

.136)

Lab

1000 mg Curcumin

(chewable caplets given 1 hour prior to saliva collection)

Various Head and Neck Cancers

(Tongue, Oral, Pharynx)

---

Reduced increased levels of an enzyme found in head and neck squamous cell carcinoma cancer that activates the inflammatory transcription factor NF-κB. (

vi

.315)
These results suggest curcumin could help inhibit cancer growth and reduce side effects from chemotherapy. However, the pilot study researchers suggested higher curcumin doses over longer periods may be required to significantly block inflammatory factors. (

vi

.315)

Human Clinical Study

Oral Curcumin

Oral Mucosal Cancer

---

Animal

Oral doses (3 g/day) of turmeric extract, by itself or in combination with 600 mg/day of turmeric oil or oleoresin

Oral Mucosal Cancer

---

Human Clinical Study

0.5 g/kg of body weight

Tongue Carcinoma

---

Animal

Curcumin

0.5 g/kg of body weight

Tongue Carcinoma

---

Chemopreventive — pretreatment with 5 or 15 mg/day of dietary curcumin effectively delayed development of tongue tumor growth. (

vi

.7)
Significantly blocked metastatic potential of tongue cancer cell lines, including those that are highly invasive. (

vi

.7)

Lab
First responders that trigger gene activity.
(

vi

.39)
Human papilloma virus.
Such as cisplatin, carboplatin, and oxaliplatin.
(

vi

.13)
High levels of which are found in processed and cured foods (e.g., pickled vegetables, smoked fish, processed meat, and malt for beer and whiskey).
(

vi

.219)
Specifically, focal adhesion kinases (FAKs).
(

vi

.81)
88% risk reduction between those who ate over 7 servings/week and those who ate the least amount (under a serving a week).
(

vi

.250)
Population studies suggest there's an increased risk of esophageal cancer and acrylamides.
(

vi

.189)
Join the 1000s of People Who Are Discovering the Benefits of Turmeric.
---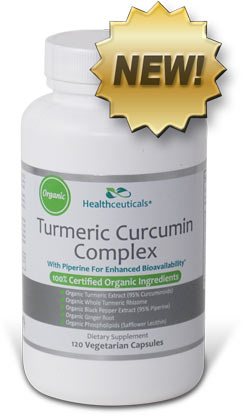 Healthceuticals® Turmeric Curcumin Complex
100% Certified
Organic ingredients
Organic Turmeric Extract - standardized to 95% curcuminoids.
Organic Whole Turmeric - provides full spectrum antioxidant, anti-inflammatory turmeric benefits, including turmerones and numerous vitamins, minerals, and phytonutrients
Organic Black Pepper Extract - standardized to 95% piperine; dramatically enhances bioavailablity.
Organic Phospholipids - markedly improve absorption.
Organic Ginger - works synergistically with turmeric to provide more powerful benefits.
Absolutely FREE of potentially harmful additives and fillers such as magnesium stearate.