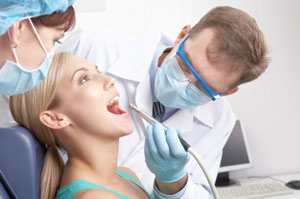 How Does Phototherapy Work?
Phototherapy is also called photodynamic therapy. It uses light, light-sensitive dyes, and oxygen to make free radicals. Although too many free radicals can be harmful to our cells, our bodies also use them to destroy bacteria, viruses, fungi, and even diseased cells. (v.58)
In very general terms, here's how phototherapy works: (v.58)
Safe dyes, such as turmeric curcuminoid pigments, absorb harmless wavelengths of visible light and the molecules enter an excited state.
When these temporarily unstable molecules react with oxygen, they form the free radicals.
Phototherapy-generated free radicals target and eliminate diseased cells and microbes.
Combined with Phototherapy in the Dental Office
Dentists use light therapy to prevent bacterial infections. According to multiple lab studies, the turmeric and curcumin are natural disinfectants for the mouth. This could make them good herbal alternatives to antibiotics for oral infections. For example, organic turmeric extract kills bacteria that often cause root canal therapy to fail. (v.56, 57)
Curcumin from turmeric also acts as a photosensitizer with phototherapy. Studies suggest it could significantly improve the antimicrobial effects of light therapy. Curcumin helps by making bacteria more susceptible to damage from light. (v.56, 57, 58)
Is There Clinical Evidence It Works?
In a small clinical trial with 13 dental patients, curcumin showed little effect on bacteria in the mouth when used alone. Blue light therapy combined with curcumin reduced bacteria by 68%. The patients treated with curcumin by itself showed only a 9% reduction in bacteria. Unfortunately the study did not test whether curcumin enhanced the effectiveness of light treatment. (v.59)
In contrast, other studies demonstrate whole turmeric and curcumin's antimicrobial effects on bacteria. For example:
In a clinical trial involving 30 patients with gingivitis, turmeric gel reduced mouth bacterial levels far better than those not treated with turmeric. (

v

.56, 60-61)
Ways to Improve Effectiveness
Researchers say that a number of factors can improve how effective curcumin will be as a photosensitizer. These include: (v.56)
Concentration of curcumin used.
Dosage of light.
Time between applying curcumin and administering light therapy.
Type of curcumin preparation.
In the lab, low levels of curcumin with low light doses are effective with the right preparation of curcumin. Two of the best ways to make it a better photosensitizer, according to scientists, is by dissolving curcumin in DMSO or using micelle-encapsulated forms of it: (v.56, 61)
In another study, curcumin was tested in foams developed to treat wounds (combined with phototherapy). Its antibacterial activity depended entirely on the type of foam used. (v.38)
Join the 1000s of People Who Are Discovering the Benefits of Turmeric.
---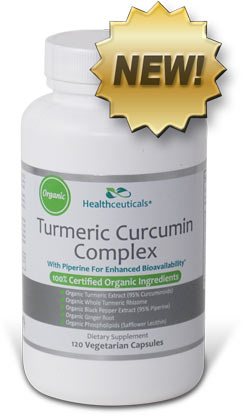 Healthceuticals® Turmeric Curcumin Complex
100% Certified
Organic ingredients
Organic Turmeric Extract - standardized to 95% curcuminoids.
Organic Whole Turmeric - provides full spectrum antioxidant, anti-inflammatory turmeric benefits, including turmerones and numerous vitamins, minerals, and phytonutrients
Organic Black Pepper Extract - standardized to 95% piperine; dramatically enhances bioavailablity.
Organic Phospholipids - markedly improve absorption.
Organic Ginger - works synergistically with turmeric to provide more powerful benefits.
Absolutely FREE of potentially harmful additives and fillers such as magnesium stearate.