Turmeric Prevents Bug Bites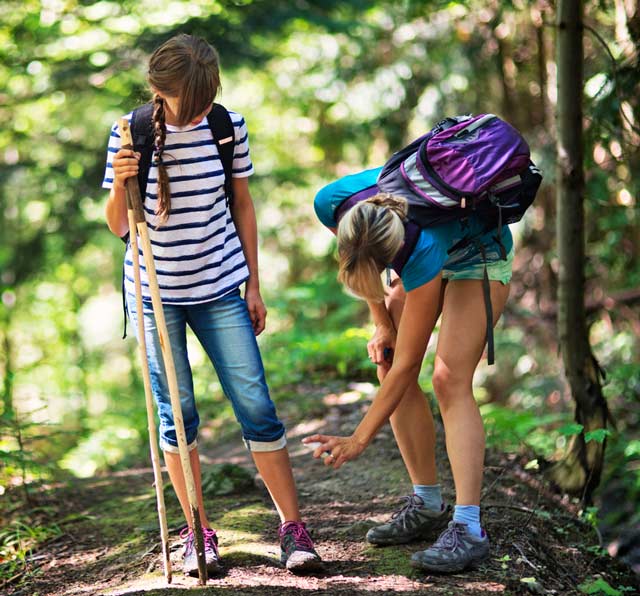 The American Druggist and Pharmaceutical Record of 1913 published a do-it-yourself insect powder recipe containing turmeric as a cheaper alternative to Persian powder. This popular insect repellant was made from flowers of the Chrysanthemum genus. One of the reasons Persian powder was expensive was because the military demand for it as a mosquito repellant was so high. (xii.2, 5-7)
Apparently the military at that time was unaware of turmeric's impressive mosquito repellant properties! In fact, clinical studies suggest that turmeric works as well as DEET to repel mosquitos. Mosquitos carry diseases that can infect humans, such as malaria and dengue fever. Given the potential toxic side effects of insecticides such as DEET, turmeric may be a safer, natural insect repellant. (xii.2, 5-7, 20)
Evidence of Benefit
In a small clinical trial conducted in a lab setting in Thailand, researchers compared insect repellant properties of turmeric to DEET, IR3535, and 18 other botanical essential oils. They tested the substances with 4 different species of mosquitos. All the essential oils and chemical repellants were added to lotions so they appeared similar to the volunteer test subjects. The primary compounds in the turmeric oil were determined to be: (xii.12)
Turmeric repelled 3 of the 4 species of mosquitos for 7.7-8.0 hours — statistically the same as DEET and IR3535 (7.8-8.0 hours). In the 4th mosquito species, Aedes aegypti, turmeric oil was only effective for 2.3 hours, while the chemical insect repellants worked for 6.7-7.5 hours. However, turmeric (and 2 other botanical oils) met the 2 hour minimum requirement for registered mosquito repellants against Aedes aegypti. (xii.12)
Additional lab studies showed that turmeric and the other botanical oils significantly reduced the number of mosquito eggs deposited. DEET and IR3535 showed virtually the same amount of eggs laid as the untreated control cup. But the turmeric oil cup had almost 95% less eggs than the control cup. (xii.12)
In another clinical study conducted in multiple field locations, essential oil from turmeric rhizome provided 100% protection against mosquitos. It prevented wild mosquitos from both landing and biting study volunteers for up to 9 hours — the same as DEET. Turmeric oil also fully repelled black flies for 9 hours, and land leeches for a minimum of 8 hours. (xii.20)
Also called Dalmation powder if the flowers used are grown near the Adriatic Sea.
(

xii

.7)
Heavily used in by the military as a mosquito repellant during World War II.
(

xii

.7)
Primarily C. cinerariaefolium, which resembles the common daisy. The flower heads contain pyrethrum, which is highly toxic to insects.
(

xii

.7)
Essential oil from turmeric rhizomes, not the leaves.
(

xii

.12)
Active ingredient in Avon's Skin So Soft Bug Guard Plus IR3535® Insect Repellant.
4386 eggs in the control cup, compared to 232 eggs in the cup with turmeric oil.
(

xii

.12)
Join the 1000s of People Who Are Discovering the Benefits of Turmeric.
---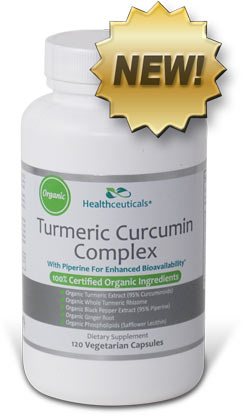 Healthceuticals® Turmeric Curcumin Complex
100% Certified
Organic ingredients
Organic Turmeric Extract - standardized to 95% curcuminoids.
Organic Whole Turmeric - provides full spectrum antioxidant, anti-inflammatory turmeric benefits, including turmerones and numerous vitamins, minerals, and phytonutrients
Organic Black Pepper Extract - standardized to 95% piperine; dramatically enhances bioavailablity.
Organic Phospholipids - markedly improve absorption.
Organic Ginger - works synergistically with turmeric to provide more powerful benefits.
Absolutely FREE of potentially harmful additives and fillers such as magnesium stearate.