Combination Treatments for Breast Cancer with Turmeric Compounds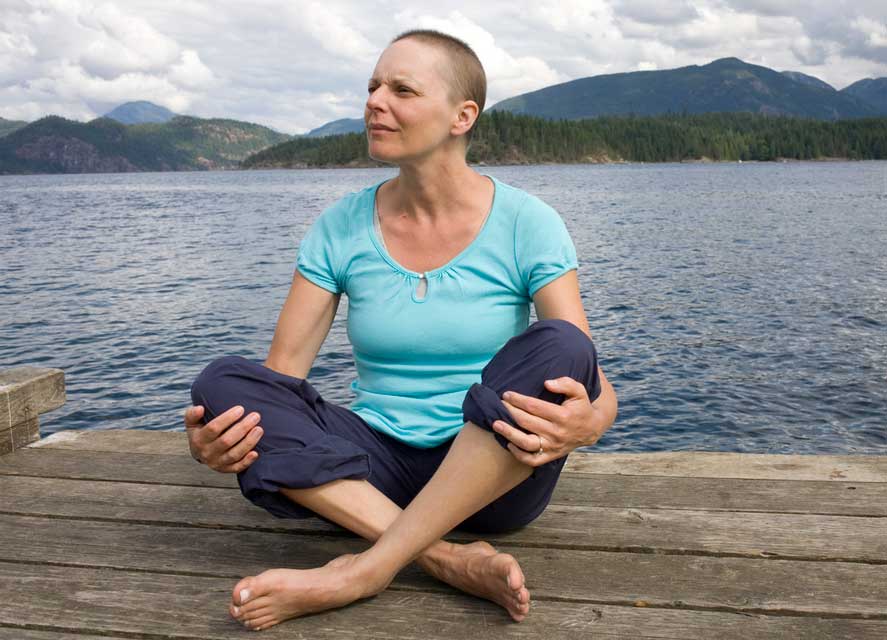 Research suggests that combining curcumin from turmeric with chemotherapy drugs stops breast cancer growth. In fact, the turmeric compound may help overcome treatment resistance in breast tumors. Some examples of curcumin's synergistic effects include: (vi.16, 65, 133, 230)
Blocking activation of NF-κB transcription factors. Breast cancer cells that produce NF-κB are resistant to the chemotherapy drug Taxol®. Numerous studies confirm that curcumin potently inhibits NF-κB, including in breast tumors. (

vi

.16, 65)
The turmeric compound could also enhance drug effectiveness and limit side effects. Researchers in a clinical trial in patients with advanced breast cancer suggest that curcumin's epigenetic activity controls the methylation of DNA and helps sensitize breast cancer cells to docetaxel drug treatment. Curcumin could also be helpful in treating HER-2+ subtypes that do not respond to standard treatment with Herceptin® (such as SK-BR-3-hr). (vi.16, 65, 133, 230)
Turmeric's Curcumin Compounds Enhance Chemotherapy in Breast Cancer
CHEMO DRUG
STUDY RESULTS
TYPE OF STUDY

CURCUMIN AND PACLITAXEL (TAXOL®)

↓ NF-κB induced by Taxol and increases cancer cell death. (vi.181)

↓ Chemoresistance. (vi.181)

↓ Metastasis (reduced both the incidence and the number of nodules when it did occur). (vi.181)

Animal

CURCUMIN AND TAXOL®

↓ HER-2+ tumors in comparable to Taxol® and Herceptin®—the conventional chemotherapy drug for this type of breast cancer. (vi.16, 65)

Animal

CURCUMIN AND DOCETAXEL

8000 mg/day doses of oral curcumin combined with docetaxel stabilized cancer in 3 of 14 patients with advanced, metastatic breast cancer. The combination therapy also had some beneficial effects on tumors in 5 other patients. (vi.174)
Reducing Side Effects of Treatment
Researchers say that turmeric and turmeric's curcumin compound could also help relieve the side effects of breast cancer treatment:
In one clinical study, 40 patients were randomly assigned to either take curcumin supplements or a placebo during a 6-week course of radiotherapy treatments. Patients were also given the curcumin or placebo supplement 2 days prior to start of treatment. (

vi

.251)

Those who took curcumin developed significantly less acute dermatitis, a side effect of radiation treatment. The dosage in this study was 2000 mg of curcumin, 3 times a day. (vi.251)

Results of another clinical trial involving patients with either infiltrating ductal or lobular carcinoma showed that a turmeric based skin cream can also help with radiation dermatitis. The cream contained 16% turmeric extract and 0.5% sandalwood oil. Application of turmeric cream prior to radiation delayed (or prevented) dermatitis, and reduced the severity of it. (

vi

.493)
Caution
Despite the promising results involving turmeric and curcumin from lab and animal studies as well as human clinical trials involving cancer patients, it is recommended that patients receiving chemotherapy limit their dietary intake of turmeric. This precaution is based on the following: (vi.252)
Lab studies which showed that curcumin inhibited cancer cell death induced by the chemotherapy drugs camptothecin, doxorubicin, and mechlorethamine.
One animal study showed curcumin inhibited shrinkage from the drug cyclophosphamide on grafted breast tumors.
However, some experts have been critical of the 2002 study involving cyclophosphamide because of the low curcumin dosage used (8.7 mm/kg of body weight/day). In addition, the short duration of the study only allowed for one injection of cyclophosphamide and three days of dietary curcumin. (vi.11, 253-254)
According to researchers from the University of Texas MD Anderson Cancer Center, a 3-day study period for a xenograft cancer model is not normally considered sufficient. They also note that this is the only study to report that curcumin actually inhibited tumor regression. (vi.11, 253, 254)
First responders that trigger gene activity.
(

vi

.39)
Paclitaxel.
Taxotere®.
Join the 1000s of People Who Are Discovering the Benefits of Turmeric.
---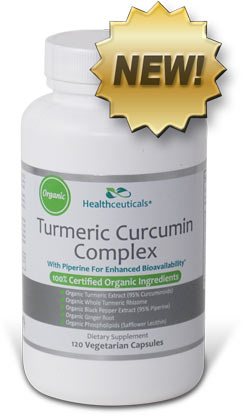 Healthceuticals® Turmeric Curcumin Complex
100% Certified
Organic ingredients
Organic Turmeric Extract - standardized to 95% curcuminoids.
Organic Whole Turmeric - provides full spectrum antioxidant, anti-inflammatory turmeric benefits, including turmerones and numerous vitamins, minerals, and phytonutrients
Organic Black Pepper Extract - standardized to 95% piperine; dramatically enhances bioavailablity.
Organic Phospholipids - markedly improve absorption.
Organic Ginger - works synergistically with turmeric to provide more powerful benefits.
Absolutely FREE of potentially harmful additives and fillers such as magnesium stearate.