Is Turmeric An Herbal Pain Reliever?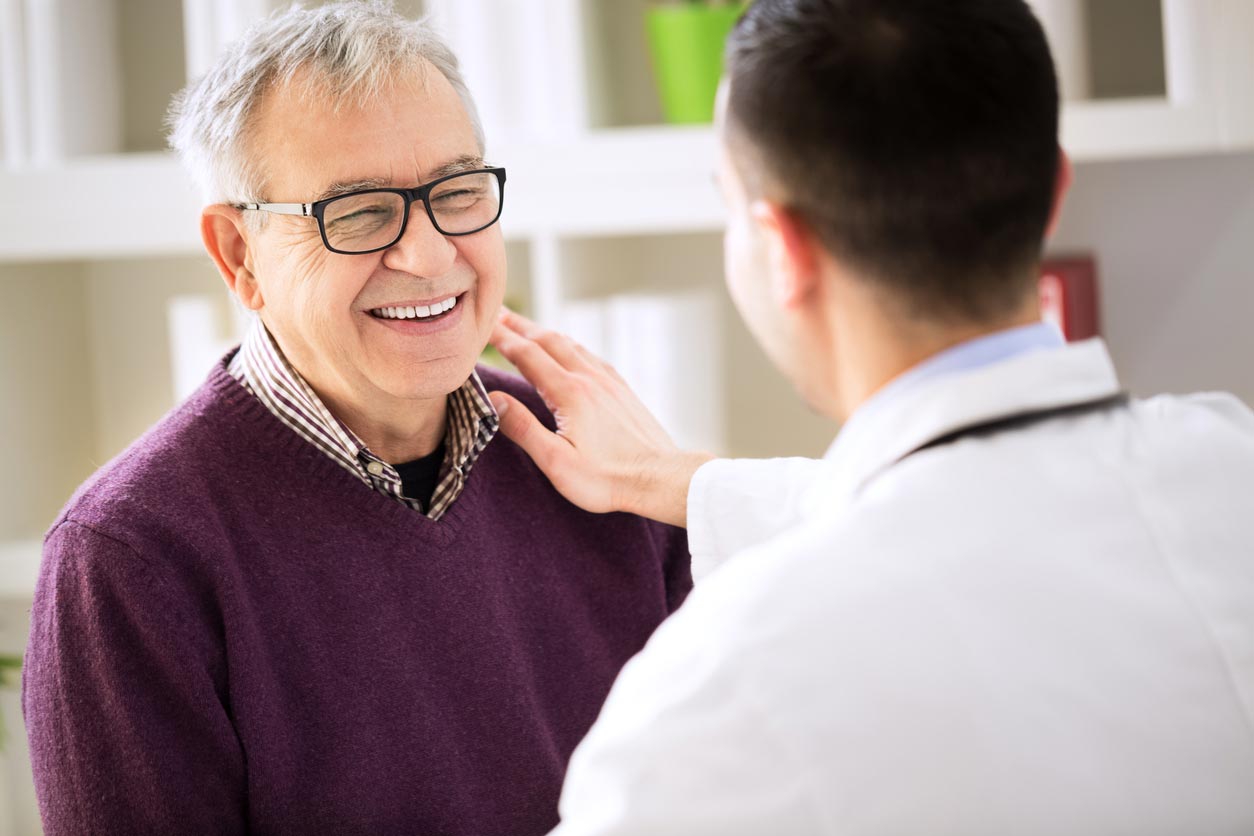 Can a common herbal spice really help relieve pain? Research suggests that turmeric can do just that. Both Ayurveda and traditional Chinese medicine (TCM) look to turmeric as a general herbal remedy. Turmeric is used both by itself or combined with other herbs to treat many painful, inflammatory conditions. These include: (iv.144)
Prescription for Natural Pain Relief
Many of the compounds in turmeric have anti-inflammatory and analgesic properties. So in addition to helping resolve disease or injury, these compounds could also relieve symptoms such as pain and itchiness. (iv.144)
Traditionally, turmeric is specifically recommended as an herbal pain reliever for chest, abdominal, and menstrual cramps. It is reported to relieve pain associated with eye inflammation and scorpion bites as well. (iv.4, 19-21, 34)
Evidence from modern medical studies supports the traditional use of turmeric and curcumin to help relieve painful symptoms. In fact, turmeric compounds may also be able to reduce chronic nerve pain associated with some diseases (a condition called neuropathy). (iv.4, 19-21, 34)
Herbal Relief for Neuropathy
Neuropathic pain is chronic pain from damaged or dysfunctional nerve fibers where there is a tissue injury. It can also originate from nerves around the site of injury. The damaged nerves send faulty signals to the brain, producing a range of sensations from numbness and tingling to an intense, shooting pain. (iv.19-21)
Causes of Neuropathic Pain
In many cases, it is difficult to pin down the exact origin of neuropathic pain in a patient. However, some conditions are known to cause this type of chronic pain, including: (iv.21)
Alcoholism
Amputation (phantom limb syndrome)
Facial nerve problems
Shingles
Inflammation also plays a role in neuropathy. The presence of inflammatory enzymes and free radicals around the spinal cord is linked to chronic neuropathic pain. (iv.19)
Chronic pain is sometimes an unfortunate side effect of treatment as well. Both spinal surgery and some chemotherapy regimens are associated with neuropathy. (iv.21)
Evidence of Turmeric & Curcumin's Analgesic Effects
Studies demonstrate that the anti-inflammatory properties of turmeric and curcumin can relieve both acute and chronic pain.
Pain-Relieving Mechanisms of Turmeric and Curcumin
CAUSE OF PAIN
STUDY TYPE and DOSE
CURCUMIN EFFECTS

ACUTE AND CHRONIC NEUROPATHIC PAIN

Animal

62.5-500 micrograms curcumin via spinal injection prior to pain test

(with right upper abdominal pain)

Clinical trial

76 patients

(39 patients treated and 37 given placebo)

1 capsule three times daily for 3 weeks of Cholagogum F Nattermann, a formula that contains turmeric and celandine

The herbal formula reduced both severity and frequency of painful episodes (both cramping and dull pain). (

iv

.145)

CANCEROUS LESIONS

Clinical study

62 patients

Oral turmeric extract and curcumin-containing lotion

CANCEROUS LESIONS

(skin and mucous membranes)

Clinical study

62 patients

Ointment containing 0.5% curcumin applied 3 times a day for 4 weeks.

50% of patients in this open clinical trial reported reduced pain associated with cancerous lesions. (

iv

.146)
90% had less lesion smell. (

iv

.146)
70% reported drier sores. (

iv

.146)

CHRONIC ANTERIOR UVEITIS

Clinical study

53 patients

1075 mg/day of curcumin in 3 divided doses for 12 weeks

Curcumin relieved multiple symptoms of this chronic inflammatory eye disease, including pain and vision loss. Depending on the symptom, curcumin was successful in 86-100% of the 32 patients who completed the study. (

iv

.147)

DIABETIC NEUROPATHY

Animal

15-60 mg of curcumin per kg of body weight for 4 weeks

Daily injections of curcumin significantly increased the pain threshold in diabetic rats compared to untreated diabetic rats. (

iv

.27)
Daily curcumin also reversed increases in the inflammatory TNF-α protein. This is significant because TNF-α is associated with more severe pain in human patients with diabetic neuropathy. (

iv

.27, 148)

DYSPEPSIA

(with abdominal pain)

Randomized, double blind, placebo-controlled clinical trial

106 patients

2 g/day of turmeric for 7 days

Of the 38 patients who were given turmeric in this clinical trial, 87% showed improvement of all dyspepsia symptoms, including pain. (

iv

.146)
These results were statistically better than the placebo-treated group, where only 53% showed improvement. (

iv

.146)
Turmeric also performed better than the 30 patients treated with an herbal mixture of cascara, nux vomica, and ginger. (

iv

.146)

IRRITABLE BOWEL SYNDROME (IBS)

Clinical trial

207 patients with self-reported IBS

72 or 144 mg/day of turmeric extract

LAPAROSCOPIC CHOLECYSTECTOMY

(post-operative pain)

Double blind, randomized, and placebo-controlled clinical trial

50 patients

Curcumin tablets taken daily

The 25 patients given curcumin had significantly lower pain scores in the first 2 weeks following surgery to remove the gallbladder. (

iv

.150)
All patients were given pharmaceutical pain pills to take in case of severe pain. However, the curcumin-treated group used only about 7 pills on average compared to 39 in the placebo-treated group. (

iv

.150)
Curcumin also significantly reduced fatigue compared to the untreated group. (

iv

.150)

ORAL SUBMUCOUS FIBROSIS

Clinical study

7 adult male and female patients

0.6-1.0 ml/day of turmeric oil orally for 3 months

OROFACIAL PAIN

Animal

25-600 mg of curcumin per kg of body weight via injection

OSTEOARTHRITIS

Clinical study

42 patients with osteoarthritis

1300 mg three times a day of Ayurveda formula containing 300 mg turmeric total

Patients reported significant reduction in pain severity and disability, with mild side effects. (

iv

.146)

OSTEOARTHRITIS

Clinical study

Ayurvedic formula containing turmeric, ashwagandha, frankincense, and zinc.

POST-SURGICAL PAIN

Clinical study

1200 mg/day of curcumin for 5 days post-surgery

Improved walking time, morning stiffness, and swelling. (

iv

.153)



RHEUMATOID ARTHRITIS

Clinical study

18 patients with rheumatoid arthritis

1200 mg/day curcumin
Other Turmeric Compounds with Analgesic Effects
In addition to curcumin, turmeric contains a number of different plant compounds that have anti-inflammatory and pain relieving properties. Research suggests some of these compounds may also help prevent conditions that cause both acute and chronic pain:
Pain-Relieving Compounds in Turmeric
COMPOUND
PAIN-
RELIEF
ANTI-
DIA-
BETIC
ANTI-
INFLAM
MATORY
ANTI-
SPAS-
MODIC
ANTI-
TUMOR
HELPS
PREVENT
GALL-
STONES
MAY
HELP
WITH MS
RELIEVES
STOMACH
and
INTESTINAL
CONDITIONS
TRAN-
QUILIZING
OR
SEDATIVE
EFFECTS
1,8-CINEOLE (

iv

.65, 66, 109)

♦

♦

♦

♦

♦

♦

♦

♦

α-PINENE (

iv

.65)

♦

♦

♦

♦

β-PINENE (

iv

.65)

♦

BORNEOL (

iv

.65, 154)

♦

♦

♦

♦

♦

♦

CAFFEIC ACID (

iv

.65)

♦

♦

♦

♦

♦

♦

♦

♦

CAMPHOR (

iv

.65, 127)

♦

♦

♦

♦

CINNAMIC ACID (

iv

.65, 155)

♦

♦

♦

♦

EUGENOL (

iv

.3, 65, 155)

♦

♦

♦

♦

♦

♦

FARNESOL (

iv

.65, 109)

♦

♦

♦

FERULIC ACID (

iv

.65)

♦

♦

♦

♦

GERANIOL (

iv

.65, 155, 156)

♦

♦

♦

♦

GERMACRONE (

iv

.65, 157)

♦

♦

♦

♦

LIMONENE (

iv

.65, 155, 156, 158)

♦

♦

♦

♦

♦

ρ-COUMARIC ACID (

iv

.65)

♦

♦

♦

♦

♦

PROTOCATECHUIC ACID (

iv

.65)

♦

♦

♦

ρ-CYMENE (

iv

.65, 109, 126, 159)

♦

♦

♦

QUERCETIN (

iv

.65)

♦

♦

♦

♦

♦

♦

♦
Did Curcumin Fail to Relieve Pain in Tropical Pancreatitis?
Well, yes and no. Results showed that curcumin treatment did not reduce pain from pancreatitis over the course of the study. However, while pain actually increased for all the patients in the study over time, it didn't increase as much in those who took curcumin. Curcumin also showed other beneficial effects by reducing signs of harmful free radical activity. (iv.160)
A 6-week clinical trial was set up to test curcumin's pain-relieving effects in 20 patients with tropical pancreatitis (an extremely painful condition). Half of the 20 patients were randomly assigned to take 500 mg curcumin capsules combined with 5 mg of piperine 3 times a day, while the other half were given a placebo. Only 75% of the patients finished the study: 8 of the curcumin-treated group and 7 of those taking placebo. (iv.160)
Patients in both groups who completed the study reported higher average pain ratings than at the beginning of the study prior to treatment. The researchers noted that the difference in worsening pain between the two groups was not statistically significant either way. However, the curcumin treated group experienced less than half the increase in pain than what was reported by patients in the placebo group. (iv.160)
Either by themselves or within standardized herbal formulas.
(

iv

.19-21)
Specifically, TNF-α, IL-6, and IL-1β.
(

iv

.19)
Disorder of the liver and gall bladder ducts.
(

iv

.145)
Boswellia serrata.
(

iv

.20)
Join the 1000s of People Who Are Discovering the Benefits of Turmeric.
---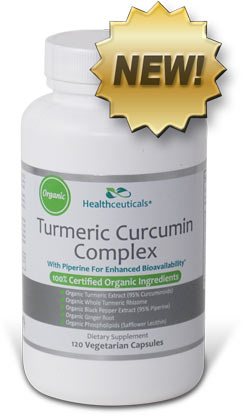 Healthceuticals® Turmeric Curcumin Complex
100% Certified
Organic ingredients
Organic Turmeric Extract - standardized to 95% curcuminoids.
Organic Whole Turmeric - provides full spectrum antioxidant, anti-inflammatory turmeric benefits, including turmerones and numerous vitamins, minerals, and phytonutrients
Organic Black Pepper Extract - standardized to 95% piperine; dramatically enhances bioavailablity.
Organic Phospholipids - markedly improve absorption.
Organic Ginger - works synergistically with turmeric to provide more powerful benefits.
Absolutely FREE of potentially harmful additives and fillers such as magnesium stearate.