ρ-Coumaric Acid
Table

II

.34: ρ-coumaric acid (

ii

.3, 7, 11, 15, 23, 37, 41, 72, 82, 122, 143-145)
WHAT IS IT?
A phenolic acid, ρ-coumaric acid is a derivative compound of trans-cinnamic acid. It is present in a variety of herbs, vegetables, fruits, beverages, and grains. These include althea, apples, arnica, bilberry, blueberries, bran, carob, centaury, coffee, cranberries, dandelion, grapes, lavender, lemon, romaine lettuce, mango, onions, oranges, peach, potatoes, spinach, St. John's wort, sweet cherry, tea, and wild black cherry. Studies suggest that many of these are good for your health too, and may be able to prevent breast cancer, help with hair loss, reduce stress, improve the appearance of cellulite, and help control blood sugar.
POTENTIAL HEALTH BENEFITS
Research indicates that ρ-coumaric acid could help prevent or control symptoms of a number of different health conditions. Some of its beneficial biochemical activity includes:
The Greek letter rho.
Join the 1000s of People Who Are Discovering the Benefits of Turmeric.
---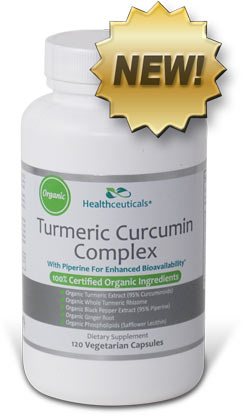 Healthceuticals® Turmeric Curcumin Complex
100% Certified
Organic ingredients
Organic Turmeric Extract - standardized to 95% curcuminoids.
Organic Whole Turmeric - provides full spectrum antioxidant, anti-inflammatory turmeric benefits, including turmerones and numerous vitamins, minerals, and phytonutrients
Organic Black Pepper Extract - standardized to 95% piperine; dramatically enhances bioavailablity.
Organic Phospholipids - markedly improve absorption.
Organic Ginger - works synergistically with turmeric to provide more powerful benefits.
Absolutely FREE of potentially harmful additives and fillers such as magnesium stearate.