Turmeric Can Keep Your Pet Healthy Too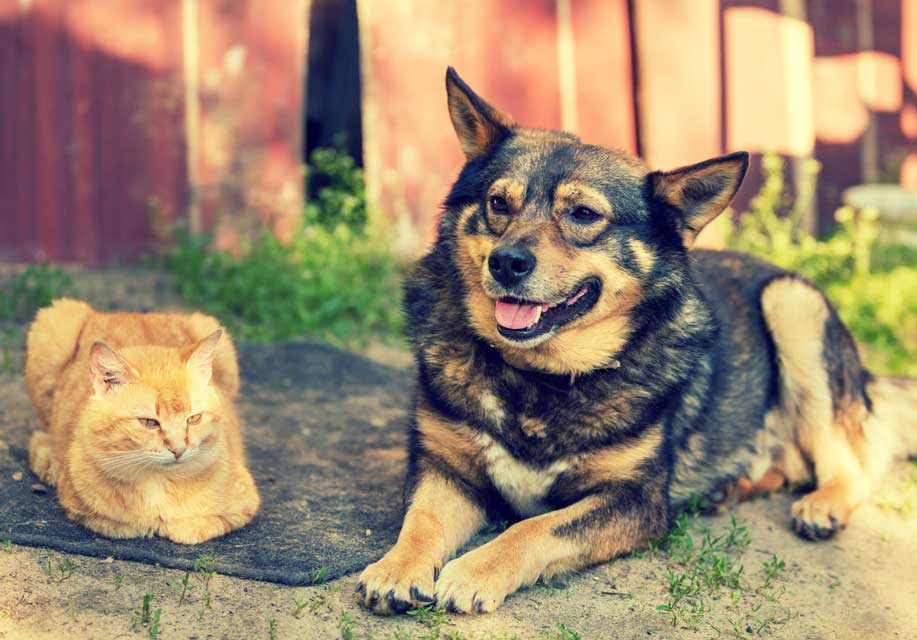 Ayurveda is a traditional medicine used for animal as well as human health. Turmeric is used for pets because of its beneficial properties, including: (xii.30, 32)
It's often prescribed in combination with other natural herbs. In fact, commercial formulas are available that contain turmeric. For example, some vets use AP-Mag™, a multi-herb formula for skin lesions. (xii.30)
What Diseases is Turmeric Traditionally Used for in Pets?
Traditional Ayurvedic veterinarians and herbalists recommend turmeric to prevent or treat many diseases. These are the same conditions turmeric compounds help in humans (links provided): (xii.30-32)
How Is Turmeric Used with Other Herbs?
Turmeric is often combined with other herbs and even conventional treatments (e.g., chemotherapy drugs) to treat multiple symptoms or diseases at the same time. For example, turmeric might be given in equal amounts with burdock, ginseng, and astragalus to treat an older, overweight dog with liver cancer and arthritis. (xii.30)
Turmeric's antioxidant, anti-inflammatory, antitumor, and circulatory supportive properties would be used to help treat the inflammation in arthritis. These properties would also inhibit inflammatory factors and reduce free radical damage caused by the cancer, helping the liver function better. All the herbs would work together to boost the immune system and help stop cancer growth and spread. (xii.30)
Evidence of Benefit in Animals
Modern research supports many of the Ayurvedic and herbal veterinarian uses of turmeric. For example, turmeric and curcumin have been shown to be comparable to the NSAID phenylbutazone and other effective drugs that prevent tumors forming in response to carcinogens. (xii.30)
Results of studies conducted on specific conditions indicate turmeric and curcumin could help prevent or treat a number of them, including: (xii.30)
In a clinical trial involving 18 dogs with arthrosis, curcumin reduced levels of a number of markers for inflammation. The amount of curcumin (from turmeric) used was 6.60 mg per kg of body weight. (xii.43)
Recommended Dosages in Animals
Turmeric can be used in whole dried herb form or in a supplemental form containing just the curcuminoids from turmeric. Experts advise caution using turmeric in pregnancy because it may cause uterine contractions. Generally, powdered turmeric contains 0.6% curcumin. (xii.30)
Recommended Dosages of Turmeric & Curcumin for Pets
Pet
Dried Turmeric
Curcumin
Dogs
½-1 teaspoon twice daily
5-10 mg/kg body weight
twice daily
(i.e., 45-90 mg for a 20 pound dog)
Cats
¼ teaspoon
twice daily
2.5-5 mg/kg body weight
twice daily
Horses
1200-2400 mg/day
We recommend that a trained professional always be consulted first and encourage you to discuss the use of turmeric (or any herb or supplement) before treating a sick or injured pet. Herbs can be powerful medicines that may interfere with other drugs or be contraindicated with your pet's specific conditions.
Astragalus membranaceus, A. mongholicus
.
(

vi

.303)
Join the 1000s of People Who Are Discovering the Benefits of Turmeric.
---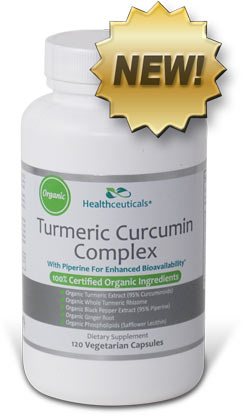 Healthceuticals® Turmeric Curcumin Complex
100% Certified
Organic ingredients
Organic Turmeric Extract - standardized to 95% curcuminoids.
Organic Whole Turmeric - provides full spectrum antioxidant, anti-inflammatory turmeric benefits, including turmerones and numerous vitamins, minerals, and phytonutrients
Organic Black Pepper Extract - standardized to 95% piperine; dramatically enhances bioavailablity.
Organic Phospholipids - markedly improve absorption.
Organic Ginger - works synergistically with turmeric to provide more powerful benefits.
Absolutely FREE of potentially harmful additives and fillers such as magnesium stearate.