Turmeric Compounds Could Help Prevent or Slow Glaucoma
One of the leading causes of blindness, glaucoma develops from damage to the optic nerve. Increased fluid pressure in the eye is the most common cause of optic nerve damage, but not the only one. Can you prevent this damage naturally? Studies suggest that turmeric compounds may help. (viii.68, 113)
Causes and Risk Factors for Glaucoma
Aging, diabetes, heart disease, race, and genetic factors increase the risk of glaucoma. Except for congenital glaucoma, the condition frequently progresses without noticeable symptoms. (viii.2, 78)
Diabetics have double the risk of developing glaucoma compared to non-diabetic adults. Typically in diabetics the abnormally high pressure in the vitreous fluid of the eye causes damage to the optic nerve, which can lead to blindness. (viii.2, 78)
However, high eye fluid pressure is not always a symptom and cause of the nerve damage. Sometimes abnormal blood vessel formation and inadequate blood flow (ischemia) in the iris and other parts of the eye can also cause glaucoma. (viii.79, 114)
Researchers have found that unhealthy mitochondria (the parts of cells that process energy) in the optic nerve also play a role. Inflammation, free radicals, and ischemia can all damage mitochondria. (viii.114-115)
How Can Turmeric Help?
Research suggests that turmeric compounds (especially curcumin) have properties that protect retinal ganglion cells (RGCs). These cells form the optic nerve, which sends visual signals to and from the brain. What are turmeric's protective properties? How do they work? (viii.61)
Precautions with Some Nutrients
Some compounds in turmeric have had reports of adverse effects or links to glaucoma, despite beneficial properties:
Population and clinical studies suggest magnesium is beneficial in preventing and treating glaucoma. However, in the Rotterdam population study, high intake of magnesium was linked to an increased risk of open-angle glaucoma. (

viii

.123, 134, 151)
Niacin is an antioxidant and is known to help keep blood vessels healthy — both of which can help prevent glaucoma or its progression. However, there has been a case report of an adverse effect of niacin on an elderly patient with glaucoma. When he took a 500 mg niacin supplement, the pressure in his eyes substantially increased. This was reversed when he stopped taking the niacin. (

viii

.152)
Join the 1000s of People Who Are Discovering the Benefits of Turmeric.
---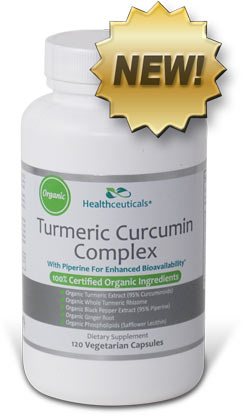 Healthceuticals® Turmeric Curcumin Complex
100% Certified
Organic ingredients
Organic Turmeric Extract - standardized to 95% curcuminoids.
Organic Whole Turmeric - provides full spectrum antioxidant, anti-inflammatory turmeric benefits, including turmerones and numerous vitamins, minerals, and phytonutrients
Organic Black Pepper Extract - standardized to 95% piperine; dramatically enhances bioavailablity.
Organic Phospholipids - markedly improve absorption.
Organic Ginger - works synergistically with turmeric to provide more powerful benefits.
Absolutely FREE of potentially harmful additives and fillers such as magnesium stearate.