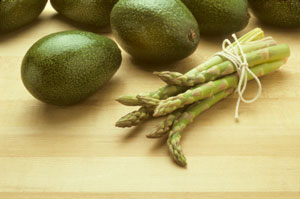 Folic Acid
Table

II

.19: Folic Acid (

ii

.15, 46, 82-87)
WHAT IS IT?
Folic acid(often called folate) is natural, water-soluble form of vitamin B9. It's also found in healthy foods and herbs such as alfalfa, asparagus, astragalus, avocado, beans, beets, oranges, romaine lettuce, spinach, and strawberries, royal jelly and bee pollen also contain folic acid. Like turmeric, these foods are full of antioxidants and could help prevent balding and cancer. They may also reduce wrinkles, treat obesity, and help with thinning hair.
POTENTIAL HEALTH BENEFITS
Turmeric contains 0.858 mcg of folic acid per teaspoon of the ground spice.
Cells need folic acid to make and repair DNA, and folate deficiency can lead to colon cancer. Getting enough folic acid in your diet can also help prevent cervical cancer.
Along with vitamin B12, low levels of folic acid can lead to loss of cognitive skills and ability to remember (such as in Alzheimer's disease).
Low folate levels can increase the risk of depression, but supplementing with folic acid can enhance effectiveness of antidepressants.
Folic acid supplements can help prevent birth defects.
Asparagus officinalis
.
(

ii

.15)
Astragalus membranaceus, A. mongholicus
.
(

ii

.15)
Persea americana, P. gratissima
.
(

ii

.15)
Citrus sinensis
and species of
C. aurantium
(sweet and bitter oranges).
(

ii

.15)
Fragaria
, a berry member of the rose family.
(

ii

.82)
Substance secreted by honeybees.
(

ii

.15)
Join the 1000s of People Who Are Discovering the Benefits of Turmeric.
---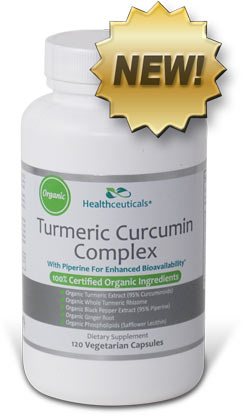 Healthceuticals® Turmeric Curcumin Complex
100% Certified
Organic ingredients
Organic Turmeric Extract - standardized to 95% curcuminoids.
Organic Whole Turmeric - provides full spectrum antioxidant, anti-inflammatory turmeric benefits, including turmerones and numerous vitamins, minerals, and phytonutrients
Organic Black Pepper Extract - standardized to 95% piperine; dramatically enhances bioavailablity.
Organic Phospholipids - markedly improve absorption.
Organic Ginger - works synergistically with turmeric to provide more powerful benefits.
Absolutely FREE of potentially harmful additives and fillers such as magnesium stearate.