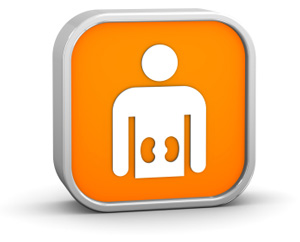 Can Turmeric Help Treat Diabetic Nephropathy?
The chronic inflammation and high blood pressure found in many people with diabetes can lead to diabetic nephropathy. In fact, diabetes is the most common underlying factor in chronic kidney disease and failure worldwide. (vii.263)
At the cellular level, signs of diabetic nephropathy include: (vii.263)
↑

Growth factors and structural proteins (such as collagen) that promote fibrosis and harmful changes in the kidney.

↑

Proteins in the urine (a sign of kidney damage and dysfunction).

↑

Inflammatory cytokine proteins and immune system cells.
How Can Turmeric Compounds Help?
Multiple animal studies show that turmeric's curcumin compounds exert numerous beneficial effects in animal models of type 2 diabetes. This activity includes benefits in the kidneys: (vii.109, 263)
Curcumin treatment also lowers elevated levels of proteins in the urine, indicating improved kidney function. (vii.109, 263)
Evidence of Benefit
Results of a clinical study show that turmeric supplements can treat diabetic nephropathy. Reducing the cellular effects of the disease could help prevent or delay diabetic nephropathy from progressing to kidney failure. (vii.277)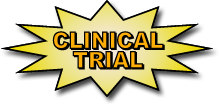 Table VII.35: Clinical Evidence of Benefit in Patients with Diabetic Nephropathy
Study Details
Study Results

Randomized, Double-Blind, Placebo Controlled Clinical Trial

40 patients with type 2 diabetic nephropathy were randomly assigned to take a placebo or turmeric supplements. (vii.277)

500 mg of turmeric three times a day for 2 months (or placebo)

Turmeric supplements significantly: (vii.277)

↓

Levels of inflammatory cytokine proteins.

↓

Transforming growth factor-beta (TGF-β).

↓

Proteins in urine (proteinuria).

TGF-β and proteinuria can promote end-stage kidney disease. (vii.277)
Join the 1000s of People Who Are Discovering the Benefits of Turmeric.
---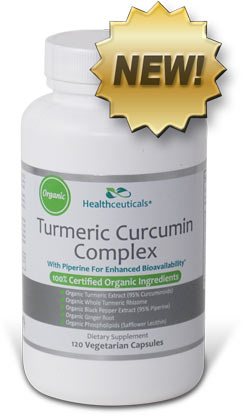 Healthceuticals® Turmeric Curcumin Complex
100% Certified
Organic ingredients
Organic Turmeric Extract - standardized to 95% curcuminoids.
Organic Whole Turmeric - provides full spectrum antioxidant, anti-inflammatory turmeric benefits, including turmerones and numerous vitamins, minerals, and phytonutrients
Organic Black Pepper Extract - standardized to 95% piperine; dramatically enhances bioavailablity.
Organic Phospholipids - markedly improve absorption.
Organic Ginger - works synergistically with turmeric to provide more powerful benefits.
Absolutely FREE of potentially harmful additives and fillers such as magnesium stearate.