Herbal Turmeric Relief for Vaginitis
Chances are if you're a woman of childbearing age you may have had a vaginal infection and not even have known it. They are extremely common, but luckily most don't cause symptoms. However, if you've ever had a vaginal infection that caused vaginitis, you know how uncomfortable they can be. (x.33)
Technically, vaginitis is an inflammatory condition of the vagina. However, the vast majority of cases are caused by infection. They can also progress to and/or include infection of the cervix and pelvic inflammatory disease. Recurrent infection and vaginitis can increase the risk of STD transmission, including HIV. (x.33-34)
Causes and Symptoms
Vaginitis is a common gynecological complaint reported by women. The most frequent cause of vaginitis is bacterial infection. Second and 3rd most common causes are fungal yeast infections and trichomoniasis. (x.33-34)
Risk factors for infection involve anything that can change the pH of the vagina and/or disturbs the natural balance of microorganisms in the body, such as: (x.25, 33)
Age and hormonal status, since estrogen helps control the vaginal environment.
Chemical irritants (including tobacco, detergents, and douches).
Hygiene.
Compromised immune status (including from diabetes).
Long-term antibiotic use.
STDs.
Contraceptives and IUDs.
These pH and flora changes make the vaginal environment more susceptible to infection. (x.25, 33)
Symptoms of vaginal infection with vaginitis include: (x.33-34)
Burning sensation.
Discharge.
Extreme itchiness.
Foul odor.
Soreness.
How Can Turmeric Help?
Conventional treatments include antimicrobial or antifungal gels/creams and antibiotic drugs, which can cause side effects in some people. These include skin irritation and headache. (x.33, 35)
Research demonstrates that turmeric has antimicrobial, antifungal, and anti-inflammatory properties. Lab and clinical studies suggest that turmeric and its compounds could help safely treat and cure vaginitis. (x.33-34)
Table X.3: Effects of Turmeric Against Vaginitis
Turmeric Form/Compound
Study Details
Take Away Point

V-Gel, a topical herbal gel containing turmeric
(Curcuma longa)

In 2 open clinical trials treating women of all ages with active vaginitis caused by bacterial, yeast, or parasite infection, the turmeric-containing herbal gel significantly reduced symptoms of: (x.12, 34)

Discharge
Itchiness
Odor
Soreness

Patients in both trials applied the gel twice a day intravaginally. In the one trial that measured microbial levels, the herbal gel completely cured infection in all patients within 2 weeks. (x.12, 34)

Turmeric can help relieve the symptoms of and treat vaginitis.

Water-based cream containing turmeric
(Curcuma longa)

In a multi-center clinical trial, 100 women with symptomatic vaginal infection were randomly assigned to a treatment or placebo group. Both groups were instructed to apply 1 gram (1") of cream twice a day for 7-10 days. Patients were examined both before and after the trial period. (x.35)

The herbal cream was found to be effective in 76% of those who used it, as opposed to 24% of placebo. These results were based on the average patient and investigator findings that the herbal cream significantly reduced the following: (x.35)

Burning sensation
Discharge
Itchiness
Microbial levels
Redness and irritation

Standardized, liposomal curcumin

In the lab, turmeric's curcumin compounds inhibited inflammatory cytokines in vaginal cells. (x.35)
Turmeric Compounds Can Help with Other Causes of Itchy Skin
Chronic dermatitis (allergic and the kind caused by irritants) and lichen planus are alternate diagnoses for vaginitis caused by infection. Sometimes the conditions occur at the same time or are aggravated by each other. The major symptoms of both are vulvar itch, inflammation, and burning sensation. (x.33, 36)
Conventional treatment is typically topical steroids, which effectively relieve the symptoms of dermatitis and lichen planus. However, daily or frequent use of topical steroids for these chronic conditions can cause side effects. (x.36)
Results recently published clinical trial suggests that an herbal topical ointment may safely and effectively relieve symptoms and limit the necessity of using steroids. The product (Zantogin®) contains compounds from turmeric, licorice root, chamomile, and Zanthoxlum bungeanum as active ingredients. (x.36)
In the clinical trial, 96 patients with chronic dermatitis or lichen simplex were first treated with a potent topical steroid for 15 days or until symptoms were reduced to mild or none. (x.36)
After this initial treatment, the women were randomly divided into 2 groups. One was treated with a placebo cream containing the amounts of tea tree oil and lactic acid as the herbal cream (to simulate the smell of the treatment cream); the other group was given the herbal cream. Both groups were advised to apply the cream once a day for 60 days, but told they could use the steroid cream as well if necessary. (x.36)
The Zantogin® cream successfully relieved symptoms and dramatically reduced the use of topical steroids: (x.36)
Table X.4: Effects of Herbal Cream on Vulvar Dermatitis/Lichen Simplex

| Treatment Group | % Patients Needing to Use Topical Steroids Again | # Days Resorting to Topical Steroids for Symptom Relief |
| --- | --- | --- |
| Zantogin®, a cream containing curcumin (from turmeric) along with other herbal extracts | 7% | 3 days (average) |
| Placebo | 89% | 16 days (average) |
Most commonly from
Candida albicans
.
(

x

.33)
A sexually transmitted disease caused by infection by the parasite
Trichomonas vaginalis
.
(

x

.33)
Mometasone furoate.
(

x

.36)
Glycyrrhiza glabra, G. uralensis
.
(

ii

.15)
Matricaria recutita
(German chamomile),
Chamaemelum nobile
(Roman chamomile).
(

ii

.15)
Join the 1000s of People Who Are Discovering the Benefits of Turmeric.
---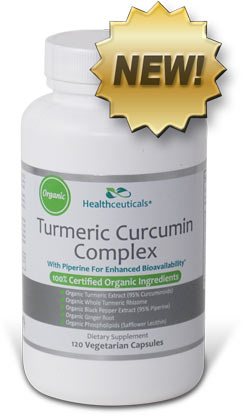 Healthceuticals® Turmeric Curcumin Complex
100% Certified
Organic ingredients
Organic Turmeric Extract - standardized to 95% curcuminoids.
Organic Whole Turmeric - provides full spectrum antioxidant, anti-inflammatory turmeric benefits, including turmerones and numerous vitamins, minerals, and phytonutrients
Organic Black Pepper Extract - standardized to 95% piperine; dramatically enhances bioavailablity.
Organic Phospholipids - markedly improve absorption.
Organic Ginger - works synergistically with turmeric to provide more powerful benefits.
Absolutely FREE of potentially harmful additives and fillers such as magnesium stearate.