Can Turmeric Be Beneficial When Barely Detectable?
The reports of benefits of turmeric and curcumin without apparent bioavailability seem contradictory. How can turmeric compounds effectively treat arthritis, break up plaques in Alzheimer's disease, and prevent cancer if they don't stay in the blood long enough to reach those areas of the body? Researchers offer several possible explanations: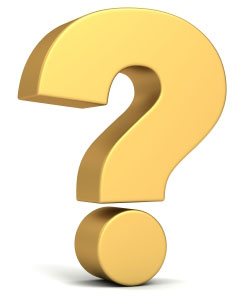 Metabolites Are Bioactive
Studies show curcumin metabolites — the compounds formed as our bodies digest turmeric and curcumin — stay in the blood at levels high enough to affect cells. Could it be that the metabolites exert beneficial effects long after the parent compound is gone? Some research suggests this could explain turmeric's health benefits. However, evidence on the strength of curcumin metabolites is unclear. For example, experimental results show they have stronger anti-diabetic effects than the pure curcumin parent compound. However, curcumin metabolites seem to have much weaker anti-inflammatory properties. (i.13, 40-46)
Inflammatory Conditions May Transform Curcumin Metabolites Back to Parent Form
Most tissues in the body have an enzyme called β-glucuronidase. It can transform curcumin's glucuronide metabolites back to their more potent aglycone parent form. Some of our immune system cells also release this enzyme during inflammatory situations. (i.46-48)
An example of this enzyme release would be in the areas near cancerous tissue. In fact, experiments indicate that this enzyme activates glucuronide-forms of cancer drugs near pancreatic cancer and lung tumors. Studies show the same kind of transformation in other plant compounds (such as quercetin). Reactivating curcumin's parent compounds in inflamed tissue could also explain its potent effects: (i.46)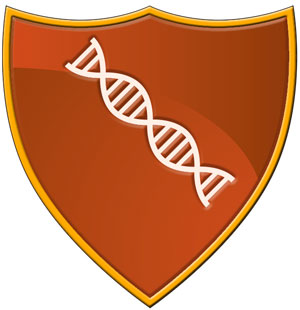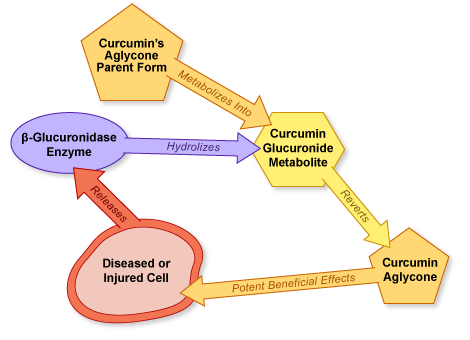 However, these possibilities are still controversial since study results are conflicting. For example, in one clinical trial patients with liver cancer were given 450-3600 mg/day of curcumin for 1 week. Very little of the curcumin was detected in the blood (as expected). After surgery (which was done 6-7 hours after the last dose of curcumin), normal and diseased liver tissue was tested. No parent curcumin was detected. Moreover, only trace amounts of metabolites were found. (i.46, 49)
Conversely, healthy people who took a single high dose of curcumin (10-12 grams) in a different clinical study showed levels of curcumin metabolites in the blood high enough to be bioactive. Again, this would be especially beneficial if enzymes transformed these back to curcumin's parent form in diseased tissue. (i.46, 49)
Low Doses of Curcumin Changes Gene Activity
Another recent discovery about the turmeric compound curcumin is that it can make epigenetic changes. These changes affect the activity of genes. They could account for curcumin's potent health benefits—despite its limited bioavailability. (i.50)
Specifically, epigenetic changes temporarily activate and/or deactivate genes. In turn, this stimulates or stops the production of proteins and enzymes that contribute to or help prevent disease. Scientists have determined that it only takes very low amounts of curcumin to trigger these helpful changes. Further studies confirm dietary and drug substances that regulate gene activity via epigenetics can help prevent or treat diseases such as cancer and COPD. (i.50)
We still don't have a complete picture of how turmeric, curcumin, and curcumin metabolites work. The scientific community continues to try to uncover all the molecular mysteries of turmeric. In the meantime, scientists are also busy engineering ways to enhance the bioavailability in cells of curcumin. They are also looking for and finding substances that increase the potency of turmeric and curcumin. (i.13, 40-46)
Join the 1000s of People Who Are Discovering the Benefits of Turmeric.
---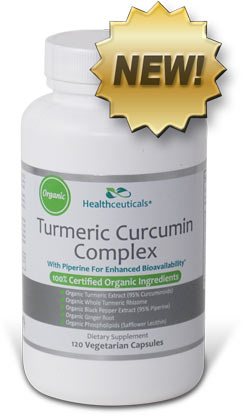 Healthceuticals® Turmeric Curcumin Complex
100% Certified
Organic ingredients
Organic Turmeric Extract - standardized to 95% curcuminoids.
Organic Whole Turmeric - provides full spectrum antioxidant, anti-inflammatory turmeric benefits, including turmerones and numerous vitamins, minerals, and phytonutrients
Organic Black Pepper Extract - standardized to 95% piperine; dramatically enhances bioavailablity.
Organic Phospholipids - markedly improve absorption.
Organic Ginger - works synergistically with turmeric to provide more powerful benefits.
Absolutely FREE of potentially harmful additives and fillers such as magnesium stearate.