Turmeric Provides Safe and Effective Treatment for Chronic Uveitis
Clinical studies show that turmeric compounds are an effective and safe treatment option for chronic uveitis. Chronic uveitis is an inflammatory eye condition that can cause blindness. Symptoms include: (viii.157)
Pain.
Reddened eyes.
Light sensitivity.
Blurry vision.
Loss of vision.
Seeing dark spots.
Who is at Risk of Developing Uveitis?
Although experts don't know the exact cause of uveitis, some possible risk factors include: (viii.157)
Drug reaction
Exposure to toxic chemicals
Herpes and Epstein-Barr viruses
Lyme disease
Reiter syndrome
Sarcoidosis
Syphilis
Systemic lupus erythematosus
Toxoplasmosis infection
Pre-Clinical and Clinical Evidence of Benefit
Conventional treatment is typically with corticosteroids. Steroids are known to have potential adverse side effects. According to several clinical studies, turmeric compounds could provide an effective natural treatment option. (viii.157-159)
The clinical trial involved over 100 patients with recurring chronic uveitis. Patients were given Norflo® twice a day for 12 months. Norflo® is a pharmaceutical preparation containing 600 mg of a curcumin-lipid compound called Meriva. Not only did the turmeric compound relieve symptoms, it also prevented relapse. (viii.159)
The study did not include a group of patients who took a placebo for comparison. However, the researchers were able to compare the curcumin treatment to the previous two years of standard treatment. Prior to adding Norflo® to their treatment regimen, patients typically had 1-4 relapses a year. While taking the curcumin Norflo® preparation, total relapses for all patients were dramatically reduced from 275 recurrences to only 36. (viii.159)
Preclinical and clinical studies show that other turmeric compounds may also be beneficial in treating uveitis, including:
Animal studies also suggest that topical turmeric extracts may help reduce inflammation in uveitis. (viii.64, 160)
Join the 1000s of People Who Are Discovering the Benefits of Turmeric.
---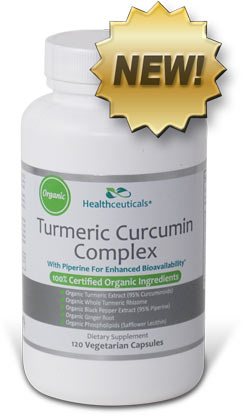 Healthceuticals® Turmeric Curcumin Complex
100% Certified
Organic ingredients
Organic Turmeric Extract - standardized to 95% curcuminoids.
Organic Whole Turmeric - provides full spectrum antioxidant, anti-inflammatory turmeric benefits, including turmerones and numerous vitamins, minerals, and phytonutrients
Organic Black Pepper Extract - standardized to 95% piperine; dramatically enhances bioavailablity.
Organic Phospholipids - markedly improve absorption.
Organic Ginger - works synergistically with turmeric to provide more powerful benefits.
Absolutely FREE of potentially harmful additives and fillers such as magnesium stearate.