Vitamin E
Table

II

.43: Vitamin E (

ii

.1, 15, 82, 86, 137, 159-164)
WHAT IS IT?
Tocopherols are vitamin E compounds. Both fresh and dried turmeric root contain alpha tocopherol, the most active form of fat-soluble vitamin E in humans. The human body can't make vitamin E, but α-tocopherol is maintained in the cell membranes.
Foods that contain vitamin E include alfalfa, almonds, apples, asparagus, avocado, coffee, fennel, hazelnuts, olive oil, oranges, mango, peanuts and peanut butter, sunflower seeds and oil, sweet potatoes, and wheat germ and oil. Besides turmeric, herbal sources of vitamin E include anise, eucalyptus, mint, purslane, and red sage. Bee pollen and royal jelly also contain vitamin E.
Research indicates these vitamin E-containing foods, herbs, and supplements may help prevent cancer (including breast cancer) and reduce stress. They could even help with acne and wrinkles, as well as improve thinning hair and cellulite.
POTENTIAL HEALTH BENEFITS
Vitamin E, including α-tocopherol, is an antioxidant that studies suggest could offer the following beneficial health effects:
Join the 1000s of People Who Are Discovering the Benefits of Turmeric.
---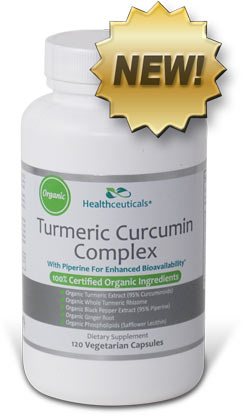 Healthceuticals® Turmeric Curcumin Complex
100% Certified
Organic ingredients
Organic Turmeric Extract - standardized to 95% curcuminoids.
Organic Whole Turmeric - provides full spectrum antioxidant, anti-inflammatory turmeric benefits, including turmerones and numerous vitamins, minerals, and phytonutrients
Organic Black Pepper Extract - standardized to 95% piperine; dramatically enhances bioavailablity.
Organic Phospholipids - markedly improve absorption.
Organic Ginger - works synergistically with turmeric to provide more powerful benefits.
Absolutely FREE of potentially harmful additives and fillers such as magnesium stearate.