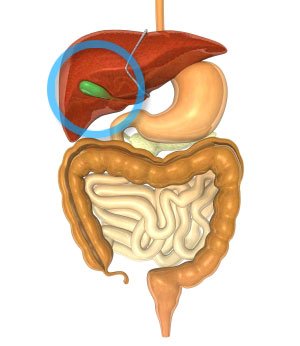 Can Turmeric Help Prevent Gallstones?
Gallstones are a common condition, especially in women. Most people who have gallstones never even know it. However, sometimes they can cause pain and inflammation. In fact, gallstones are still the most common gastrointestinal disorder to require surgery. (vii.122-124)
Both Ayurveda and traditional Chinese medicine (TCM) recommend turmeric to prevent gallstones. Now recent medical research shows that turmeric compounds support liver and gallbladder health. (vii.35, 125-128)
What Are Gallstones?
Gallstones are hardened deposits of cholesterol and other bile substances. They usually form in the gallbladder and the liver's bile ducts. On occasion, brown gallstones also form in the liver ducts (mostly due to bacterial infections from E. coli). The various types of gallstones range in size from a few millimeters to a few centimeters. (vii.122-124)
How Are Gallstones Treated Conventionally?
Since most gallstones don't cause symptoms, conventional medicine typically treats gallstones only when they become painful or create complications. At that point, gallstones are usually treated with anti-inflammatory pain relievers and often require surgery. (vii.129-130)
In some people with high risk of gallstones (e.g., patients with rapid weight loss) experts recommend preventive measures (such as taking ursodeoxycholic acid). A bile acid, ursodeoxycholic acid was also once used to dissolve small stones. However, in one study bile acid therapy was only 40-60% effective on a select group of patients. Even with long-term use of bile acid therapy 25-50% of patients develop gallstones again. (vii.129-130)
Prevention versus Treatment
Multiple studies suggest that both turmeric and curcumin could help prevent gallstones from forming by limiting risk factors (including cirrhosis of the liver). Turmeric and its compounds cause gallbladder contractions. Curcumin has been shown to stimulate the same in healthy study participants. Contractions empty bile from the gallbladder and help prevent the build-up of sludge that promotes gallstones. (vii.35, 125-128)
Given the promising results in liver and gallbladder studies, turmeric may be an effective herbal remedy to prevent gallstones. Many of turmeric's compounds have known anti-inflammatory properties, stimulate bile production, and reduce the ingredients that form gallstones. Both turmeric and its curcumin compounds are considered safe for human use designated as GRAS by the U.S. Food and Drug Administration (even at high doses). (vii.18, 100)
Join the 1000s of People Who Are Discovering the Benefits of Turmeric.
---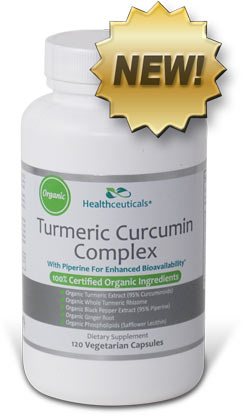 Healthceuticals® Turmeric Curcumin Complex
100% Certified
Organic ingredients
Organic Turmeric Extract - standardized to 95% curcuminoids.
Organic Whole Turmeric - provides full spectrum antioxidant, anti-inflammatory turmeric benefits, including turmerones and numerous vitamins, minerals, and phytonutrients
Organic Black Pepper Extract - standardized to 95% piperine; dramatically enhances bioavailablity.
Organic Phospholipids - markedly improve absorption.
Organic Ginger - works synergistically with turmeric to provide more powerful benefits.
Absolutely FREE of potentially harmful additives and fillers such as magnesium stearate.