Turmeric May Help Reduce the Risk of Skin Cancer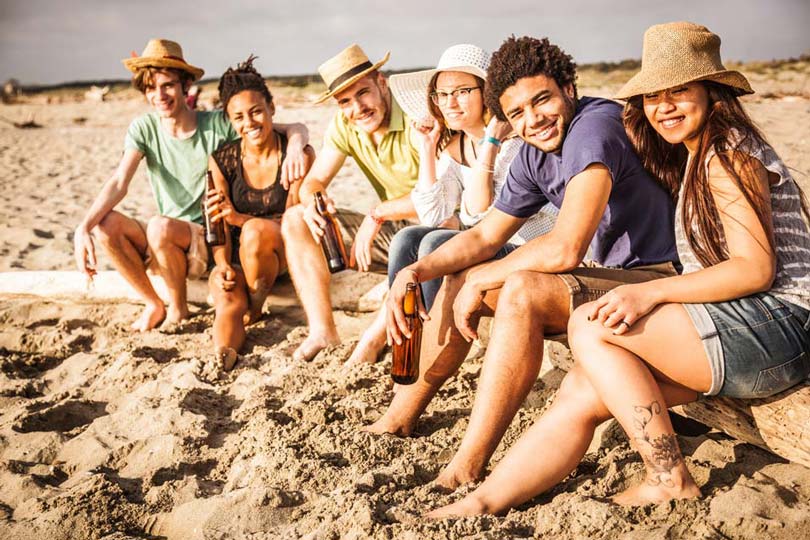 With skin cancer rates on the rise, experts suggest that natural compounds can help protecting your skin inside and out. Studies show that using turmeric and its compounds (both nutritionally and topically) may be able to prevent or even treat skin cancer. In fact, cooking turmeric with coconut or olive oil transforms its curcumin compounds into even more powerful anticancer fighters. (vi.443-447)
Causes and Risk Factors for Skin Cancer
Skin cancer causes and risk factors include:
All of these factors increase the likelihood of DNA damage in skin cells that can lead to cancer. (vi.443)
How Can Turmeric Help?
Turmeric's curcumin compounds were tested in one small clinical study involving patients with precancerous lesions with a high risk of progressing to full-blown cancer. In the 6 patients with Bowen's disease of the skin, none progressed to malignancy during the 3 month study. Two of the patients actually showed improvement at the cellular level. (vi.8)
The antioxidant and anti-inflammatory properties of turmeric and many of its compounds help protect against free radicals, inflammation, and DNA damage that can cause or promote skin cancer. Combinations of compounds (as they are in turmeric and other foods) may also have a cumulative effect against cancer cells. In fact, studies suggest they may even work better together in suppressing cancer cell growth. (vi.153, 443-448)
Table

VI

.50: Turmeric's Phytochemical and Nutrient Effects in Skin Cancer
Turmeric Compound
Effects in Preclinical Studies

(also known as eucalyptol)

Beta elemene (vi.415)

When combined with curcumin, borneol increased curcumin's effectiveness in the following: (vi.448)

Curcumin (vi.74)

Both topical and oral doses of curcumin have been tested in lab and animal studies against skin cancer, especially melanoma. They suggest that curcumin can help prevent and treat skin cancer. Curcumin also works well with different chemotherapy drugs. Interestingly, in lab studies low doses of curcumin combined with exposure to visible light and UVA radiation significantly blocks melanoma growth. (vi.452)

Curcumin blocks expression of growth cycle proteins such as Ki-67 and cyclin D1, including in melanoma and squamous cell carcinoma. Research indicates that substances that suppress Ki-67 can stop cancer cells from growing and is a strong indicator of survival in melanoma. In an animal model of this aggressive type of skin cancer, curcumin suppressed levels of Ki-67 by itself, although the effect was much greater when animals were exposed to UVA radiation. This may be especially important in thick, nodular melanomas, since recent analysis of cancer patient cases confirms that high Ki-67 levels themselves are associated with a poorer prognosis in this type of melanoma — more so than even mitotic count. (vi.107-108, 122, 275, 453-454)

In another animal study, curcumin significantly inhibited growth of squamous cell carcinoma skin tumors. The strength of its antitumor effect was dose-dependent. Other animal studies show that oral curcumin doses significantly reduce the size of chemoresistant and highly metastatic melanoma tumors. (vi.122, 275, 455)

Multiple lab and animal studies also show the following anti-skin cancer dose and time-dependent effects of curcumin:

Note: M14 melanoma cells are resistant to curcumin treatment due to overexpression of a gene involved in lipid removal from cells. (vi.475)

Vanillic acid (vi.55, 74)

Whole turmeric extract

↓

Metastasis to lung from melanoma. (

vi

.123)
Based on studies in other types of cancer, may synergistically boost curcumin's anticancer effects. (

vi

.183)
Caution: Curcumin and Cytokine Therapy
Lab studies suggest that curcumin could inhibit the effectiveness of cytokine therapy for melanoma. (vi.472)
Join the 1000s of People Who Are Discovering the Benefits of Turmeric.
---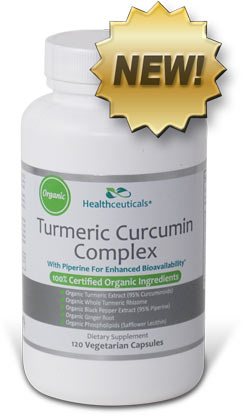 Healthceuticals® Turmeric Curcumin Complex
100% Certified
Organic ingredients
Organic Turmeric Extract - standardized to 95% curcuminoids.
Organic Whole Turmeric - provides full spectrum antioxidant, anti-inflammatory turmeric benefits, including turmerones and numerous vitamins, minerals, and phytonutrients
Organic Black Pepper Extract - standardized to 95% piperine; dramatically enhances bioavailablity.
Organic Phospholipids - markedly improve absorption.
Organic Ginger - works synergistically with turmeric to provide more powerful benefits.
Absolutely FREE of potentially harmful additives and fillers such as magnesium stearate.