Limonene
Table

II

.23: Limonene (

ii

.7, 11, 13, 15-16, 20, 23-24, 34, 37, 56, 66, 93-98)
WHAT IS IT?
Limonene is a monoterpene-type compound typically found in essential oils of plants. Manufacturers frequently use limonene as a flavor and scent in food, household, and personal care products. In turmeric, limonene is found in the rhizome, leaf, and in the rhizome's essential oil.
Limonene is also found in many citrus fruits (e.g., oranges, grapefruit, lemons, and lime) and herbs. These include angelica, anise, bay leaf, bergamot, pepper, caraway, cardamom, celery seed, chaste-tree, cilantro, cinnamon, citronella, cumin, dill, echinacea, eucalyptus, fennel, frankincense, hops, horehound, juniper berries, lavender, magnolia, mint, myrrh, Queen Anne's lace, rosemary, sage, St. John's wort, tamarind, tarragon, tea tree, and winter and summer savory. Research suggests these antioxidant fruits and herbs could help relieve stress, thinning hair, acne, wrinkles, and cellulite.
POTENTIAL HEALTH BENEFITS
Limonene is a potent antioxidant and anti-inflammatory substance. In studies, limonene also shows the following properties and healthful activities:
Limonene is also a good pesticide. It's toxic to:
Bugs that attack garden vegetables (such as the European corn borer).
Bugs found in stored grains (e.g., in flour and rice).
Rats.
Join the 1000s of People Who Are Discovering the Benefits of Turmeric.
---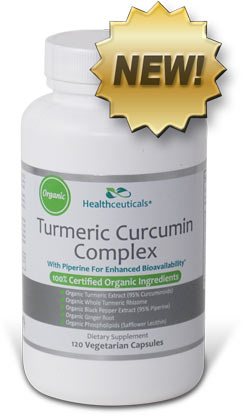 Healthceuticals® Turmeric Curcumin Complex
100% Certified
Organic ingredients
Organic Turmeric Extract - standardized to 95% curcuminoids.
Organic Whole Turmeric - provides full spectrum antioxidant, anti-inflammatory turmeric benefits, including turmerones and numerous vitamins, minerals, and phytonutrients
Organic Black Pepper Extract - standardized to 95% piperine; dramatically enhances bioavailablity.
Organic Phospholipids - markedly improve absorption.
Organic Ginger - works synergistically with turmeric to provide more powerful benefits.
Absolutely FREE of potentially harmful additives and fillers such as magnesium stearate.