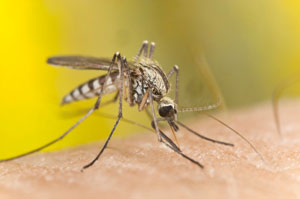 Can Turmeric Prevent and Treat Malaria?
Studies suggest that turmeric has potent insect repellent properties against mosquitoes, including those that carry Plasmodium falciparum, the parasite that causes malaria. In addition, some of turmeric's compounds block P. falciparum's growth and activity, suggesting turmeric could help treat people already infected with the malaria parasite. (v.6)
How Do People Get Malaria?
Malaria is caused by blood parasites transmitted by the bite of an infected mosquito. Although other species of Plasmodium cause malaria too, P. falciparum is the most common parasite that causes the disease in humans. It is also the species that can cause the most severe, potentially fatal form of malaria. (v.137)
Symptoms of Malaria
Malaria can be difficult to diagnose in people who don't live in tropical/subtropical areas. This is because symptoms are so common to other illnesses. They include: (v.137)
Aches and pains
Chills
Diarrhea
Fever
Low blood sugar (hypoglycemia)
Vomiting
Weakness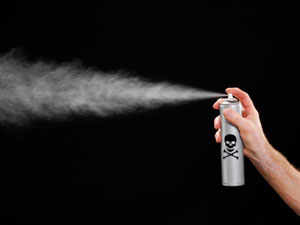 If the infection gets worse, it can cause kidney failure, severe anemia, and respiratory distress. (v.137)
How Might Turmeric Help?
In the lab, turmeric's curcumin compound blocked growth of the parasite P. falciparum that causes malaria. Importantly, the type of P. falciparum curcumin was tested on was the drug-resistant variety. This suggests curcumin could help treat cases of malaria that don't respond to chloroquine treatment. (v.6)
Turmeric extract is also an excellent insect repellent. Human clinical trials show it prevents mosquito bites — including from the species that carries malaria parasites. (v.137-138)
Lab studies suggest that other compounds in turmeric can help prevent malaria too:
Table

V

.13: Antimalarial Effects of Turmeric Compounds
TURMERIC COMPOUND
EFFECTS

Blocked development of P. falciparum parasites. (

v

.92)

Repels mosquitoes that cause malaria. (

v

.139)

Stopped P. falciparum parasites from developing. (

v

.92)

Antimalarial activity in various concentrations. (

v

.71)
Join the 1000s of People Who Are Discovering the Benefits of Turmeric.
---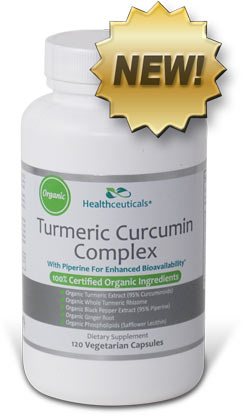 Healthceuticals® Turmeric Curcumin Complex
100% Certified
Organic ingredients
Organic Turmeric Extract - standardized to 95% curcuminoids.
Organic Whole Turmeric - provides full spectrum antioxidant, anti-inflammatory turmeric benefits, including turmerones and numerous vitamins, minerals, and phytonutrients
Organic Black Pepper Extract - standardized to 95% piperine; dramatically enhances bioavailablity.
Organic Phospholipids - markedly improve absorption.
Organic Ginger - works synergistically with turmeric to provide more powerful benefits.
Absolutely FREE of potentially harmful additives and fillers such as magnesium stearate.