Balance PMS Naturally with Turmeric Compounds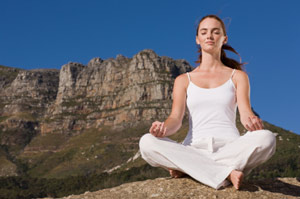 Premenstrual syndrome is a recognized medical disorder defined by a set of symptoms that recur 7-14 days before the first day of menstruation. The most common symptoms can include: (x.37)
Acne.
Appetite changes; cravings.
Bloating; water retention.
Bowel movement disturbances (such as diarrhea or constipation).
Clumsiness; dizziness.
Insomnia; fatigue.
Mood swings; lethargy; feelings of insecurity; depression; nervousness; withdrawal; loss of libido; irritability.
Types of PMS
Although the causes of PMS are not absolute, researchers suggest that hormonal and brain chemical changes or imbalances play a role in PMS. These are related to various hormones involved with the menstrual cycle. For the sake of treatment purposes, guidelines loosely divide and group PMS symptoms and related hormones into 4 subtypes: (x.7, 37)
Table X.5: PMS Subtypes
Subtype
Estrogen Imbalance
Associated Symptoms

PMS-A

Irritability.

PMS-C

Increased appetite.

Cravings for sugar and other carbohydrates.

Heart palpitations.

PMS-D

Cognitive impairment.

PMS-H

Bloating.

Breast tenderness.

Swollen hands and feet.
Conventional PMS Treatments
Conventional therapies are prescribed to treat symptoms or regulate hormones: (x.7)
Anti-inflammatory pain medication (e.g., ibuprofen).
Diuretics to reduce water retention.
Anti-depressants.
Anti-anxiety medications.
Birth control pills.
Hormonal suppressants.
However, possible side effects of these drugs can actually include other PMS symptoms. For example, anti-anxiety and antidepressant drugs can sometimes cause headaches and nervousness, and hormonal suppressants can cause acne. (x.7)
How Can Turmeric Help?
Turmeric has beneficial antioxidant and anti-inflammatory effects properties. Research and integrative medicine experts suggest that nutrients in turmeric could help relieve PMS symptoms in a number of gentle, hormone-balancing ways: (x.7)
Table X.6: Turmeric Compounds for Menstrual Problems
Turmeric Form or Compound
What It Does
PMS Subtype

PMS-H

PMS-H

PMS-H

Curcumin

An added benefit of curcumin's powerful anti-inflammatory properties is that it may be able to protect against toxic shock syndrome. Though rare, TSS is a potentially fatal condition which has been linked to tampon use during menstruation. (x.16)

PMS-A

PMS-D

PMS-H

PMS-A

PMS-D

PMS-H

PMS-H

PMS-A

PMS-A

PMS-C

PMS-H

PMS-A

PMS-D

PMS-H

PMS-D

Turmeric (whole)

Turmeric's antispasmodic properties could help reduce or eliminate cramps. (

x

.8)
Anti-inflammatory properties reduce pain and swelling. (

x

.7)

PMS-A

PMS-D

PMS-H
Join the 1000s of People Who Are Discovering the Benefits of Turmeric.
---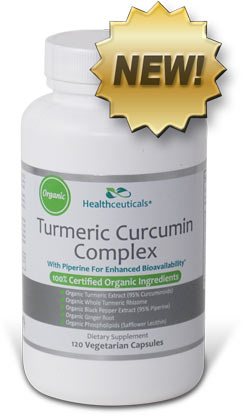 Healthceuticals® Turmeric Curcumin Complex
100% Certified
Organic ingredients
Organic Turmeric Extract - standardized to 95% curcuminoids.
Organic Whole Turmeric - provides full spectrum antioxidant, anti-inflammatory turmeric benefits, including turmerones and numerous vitamins, minerals, and phytonutrients
Organic Black Pepper Extract - standardized to 95% piperine; dramatically enhances bioavailablity.
Organic Phospholipids - markedly improve absorption.
Organic Ginger - works synergistically with turmeric to provide more powerful benefits.
Absolutely FREE of potentially harmful additives and fillers such as magnesium stearate.