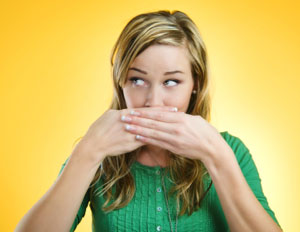 Turmeric for Gum Disease and Other Mouth and Dental Problems
Turmeric is recommended by Ayurvedic dentists as a natural herbal medicine for tooth and gum problems. Its signature yellow color has also been used in novel dental products, such as sealants to protect against cavities and as a staining agent to help detect plaque. Recent lab studies show that turmeric's essential oil significantly blocked one of the primary bacteria that cause dental plaque and cavities. Some of the most important benefits turmeric can offer are symptom relief from toothache and help healing painful, swollen gums. (viii.185-187)
Herbal Help for Gingivitis
Periodontal disease, commonly known as gum disease or gingivitis, can be a serious chronic inflammatory condition. At its mildest, the common gum condition can be uncomfortable. Untreated gingivitis can break down the bone and tissue holding teeth in place. This can lead to tooth loss and may also contribute to other life-threatening diseases. (viii.187-188)
What Causes Gingivitis?
Gingivitis is triggered by an excess of bacteria in the mouth that creates plaque, a sticky biofilm on the teeth and gums. The immune system's reaction to this plaque can generate lots of free radicals and harmful inflammation. Risk factors for gingivitis include age, smoking, substance abuse, and hormone changes in women. (viii.188-189)
Studies have also shown links between periodontal disease and the following conditions: (viii.188)
Inflammation and the bacterial infections associated with gingivitis and tooth decay may all play a synergistic role in these risks. The good news is that clinical studies demonstrate that turmeric's antioxidant, antiseptic, and anti-inflammatory properties can help treat gingivitis. (viii.187-188)
Clinical Evidence that Turmeric Can Help Treat or Prevent Gum Disease
Turmeric gel was tested in a clinical trial involving 30 patients with severe gum pockets (depth of 5-7 mm). The gel contained 2% whole turmeric and was applied to gum pockets after scaling and root planing. The gum pockets where the gel was used showed significantly better results than sites without the gel treatment. (viii.187)
The turmeric gel helped the gum pockets heal and close up faster, with less plaque and bleeding, then treatment by scaling and planing alone. The control sites not treated with turmeric also had significantly lower microbial levels 30 and 45 days after treatment. However, the turmeric-gel reduced the levels of disease-causing bacterial organisms in far less time and to much lower levels. (viii.187)
Turmeric Compounds Help Inhibit Inflammation and Bacteria in the Mouth
Studies show that many of the compounds in turmeric demonstrate antimicrobial activity against bacteria that cause cavities and periodontitis. For example, turmeric's curcumin compounds may actually prevent the bacterial biofilm from sticking to teeth. (viii.190)
Many turmeric compounds have anti-inflammatory effects. Some can also boost how well the immune system works by modulating, or helping to regulate, the immune system response. Immunomodulating substances could help the inflammatory immune response triggered by bacterial plaque. (viii.34, 189)
Join the 1000s of People Who Are Discovering the Benefits of Turmeric.
---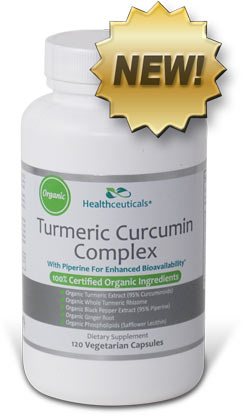 Healthceuticals® Turmeric Curcumin Complex
100% Certified
Organic ingredients
Organic Turmeric Extract - standardized to 95% curcuminoids.
Organic Whole Turmeric - provides full spectrum antioxidant, anti-inflammatory turmeric benefits, including turmerones and numerous vitamins, minerals, and phytonutrients
Organic Black Pepper Extract - standardized to 95% piperine; dramatically enhances bioavailablity.
Organic Phospholipids - markedly improve absorption.
Organic Ginger - works synergistically with turmeric to provide more powerful benefits.
Absolutely FREE of potentially harmful additives and fillers such as magnesium stearate.