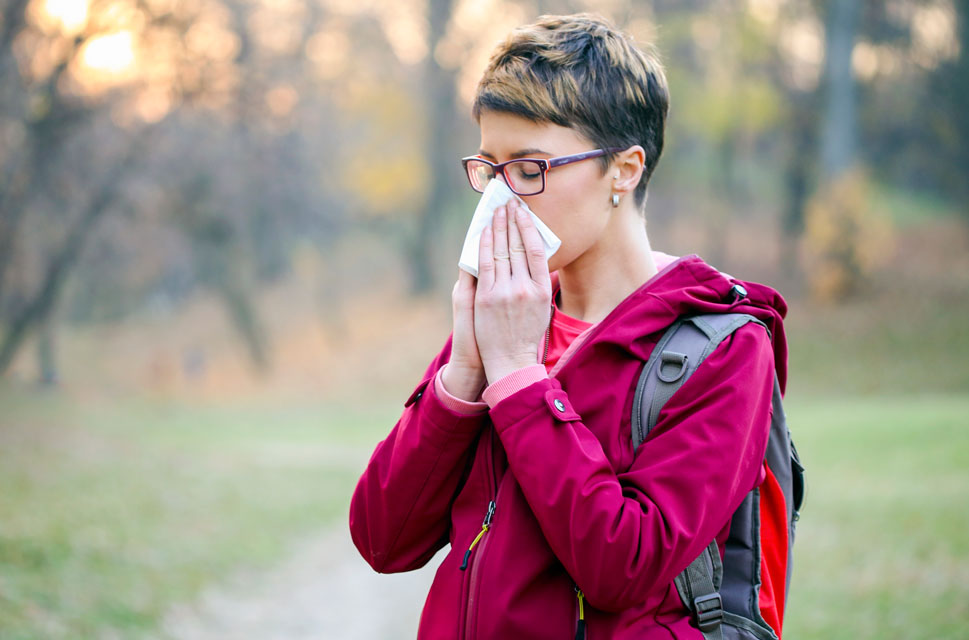 Prevent and Treat Common Respiratory Infections with Turmeric
Turmeric and its compounds have antibacterial and antiviral properties that could help prevent and treat upper respiratory infections. These infections can affect the eyes, ears, nose, sinuses, throat, and lungs. (v.18, 23)
Some of the bacteria and viruses that cause upper respiratory infections include:
Pathogens that Cause Common Respiratory Infections
PATHOGEN
WHAT IT IS

Moraxella catarrhalis

M. catarrhalis is a type of bacteria that causes upper respiratory infections. Mouth sores are frequently a side effect of cancer therapy. Cancer patients with them are susceptible to M. catarrhalis invasion through the inflamed sores. (v.32, 140)

Paramyxoviridae

Commonly known as human parainfluenza viruses, HPIVs cause common colds and sore throat symptoms. However, repeated infection by HPIVs can cause more serious diseases such as pneumonia and bronchitis. (v.141)

Haemophilus influenzae

H. influenzae are bacteria that cause upper respiratory infections, especially in children. These include infections of the: (v.18, 142, 143)

H. influenzae also cause urinary tract infections, vaginitis, and pneumonia. (v.18)

Serratia marcescens

Gram-negative type of bacteria that cause upper respiratory and urinary tract infections, usually in hospital patients. Respiratory infections caused by S. marcescens include pneumonia. (v.109, 144)

S. marcescens infections occur more frequently in men. In heroin addicts, these infections can also cause serious inflammatory infections in the heart and bones. (v.109, 144)

Klebsiella pneumoniae

An opportunistic bacterium that causes infections in people with weakened immune systems. One of the more serious infections K. pneumoniae causes is pneumonia. (v.23)
How Can Turmeric Help?
Turmeric and its compounds have antibacterial and antiviral effects against some of the microbes that cause upper respiratory infections. In addition, turmeric compounds have beneficial properties typically not found in conventional antimicrobial drugs. These can also help prevent and treat the flu, common cold, pneumonia, sinusitis, and ear infections: (v.9, 145)
Turmeric Properties that Help Respiratory Infections
PROPERTY
WHY IS IT IMPORTANT?

Psychological stress is linked to decreased ability to resist infection. (

v

.146)
Research links chronic stress to significantly reduced immune function and greater risk for upper respiratory tract infections. (

v

.146)
Turmeric Compound Activity
Many of turmeric's polyphenol and flavonoid compounds individually have a number of beneficial properties that could help prevent infections. Some have properties that may also relieve the symptoms from cold and flu bacteria and viruses. These include:
Turmeric Compounds that Can Help with Respiratory Infections
COMPOUND
ANTI-
BACTERIAL
ANTI-
INFLAMMATORY
ANTI-
OXIDANT
ANTIVIRAL
BREAKS
UP MUCUS
COUGH
SUPPRESSANT
NASAL
DECON-
GESTANT
SORE
THROAT
RELIEF

1,8-CINEOLE (v.71, 73, 153-155)

♦
♦
♦
♦
♦
♦
♦
♦
♦
♦
♦
♦

α-TERPINEOL (v.75, 81)

♦
♦
♦
♦
♦
♦

CAFFEIC ACID (v.71, 75, 83, 156)

♦
♦
♦
♦
♦
♦
♦
♦
♦
♦
♦

γ-TERPINENE (v.71, 73, 75)

♦
♦
♦
♦
♦
♦
♦
♦
♦
♦
♦
♦
♦
♦
♦
♦
♦
♦
♦
♦
♦

VANILLIC ACID (v.71, 75)

♦
♦
♦
Evidence of Benefit
Join the 1000s of People Who Are Discovering the Benefits of Turmeric.
---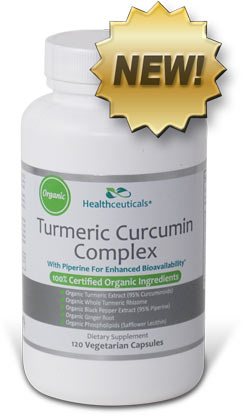 Healthceuticals® Turmeric Curcumin Complex
100% Certified
Organic ingredients
Organic Turmeric Extract - standardized to 95% curcuminoids.
Organic Whole Turmeric - provides full spectrum antioxidant, anti-inflammatory turmeric benefits, including turmerones and numerous vitamins, minerals, and phytonutrients
Organic Black Pepper Extract - standardized to 95% piperine; dramatically enhances bioavailablity.
Organic Phospholipids - markedly improve absorption.
Organic Ginger - works synergistically with turmeric to provide more powerful benefits.
Absolutely FREE of potentially harmful additives and fillers such as magnesium stearate.