Topical and Dietary Turmeric for Pregnancy Ailments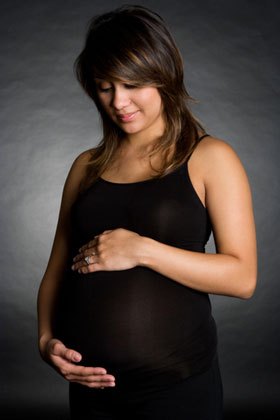 Medical experts do not recommend taking medicinal doses of turmeric while pregnant. (x.79)
However, dietary and topical turmeric may be beneficial both pre- and postpartum. For example:
Topically, turmeric can alleviate some discomfort related to pregnancy. (

x

.80)
Traditional herbalists use topical turmeric to help prevent stretch marks. (

x

.81)
Recent lab studies also suggest turmeric contains compounds with properties that may help prevent preterm labor and reduce risk factors for pre-eclampsia. (x.46, 62, 82)
Of course, if you're pregnant you should always consult with your own personal doctor or health practitioner first before taking supplements or making any dietary changes.
Topical Turmeric for Common Pregnancy Discomforts
Ayurveda medical practitioners, herbalists, and recommend the following:
Table X.13: Herbal Remedies for Pregnancy Care
Complaint
How to Prepare and Use

Swollen Feet and Ankles

Mix equal parts of turmeric and red sandalwood powders with water to make a paste and apply to swollen area. Be sure to avoid getting paste into the eye because it can cause irritation. (x.80)

Perineum Tears

In Malaysia, women apply a mixture of coconut oil, manjakani, nutmeg, and turmeric topically to the area to help heal tears in the perineum after childbirth. Manjakani extract can be purchased online. (x.81)

Hemorrhoids

Apply a paste of mustard oil, juice from an onion, and turmeric. (x.83)

Stretch Marks

In Malaysia, women use homemade herbal ointments after childbirth to help restore the uterus to pre-pregnancy size and reduce stretch marks. The most effective of these contain a mix of turmeric, tamarind juice, nutmeg, galangal root, ginger (red and white), betel leaf, and black cumin seeds. (x.81)

According to celebrity makeup artist Shalini Vadhera, women from India apply a turmeric paste on the stomach during pregnancy to help prevent stretch marks. You can try making your own at home. Simply mix a tablespoon of turmeric with a cup of plain yogurt, apply to the stomach, and rinse after 10-15 minutes. (x.84)

Caesarean Scars

In a placebo-controlled clinical trial, women who had a caesarean section were randomly assigned to use a turmeric-based cream or a placebo cream on the C-section wound. Those who used the turmeric cream had significantly better healing of their C-section scars. (x.137)
Preventing Preterm Delivery
Could anti-inflammatory turmeric compounds help prevent preterm childbirth? According to recent lab studies, it's possible. (x.82)
Obstetricians believe that a large number of preterm births are caused by infections. Bacteria from the infection cause inflammation, which triggers uterine contractions: (x.82)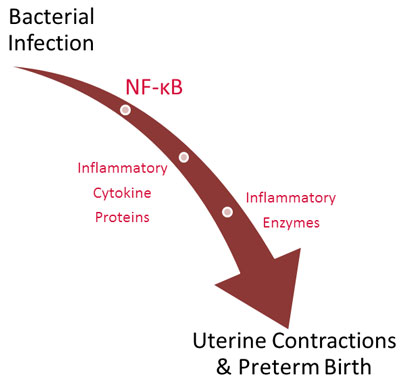 Lab studies show that turmeric's curcumin compounds block activation of NF-κB transcription factor proteins in the placenta and fetal membranes. In turn this reduces the cytokine proteins and MMP enzymes that cause labor-inducing inflammation. (x.82)
Turmeric also contains compounds that chelate iron (e.g., curcumin and quercetin). Excess iron is thought to contribute to pre-eclampsia, a risk factor for preterm delivery. (x.46, 62)
Also known as oak galls.
(

x

.81)
The innermost seed from the fruit of the evergreen tree
Myristica fragrans
.
(

ii

.15)
The innermost seed from the fruit of the evergreen tree
Myristica fragrans
.
(

ii

.15)
Zingiber officinale
.
(

ii

.15)
Alpinia galangal
.
(

ii

.15)
Tamarindus indica
.
(

ii

.15)
First responders that trigger gene activity.
(

iii

.2)
Join the 1000s of People Who Are Discovering the Benefits of Turmeric.
---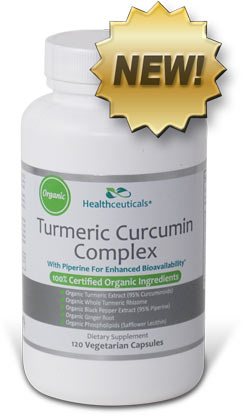 Healthceuticals® Turmeric Curcumin Complex
100% Certified
Organic ingredients
Organic Turmeric Extract - standardized to 95% curcuminoids.
Organic Whole Turmeric - provides full spectrum antioxidant, anti-inflammatory turmeric benefits, including turmerones and numerous vitamins, minerals, and phytonutrients
Organic Black Pepper Extract - standardized to 95% piperine; dramatically enhances bioavailablity.
Organic Phospholipids - markedly improve absorption.
Organic Ginger - works synergistically with turmeric to provide more powerful benefits.
Absolutely FREE of potentially harmful additives and fillers such as magnesium stearate.