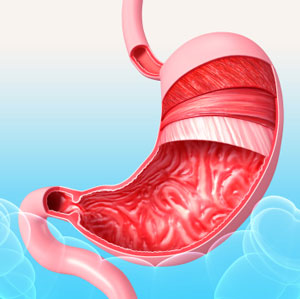 Natural Relief for Stomach Ulcers
Animal studies and some clinical trials in ulcer patients suggest that turmeric could help prevent stomach ulcers. However, clinical study results on the effectiveness of turmeric and its curcumin compounds in healing ulcers are mixed. Most do indicate that oral turmeric and curcumin supplements can help reduce symptoms. Some researchers suggest that curcumin could work well in combination with other conventional drugs to relieve ulcer symptoms. (vii.177, 178, 183)
How Does It Work?
Turmeric has anti-inflammatory properties that may help improve conditions that can cause stomach ulcer. The herb may also offer ulcer-healing benefits not found in effective anti-ulcer drugs (such as omeprazole). For example, turmeric's curcumin compounds help regulate the enzymes involved in ulcer wounds, reverse cell damage, and accelerate healing. The natural compounds in turmeric could also help resolve ulcers and/or relieve symptoms without the potentially toxic side effects of synthetic drugs. (vii.177, 179)
What Causes Ulcers?
Several different factors, usually in combination, are known to create both inflammation and an imbalance in the pH level in the stomach. These include: (vii.180, 181)
Ulcers occur in about 20% of those infected with

Helicobacter pylori

bacteria.

H. pylori

are able to survive in the hostile environment of the stomach because it forms a protective biofilm. Getting rid of

H. pylori

dramatically reduces the high risk of recurrence associated with ulcers where bacterial infection is present.
Nonsteroidal anti-inflammatory drugs (NSAIDs) cause adverse gastrointestinal effects (such as ulcers) in about 30% of adults using them.
Smoking, in combination with

H. pylori

infection, is linked to increased risk of ulcers.
Over 20% of people with a family history of ulcers develop them.
Hypotension and severe and/or traumatic illness (e.g., burns, brain tumor, spinal injury, and sepsis) are all associated with increased incidence of ulcers.
An abnormally pro-acidic environment, caused by these factors, promotes gastritis and peptic ulcers in the stomach lining. (vii.180)
Other possible risk factors for ulcers include:
Risks associated with ulcers can be severe or fatal, including hemorrhage. Treating gastritis by discontinuing use of NSAIDs and getting rid of H. pylori infection significantly reduces the risk of recurrence. (vii.180)
Can Turmeric Cause Ulcers?
There was one case study found of a woman who developed multiple ulcers and acid reflux while taking turmeric for osteoarthritis. The woman did not use NSAIDs and tested negative for H. pylori. Her doctors reported the turmeric supplements caused the ulcers and reflux symptoms. However, the vast majority of evidence on turmeric seems to contradict this finding for most people. (vii.177-179, 182)
Matrix metalloproteinases (MMPs).
(

vii

.177)
Join the 1000s of People Who Are Discovering the Benefits of Turmeric.
---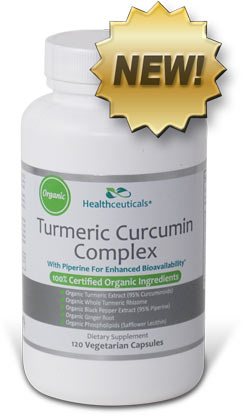 Healthceuticals® Turmeric Curcumin Complex
100% Certified
Organic ingredients
Organic Turmeric Extract - standardized to 95% curcuminoids.
Organic Whole Turmeric - provides full spectrum antioxidant, anti-inflammatory turmeric benefits, including turmerones and numerous vitamins, minerals, and phytonutrients
Organic Black Pepper Extract - standardized to 95% piperine; dramatically enhances bioavailablity.
Organic Phospholipids - markedly improve absorption.
Organic Ginger - works synergistically with turmeric to provide more powerful benefits.
Absolutely FREE of potentially harmful additives and fillers such as magnesium stearate.