Easy Microwave Pickles with Turmeric
A modern way to jar cucumber pickles spiced with garlic, dill, turmeric, cider vinegar, and hot pepper.
Servings: 2
Prep. Time: 15 minutes
Ingredients:
1 large cucumber or 4 pickling cucumbers, sliced thin
1 clove of garlic, peeled
1 small onion, sliced
3 heads of fresh dill or 1 tablespoon dried dill
1/8 teaspoon turmeric
½ cup apple cider vinegar
2 teaspoons sea salt
1-3 tablespoons sugar, to taste, optional
Directions:
Mix all ingredients in a microwave-safe bowl, and cook on high for 8-9 minutes or until pickles are proper consistency and onions are translucent.
Allow to cool, then transfer to an airtight container for storage in the refrigerator.
Note: This is not a canning method and will not keep as long as those that have been preserved by canning. However, the vinegar should allow refrigerator pickles to be safely stored in a cold refrigerator for up to a month.
Join the 1000s of People Who Are Discovering the Benefits of Turmeric.
---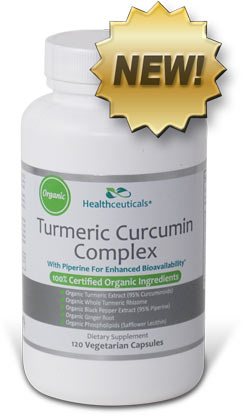 Healthceuticals® Turmeric Curcumin Complex
100% Certified
Organic ingredients
Organic Turmeric Extract - standardized to 95% curcuminoids.
Organic Whole Turmeric - provides full spectrum antioxidant, anti-inflammatory turmeric benefits, including turmerones and numerous vitamins, minerals, and phytonutrients
Organic Black Pepper Extract - standardized to 95% piperine; dramatically enhances bioavailablity.
Organic Phospholipids - markedly improve absorption.
Organic Ginger - works synergistically with turmeric to provide more powerful benefits.
Absolutely FREE of potentially harmful additives and fillers such as magnesium stearate.