Dhokla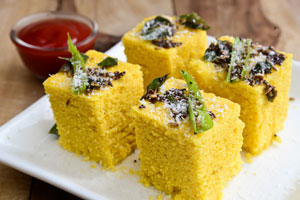 The secret behind making this bread fast is that it's steamed, not baked! Try this gluten-free, high-protein bread made with chickpea flour and yogurt spiced with black pepper, turmeric, brown sugar, and red chili peppers topped with fresh cilantro and grated coconut.
Serves: 8
Total Time:
Ingredients:
1 and 1/2 cups sifted gram (chickpea flour)

1 and 1/2 tablespoons fresh ginger, minced

1/4 teaspoon black pepper

1/4 teaspoon turmeric

Pinch of ground red chili pepper

3/4 teaspoon salt

1 teaspoon brown sugar

3 tablespoons oil

2/3 cup plain yogurt

1/2 teaspoon baking powder

1/2 teaspoon baking soda

3 tablespoons warm water

1/3 cup shredded coconut

3 tablespoons fresh cilantro, chopped

1/4 cup butter

1/2 tablespoon black mustard seeds
Directions:
In a bowl, mix together the gram, ginger, black pepper, turmeric, red chili pepper, salt, brown sugar, oil, and yogurt. Mix well.
Cover the bowl and leave it in a warm place for 4 hours.
Prepare an 8-inch baking pan by greasing it.
Place about an inch of water inside a pot in which the 8-inch baking pan will fit.
Place a trivet in the pot with water and bring the water to a boil
Mix the baking powder, baking soda, and warm water into the yogurt mixture. Once the batter begins to bubble, pour it into the cake pan.
Carefully lower the cake pan onto the trivet. Take care not to get burned by the steam; use long hot-mitts that cover your arms.
Cover the pot and steam for 8 minutes, then check bread for doneness with a toothpick.
Continue steaming until toothpick comes out clean.
Remove bread from outer pot, and allow to cool for 10 minutes, loosely covered, then remove from cake pan.
Sprinkle with coconut and cilantro.
In a small pan over medium heat, melt butter, and then add mustard seeds.
Stir until mustard seeds begin to pop, then pour butter mixture over dhokla.
Join the 1000s of People Who Are Discovering the Benefits of Turmeric.
---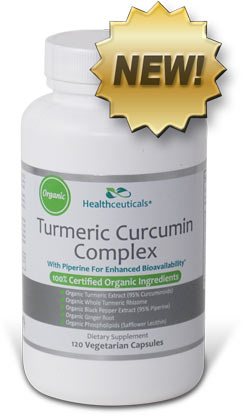 Healthceuticals® Turmeric Curcumin Complex
100% Certified
Organic ingredients
Organic Turmeric Extract - standardized to 95% curcuminoids.
Organic Whole Turmeric - provides full spectrum antioxidant, anti-inflammatory turmeric benefits, including turmerones and numerous vitamins, minerals, and phytonutrients
Organic Black Pepper Extract - standardized to 95% piperine; dramatically enhances bioavailablity.
Organic Phospholipids - markedly improve absorption.
Organic Ginger - works synergistically with turmeric to provide more powerful benefits.
Absolutely FREE of potentially harmful additives and fillers such as magnesium stearate.