Persian Stuffed Cabbage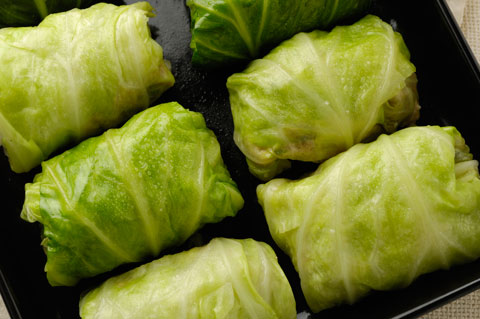 Cabbage stuffed with turmeric-flavored rice, red peppers, raisins, and onion.
Serves: 6
Total Time:
Ingredients:
1 large cabbage, washed and cored

2 tablespoons olive oil

1 onion, chopped

2-4 cloves fresh garlic, minced
1 small red pepper, chopped

1 teaspoon turmeric

1/2 pound lean ground beef

1 cup cooked rice

1/8 teaspoon cumin
1/4 teaspoon saffron threads, crumbled

1/4 cup chopped raisins or currants
For Sauce:
1 tablespoon olive oil

1 onion, sliced

1 tablespoons tomato paste
Directions:
In a large pot, bring about 8 cups of water and a pinch of salt to a boil.
Gently lower cabbage into water, return to boil, and cook 10 minutes.
Drain and allow to cool for a few minutes.
In a large skillet, heat 2 tablespoons oil over medium heat, then add chopped onion, garlic, red pepper, and turmeric, and sauté for 2-3 minutes.
Add ground beef, crumble, and cook until well done, with no pink left. Drain and set aside.
Remove leaves one at a time from cabbage and cut out the hard rib where necessary.
In a large bowl, combine ground beef, rice, cumin, saffron, and raisins or currants.
In a large pan, add 1 tablespoon oil and heat over medium heat.
Add sliced onions and sauté for 2-3 minutes.
Add tomato paste and 3 cups water, and bring to a simmer.
Add a scoop beef and rice mixture to center of a cabbage leaf and roll, repeating until stuffing mixture is gone.
Place cabbage rolls seam down in pan carefully, cover, and simmer for one hour.
Join the 1000s of People Who Are Discovering the Benefits of Turmeric.
---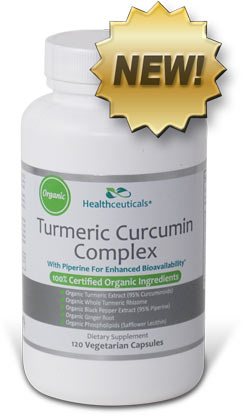 Healthceuticals® Turmeric Curcumin Complex
100% Certified
Organic ingredients
Organic Turmeric Extract - standardized to 95% curcuminoids.
Organic Whole Turmeric - provides full spectrum antioxidant, anti-inflammatory turmeric benefits, including turmerones and numerous vitamins, minerals, and phytonutrients
Organic Black Pepper Extract - standardized to 95% piperine; dramatically enhances bioavailablity.
Organic Phospholipids - markedly improve absorption.
Organic Ginger - works synergistically with turmeric to provide more powerful benefits.
Absolutely FREE of potentially harmful additives and fillers such as magnesium stearate.