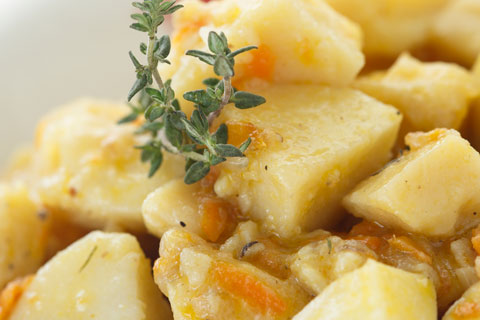 Kanchkolar Dom: Banana Stew
Try this delicious recipe for vegetarian stew made with turmeric, green bananas, chili peppers, potatoes, and onions over rice.
Prep Time: 30 minutes
Serves: 4
Ingredients:
Directions:
Peel bananas and slice about ½ inch thick.
Bring a pot of water to a boil, then add banana, salt, and turmeric.
Boil for 3 minutes.
Heat oil in medium pan.
Drain bananas, pat dry very well with paper towel, and add to oil. Cook until brown, flip, and cook other side until brown.
Remove bananas from oil and set aside.
Add onion, cinnamon, cardamom, cumin, and chili powder to oil. Stir fry 3-4 minutes.
Add potatoes and cook for 2 minutes.
Add bananas, sugar, lemon juice, and ½ cup water.
Cook over low heat for 5 minutes.
'
Serve hot with rice.
Join the 1000s of People Who Are Discovering the Benefits of Turmeric.
---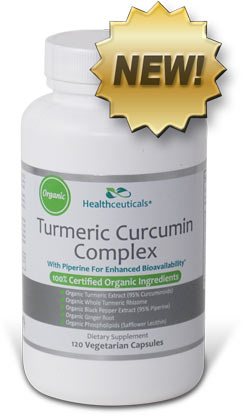 Healthceuticals® Turmeric Curcumin Complex
100% Certified
Organic ingredients
Organic Turmeric Extract - standardized to 95% curcuminoids.
Organic Whole Turmeric - provides full spectrum antioxidant, anti-inflammatory turmeric benefits, including turmerones and numerous vitamins, minerals, and phytonutrients
Organic Black Pepper Extract - standardized to 95% piperine; dramatically enhances bioavailablity.
Organic Phospholipids - markedly improve absorption.
Organic Ginger - works synergistically with turmeric to provide more powerful benefits.
Absolutely FREE of potentially harmful additives and fillers such as magnesium stearate.