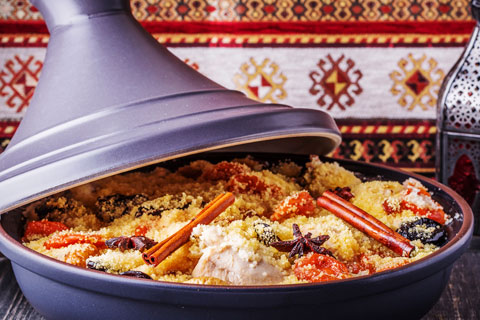 Moroccan Chicken Tagine
Savory chicken recipe baked with dried apricots and prunes and spiced with sautéed garlic, onions, turmeric, cardamom, ginger, cinnamon, black pepper, chicken broth, and a touch of honey (for the finishing touch garnish with fried almonds).
Prep Time: 90 minutes
Serves: 4
Ingredients:
8 ounces pitted prunes, diced
¼ teaspoon cinnamon
8 pieces of boneless, skinless chicken, including breast, thighs, wings, cut into bite-sized pieces
Salt, pepper, and cumin to taste
3 tablespoons olive oil
½ cup toasted almonds
1 large sweet onion, sliced
3-4 cloves garlic, minced
2 teaspoons cinnamon
1 teaspoon turmeric
1 teaspoon smoked paprika
1 teaspoon ground ginger
¼ teaspoon black pepper
1 tablespoon honey
¼ cup chicken stock
Directions:
Preheat oven to 350°.
Add prunes to a saucepan, cover with water, and add ½ teaspoon cinnamon.
Bring to boil, reduce heat, and simmer for 15-20 minutes, then remove from heat and drain.
Season chicken with salt, pepper, and cumin to taste, set aside.
Heat oil in heavy-bottomed pan over medium heat.
Add almonds to oil and sauté until golden brown, about 3-4 minutes. Remove and place on paper towel-lined plate.
Add prepared chicken to pan and brown on all sides. Remove from oil and place on paper towel-lined plate.
Add onion and garlic to pan and sauté until fragrant, 1-2 minutes.
Add remaining 6 ingredients, deglaze pan, and bring to a boil.
Turn heat down and simmer for 5 minutes.
Place chicken in oven-safe pan and surround with prunes.
Pour spice mixture over chicken and dried fruit.
Cover, and bake for 1 hour or until chicken is completely white all the way through.
Garnish with toasted almonds and lemon zest and serve.
Elettaria cardamomum
.
(

xii

.48)
Black pepper is the dried, unripe seed of the woody
Piper nigrum
vine, white pepper is the dried ripe fruit with the outer part removed.
(

xii

.48)
Join the 1000s of People Who Are Discovering the Benefits of Turmeric.
---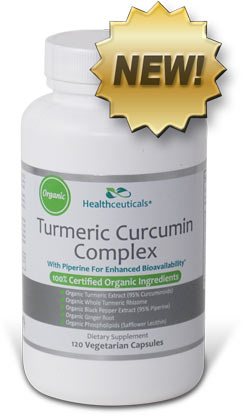 Healthceuticals® Turmeric Curcumin Complex
100% Certified
Organic ingredients
Organic Turmeric Extract - standardized to 95% curcuminoids.
Organic Whole Turmeric - provides full spectrum antioxidant, anti-inflammatory turmeric benefits, including turmerones and numerous vitamins, minerals, and phytonutrients
Organic Black Pepper Extract - standardized to 95% piperine; dramatically enhances bioavailablity.
Organic Phospholipids - markedly improve absorption.
Organic Ginger - works synergistically with turmeric to provide more powerful benefits.
Absolutely FREE of potentially harmful additives and fillers such as magnesium stearate.