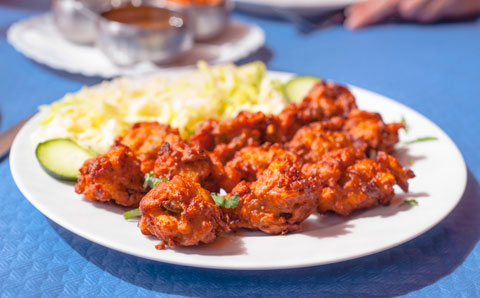 Chicken Pakoras
Spicy chicken nuggets recipe made with a batter combining garlic, ginger, chili powder, turmeric, garam masala#AD, coriander, and fresh chopped cilantro with chickpea flour#AD and lemon juice.
Prep Time: 30 minutes plus 2 hour marinate time
Serves: 4
Ingredients:
Directions:
In a bowl, mix together lemon juice and next 7 ingredients.
Add chicken to mixture and make sure all the pieces are covered.
Cover and refrigerate for 2 hours.
In a large bowl, mix together dry breading ingredients. Slowly add water, beating until smooth, until batter is the consistency of thick pancake batter.
Heat oil in deep fryer. Refer to deep fryer instructions to determine when oil is proper temperature. If it is too hot, it will burn.
Remove chicken from marinade. Dry with paper towel.
Dip a few pieces of chicken into batter and carefully add to oil. Cook for 2-3 minutes, then turn with tongs and cook an additional 5-8 minutes until crisp and golden. Watch constantly.
Remove chicken with a slotted spoon to a dish lined with paper towel to drain.
Working in batches, cook all chicken.
Serve hot.
* You can buy ginger garlic paste or make your own by mixing minced ginger and garlic and grinding to a paste in a food processor.
Join the 1000s of People Who Are Discovering the Benefits of Turmeric.
---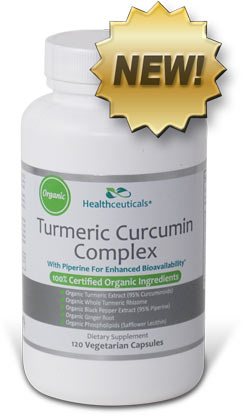 Healthceuticals® Turmeric Curcumin Complex
100% Certified
Organic ingredients
Organic Turmeric Extract - standardized to 95% curcuminoids.
Organic Whole Turmeric - provides full spectrum antioxidant, anti-inflammatory turmeric benefits, including turmerones and numerous vitamins, minerals, and phytonutrients
Organic Black Pepper Extract - standardized to 95% piperine; dramatically enhances bioavailablity.
Organic Phospholipids - markedly improve absorption.
Organic Ginger - works synergistically with turmeric to provide more powerful benefits.
Absolutely FREE of potentially harmful additives and fillers such as magnesium stearate.