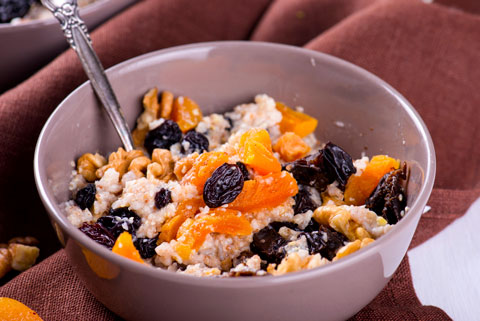 Moroccan Oatmeal
For a change of pace, try quick and easy Moroccan oatmeal. High fiber oats, dates, raisins, and dried apricots with turmeric, cinnamon, cardamom, and ginger makes a sweet and spicy combination that's loaded with antioxidants too.
Serves: 4
Prep Time: 20 minutes
Ingredients:
1 tablespoon butter or oil
2 cups oatmeal
1 tablespoon pine nuts
1/2 teaspoon turmeric
1 teaspoon cinnamon
½ teaspoon cardamom
½ teaspoon ginger
1 cup orange juice
2 cups water
¼ cup lemon juice or juice from 1 large lemon
½ cup dried apricots, diced
½ cup raisins
Directions:
Heat oil over low-medium heat.
Add oatmeal, pine nuts, and spices. Sauté until golden, about 2 minutes. Be careful not to burn.
Add orange juice, water, lemon juice, and dried fruit.
Bring to boil, then lower heat to simmer. Simmer 5-10 minutes until water is absorbed, stirring occasionally.
Remove from heat, cover, and let sit 5 minutes, then fluff with a fork and serve.
Elettaria cardamomum
.
(

xii

.48)
Citrus sinensis
and species of
C. aurantium
(sweet and bitter oranges).
(

xii

.48)
Join the 1000s of People Who Are Discovering the Benefits of Turmeric.
---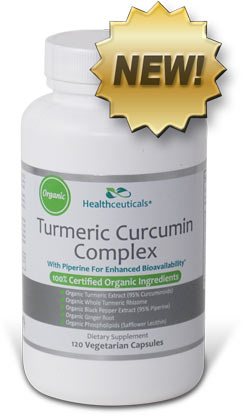 Healthceuticals® Turmeric Curcumin Complex
100% Certified
Organic ingredients
Organic Turmeric Extract - standardized to 95% curcuminoids.
Organic Whole Turmeric - provides full spectrum antioxidant, anti-inflammatory turmeric benefits, including turmerones and numerous vitamins, minerals, and phytonutrients
Organic Black Pepper Extract - standardized to 95% piperine; dramatically enhances bioavailablity.
Organic Phospholipids - markedly improve absorption.
Organic Ginger - works synergistically with turmeric to provide more powerful benefits.
Absolutely FREE of potentially harmful additives and fillers such as magnesium stearate.