Shakshuka with Turmeric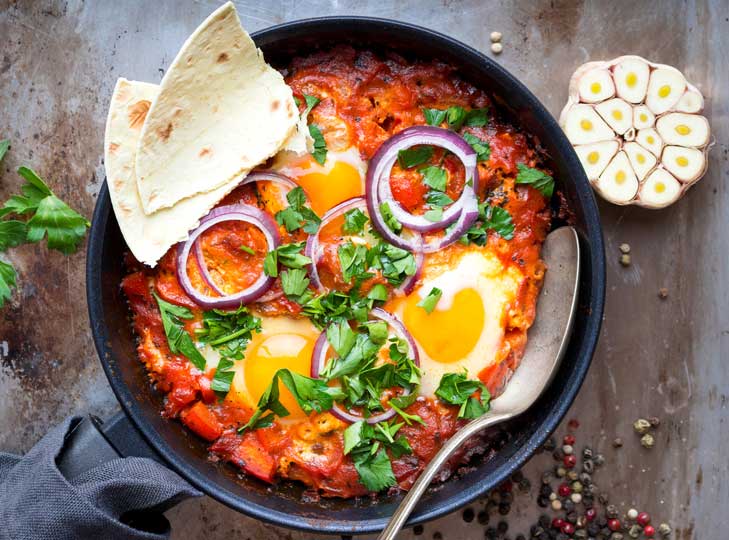 Shakshuka is loaded with good-for-you ingredients such as tomatoes, turmeric, green and hot pepper, onions, olive oil, and garlic, this Israeli egg dish is sure to spice up your day. The olive oil and black pepper will also enhance turmeric's bioavailability.
Prep Time: 40 minutes
Serves: 3
Ingredients:
2 tablespoons olive oil
4 cloves of garlic, minced
1 red bell pepper, diced
1 medium sweet onion, diced
1 teaspoon paprika, smoked or sweet according to your preference
1 teaspoon salt
1 teaspoon turmeric
1 teaspoon sugar
28-ounce can diced tomatoes, with juice
½ cup heavy cream or vegetable broth
6 large eggs
3 ounces feta cheese, crumbled, optional
Pita bread, warmed, optional
Directions:
In a large, broiler-safe skillet, heat olive oil over medium heat.
Add onions, garlic, and pepper, and cook until vegetables are soft, about 6 minutes.
Add paprika, ½ teaspoon salt, turmeric, sugar, and tomatoes. Cook for 10 minutes, stirring frequently.
Add heavy sauce or broth, simmer until thickened, about 10 minutes.
Preheat broiler.
Remove pan from heat.
Make 6 indentations in sauce, crack an egg into each one, and spoon some sauce over each.
Sprinkle ½ teaspoon salt on eggs. Add feta if desired.
Place pan on low heat, cover, and simmer 5-8 minutes, until whites are just set.
Remove lid, transfer skillet to oven under broiler, and cook until eggs are done, 1-3 minutes.
Serve with warm pita bread if desired.
Join the 1000s of People Who Are Discovering the Benefits of Turmeric.
---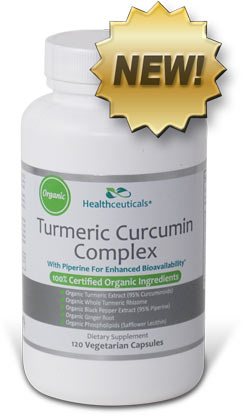 Healthceuticals® Turmeric Curcumin Complex
100% Certified
Organic ingredients
Organic Turmeric Extract - standardized to 95% curcuminoids.
Organic Whole Turmeric - provides full spectrum antioxidant, anti-inflammatory turmeric benefits, including turmerones and numerous vitamins, minerals, and phytonutrients
Organic Black Pepper Extract - standardized to 95% piperine; dramatically enhances bioavailablity.
Organic Phospholipids - markedly improve absorption.
Organic Ginger - works synergistically with turmeric to provide more powerful benefits.
Absolutely FREE of potentially harmful additives and fillers such as magnesium stearate.