Phytosterols
Table

II

.29: Phytosterols (

ii

.1, 15, 17, 34, 39, 46, 56, 80, 117,)
WHAT IS IT?
Phytosterols include beta-sitosterol and stigmasterol. These compounds are the cholesterol components of plants. Turmeric rhizome contains 1.804 mg of phytosterols per teaspoon of ground spice.
Other plants that contain beta-sitosterol and/or stigmasterol include alfalfa, almonds, asparagus, astragalus, avocado, cloves, damiana, dill, echinacea, fennel, ginkgo, ginseng, hawthorn, horse chestnut, hyssop, juniper berries, lemongrass, licorice root, lovage root, marjoram, myrrh, nettle, onions, passion flower, psyllium, saw palmetto, stevia, St. John's wort, valerian root, and yarrow. Research suggests that these herbs and vegetables also offer health benefits. These include helping to reduce stress, cellulite, causes of thinning hair, and even wrinkles.
POTENTIAL HEALTH BENEFITS
Studies indicate that phytosterols help reduce the amount of LDL cholesterol absorbed by the intestinal tract. This could reduce LDL cholesterol levels in the blood.
Lab studies show that beta-sitosterol blocks production of proteins that promote cancer growth in leukemia cell lines. Beta sitosterol also stops breast cancer cells from growing.
Beta-sitosterol and stigmasterol have anti-inflammatory, antioxidant, and sedative properties. These could help in treating snake bites. In fact, studies show both inhibit the venomous effects of bites from cobras, vipers, and the South American rattlesnake.
Join the 1000s of People Who Are Discovering the Benefits of Turmeric.
---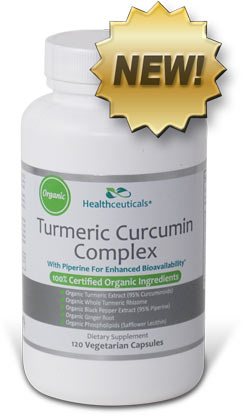 Healthceuticals® Turmeric Curcumin Complex
100% Certified
Organic ingredients
Organic Turmeric Extract - standardized to 95% curcuminoids.
Organic Whole Turmeric - provides full spectrum antioxidant, anti-inflammatory turmeric benefits, including turmerones and numerous vitamins, minerals, and phytonutrients
Organic Black Pepper Extract - standardized to 95% piperine; dramatically enhances bioavailablity.
Organic Phospholipids - markedly improve absorption.
Organic Ginger - works synergistically with turmeric to provide more powerful benefits.
Absolutely FREE of potentially harmful additives and fillers such as magnesium stearate.