Can Turmeric Help Prevent or Reverse Alzheimer's Disease?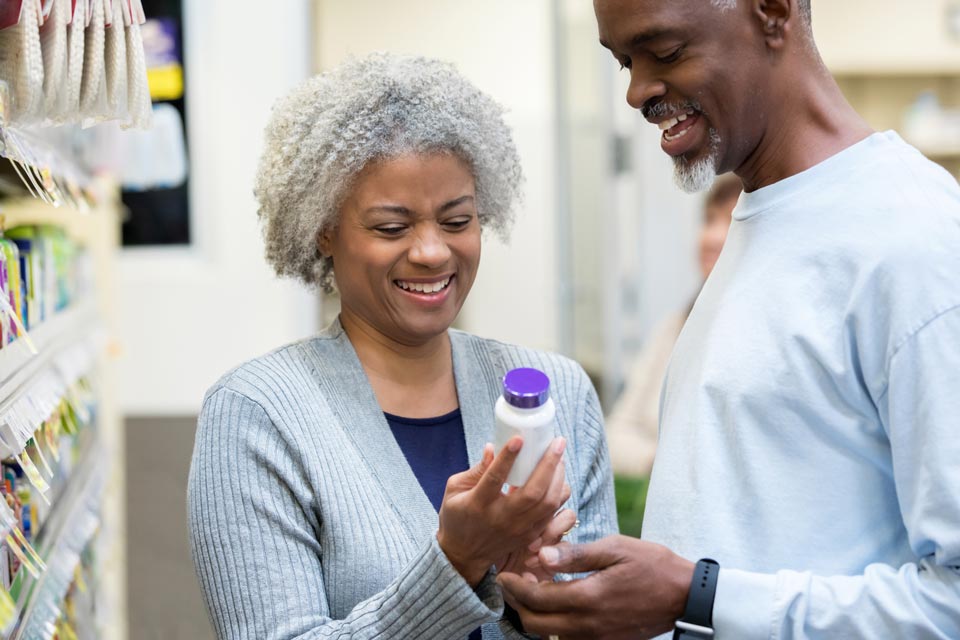 Alzheimer's disease is a neurodegenerative condition caused by multiple factors. It mostly occurs in the elderly, with genetics playing a role in early-onset Alzheimer's. There is no known cure for the disease, and it leads to dementia and eventually death. Alzheimer's disease specifically affects areas of the brain that control memory and the ability to think and learn. (iv.5, 49, 50)
Symptoms of Alzheimer's Disease
Some of the more common clinical signs of Alzheimer's disease include: (iv.5, 9, 49)
Memory loss that progressively worsens.
Impaired speech and problems with language (such as difficulty recalling the right word to use).
Mental confusion and loss of ability to make decisions.
Disorientation (even in familiar places).
Inability to do everyday activities.
Behavioral changes such as psychotic episodes, aggressiveness, and agitation.
Conventional Treatment Options Lacking
Currently conventional therapies only treat the symptoms. They can also come with some serious side effects. However, studies show turmeric works in multiple ways against Alzheimer's disease. Researchers suggest that with increased bioavailability, turmeric and curcumin could offer a safer and more effective treatment therapy for this primary cause of dementia. (iv.1, 3, 5, 45)
Evidence of Nutritional Brain Benefits of Turmeric from Asia
Comparing Rates of Alzheimer's Disease (

iv

.1, 3)

| | INDIA | UNITED STATES |
| --- | --- | --- |
| RATES OF ALZHEIMERS DISEASE (AGES 70-79) | 0.7% | 3.1% |
Medical researchers suggest the micronutrients in foods and spices could prevent, slow down, or reverse the development of Alzheimer's disease. Data on rates of Alzheimer's disease indicate that India has a much lower incidence of Alzheimer's than other countries with a typical Western diet (such as the United States). (iv.1, 3)
What's the dietary difference? People in India eat lots of turmeric and foods made with curry—a spice mixture composed of about 60% turmeric. Studies in other Asian countries also link a diet high in curry to better cognitive brain functioning in the elderly. Some researchers propose that turmeric could be the reason for lower rates of Alzheimer's disease where it's a dietary staple. (iv.34, 37, 38, 46, 49, 51)
In fact, evidence from lab, animal, and clinical research supports this theory. Turmeric may very well be a potent protector against this devastating disease. It has a combination of nutrients and plant compounds that support brain health with antioxidant, anti-inflammatory, and vitagene-activating properties. (iv.34, 36-38, 46, 49, 51)
Latest Clinical Evidence
Results of a recent long term clinical trial suggest that turmeric's curcumin compounds could help aging Americans as well. According to researchers at UCLA, daily supplements of optimized curcumin supplements may reverse mild memory loss and improve mood. (iv.185)
PET scans of the clinical study participants showed that curcumin also reduced amyloid and tau accumulation in the brain linked to Alzheimer's disease. (iv.186)
Genes and the proteins they produce (such as natural antioxidant enzymes and heat shock proteins) involved in maintaining healthy balance in cells during stressful conditions.
(

iv

.46)
Join the 1000s of People Who Are Discovering the Benefits of Turmeric.
---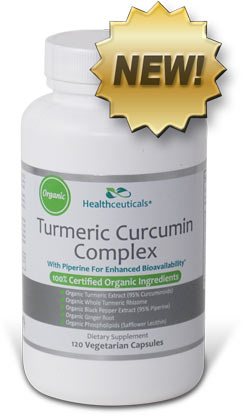 Healthceuticals® Turmeric Curcumin Complex
100% Certified
Organic ingredients
Organic Turmeric Extract - standardized to 95% curcuminoids.
Organic Whole Turmeric - provides full spectrum antioxidant, anti-inflammatory turmeric benefits, including turmerones and numerous vitamins, minerals, and phytonutrients
Organic Black Pepper Extract - standardized to 95% piperine; dramatically enhances bioavailablity.
Organic Phospholipids - markedly improve absorption.
Organic Ginger - works synergistically with turmeric to provide more powerful benefits.
Absolutely FREE of potentially harmful additives and fillers such as magnesium stearate.