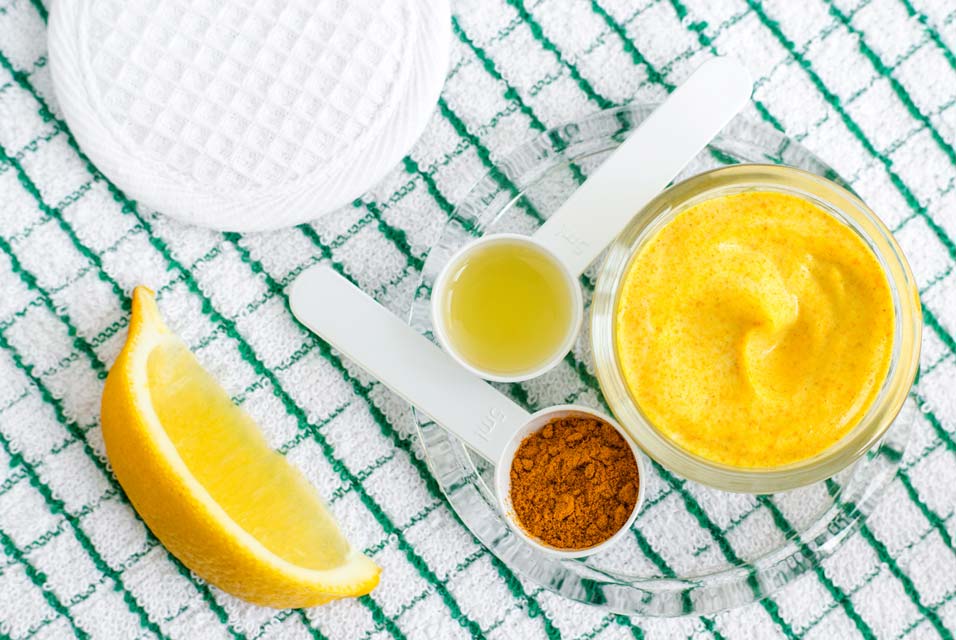 Homemade and Commercial Skincare Made with Turmeric
Turmeric is showing up as a powerful antioxidant and anti-aging ingredient in lots of cosmetic and personal care products. They can be found in specialty markets (such as Whole Foods Market) and natural, organic goods sections in larger grocery stores.
You can also try making your own skincare recipes at home with turmeric, or purchase products that contain turmeric compounds:
Turmeric Skincare Products You Can Make At Home
TYPE OF TREATMENT
RECIPE INGREDIENTS
SKIN TYPES & USES

FACE MASK (xi.81)

Mix together:

2 tablespoons powdered turmeric spice
2 tablespoons rice flour
Enough water to make a paste

Soothing.
Especially good for irritated skin.
Clean face and apply paste; wash off after 15-20 minutes.

ACNE TREATMENT

Remedy 1 (xi.82)

Mix together with enough milk to make a paste:

1 tablespoon chickpea or sandalwood flour
½ teaspoon turmeric powder
1 teaspoon mashed banana
Milk

Apply topically on pimples.
Once it's almost dry, rinse off.

ACNE TREATMENT

Remedy 2 (xi.82)

Mix to make a paste:

½ teaspoon turmeric powder
Few drops of coconut or sesame oil

Apply to pimples, avoiding hairline.
Leave on for 20 minutes and then rinse.

If the turmeric leaves a yellow stain, use milk on a cotton ball to remove coloring.

ACNE TREATMENT

Remedy 3 (xi.82)

Mix all ingredients together, adding enough rosewater to make a paste:

¼ teaspoon turmeric powder
¼ teaspoon of sandalwood powder
4-5 drops lemon juice
1 tablespoon of fuller's earth
Rosewater

Use at least once a week.
Rinse after it dries.

SKIN SMOOTHER (xi.83)

Mix together as a paste: (xi.83)

Pinch of powdered turmeric spice
Juice from ¼ lemon
1 teaspoon chickpea flour
1 teaspoon milk or cream

Massage face and neck skin lightly with paste.
Rinse with lukewarm water.
Use once a week.
Turmeric Skincare Products You Can Buy
Turmeric is growing in popularity in various skincare products. Look for them online or in the natural beauty and supplements sections of larger grocery stores.
Some turmeric skincare options include the following:
Commercial Skin Care Products with Turmeric
PRODUCT
USED FOR

Paula's Choice, Canada

Resist Super antioxidant concentrate serum

PRODUCT
USED FOR

Vicco® Turmeric Cream

Acne (including hormonal), according to user comments on Amazon.
Protection from UV photodamage. (

xi

.45)
Hyperpigmentation, according to Amazon reviews.

PRODUCT
USED FOR

Shaffali Facial Cleanser

PRODUCT
USED FOR

Isme Whitening Face Cream

Lighten skin.
UV protection.

PRODUCT
USED FOR

Clear Face Turmeric Cream

Clear up acne blemishes.
Anti-aging.
Also known as gram flour.
Join the 1000s of People Who Are Discovering the Benefits of Turmeric.
---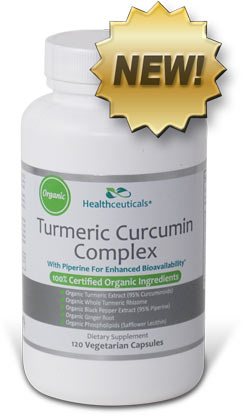 Healthceuticals® Turmeric Curcumin Complex
100% Certified
Organic ingredients
Organic Turmeric Extract - standardized to 95% curcuminoids.
Organic Whole Turmeric - provides full spectrum antioxidant, anti-inflammatory turmeric benefits, including turmerones and numerous vitamins, minerals, and phytonutrients
Organic Black Pepper Extract - standardized to 95% piperine; dramatically enhances bioavailablity.
Organic Phospholipids - markedly improve absorption.
Organic Ginger - works synergistically with turmeric to provide more powerful benefits.
Absolutely FREE of potentially harmful additives and fillers such as magnesium stearate.