Turmeric Lemon Dip (Vegan Mayonnaise)
Recipe by @sobodyuk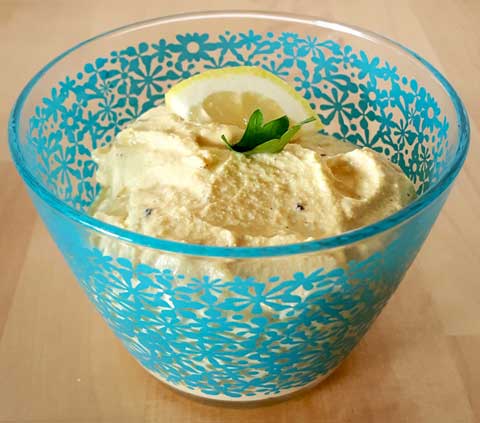 This dip is so easy to make; you can whip it up in minutes! It is creamy from tofu, fresh and tangy from lemon juice, has umami saltiness from miso paste and a gingery kick from turmeric.
What is more, it is incredibly good for you! It is high in protein and low in fat (principally from the base, tofu), contains probiotic miso paste and turmeric adds antioxidant and anti-inflammatory benefits.
To make the dip creamier and to boost the protein content, you can add some protein powder; vegan varieties like pea and soya bean work well, as does whey protein powder.
Try turmeric lemon dip as a deliciously healthy substitute for mayonnaise, requiring only a fraction of the amount of oil and so great for dieters and the health conscious. It is a great alternative to mayonnaise and works well with crudités, in sandwiches, with cold cuts, veggie sausages and burgers, fish and an accompaniment to salads. Being dairy-free, it is vegan too!
You can keep turmeric lemon dip in the refrigerator for 3 days.
Makes: 1 bowl (approx. 400ml)
Prep Time:
Ingredients:
1 plump garlic clove

½ lb tofu (silken works best)

2 tsp miso paste

1 tbsp protein powder (pea, soy or whey)

1 tbsp cider vinegar

½ tbsp extra-virgin olive oil

Juice from half a lemon

¼ tsp cayenne pepper or whole grain mustard or wasabi (all work well!)

½ tsp turmeric or vitalising superpowder*

Pinch of salt and pepper (to taste)
Optional: if you like things sweeter, add ¼ tsp stevia or coconut sugar or 1 date for sweetness.
* Vitalising superpowder: contains turmeric, raw goldenberry powder & raw coconut flour.
Directions:
Place all ingredients in a blender or food processor and whizz until you form a paste. If you like it runnier, add a tad more olive oil.
Serve!
Recipe by @sobodyuk
Join the 1000s of People Who Are Discovering the Benefits of Turmeric.
---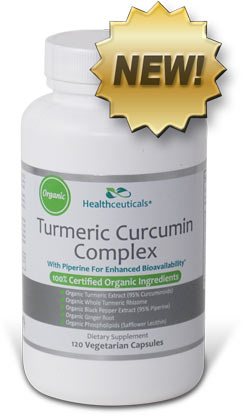 Healthceuticals® Turmeric Curcumin Complex
100% Certified
Organic ingredients
Organic Turmeric Extract - standardized to 95% curcuminoids.
Organic Whole Turmeric - provides full spectrum antioxidant, anti-inflammatory turmeric benefits, including turmerones and numerous vitamins, minerals, and phytonutrients
Organic Black Pepper Extract - standardized to 95% piperine; dramatically enhances bioavailablity.
Organic Phospholipids - markedly improve absorption.
Organic Ginger - works synergistically with turmeric to provide more powerful benefits.
Absolutely FREE of potentially harmful additives and fillers such as magnesium stearate.