Tofu Satay with Protein Peanut Sauce
Recipe by @sobodyuk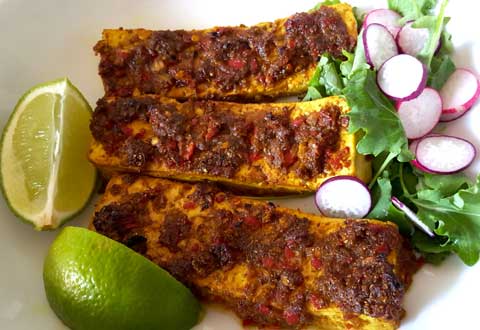 A delicious way to eat tofu.
Satay is an Indonesian dish where marinaded tofu/meat/paneer is simply skewered & grilled. Protein heaven! It is quick to make (under 15 mins), tasty & very easy. Not much effort is required to make a delicious healthy high protein, low carb meal.
Since tofu is rather delicate, I have chosen to cut thick tofu slices & not skewer them, but you can if you prefer.
To add even more protein to this dish I have added protein powder to the accompanying peanut sauce. Pulsin' soya protein, hemp & pea protein powders work well.
Serves: 2 (makes 6 tofu slices)
Prep Time: if manually chopping, 8 minutes if using a blender or food processor. Marinade 30 minutes-1hr (I sometimes marinade overnight)
Cook Time:
Ingredients:
Marinade:
2 lemongrass stalks, trimmed & finely chopped

3 tsp fresh root ginger, finely chopped
2 plump garlic cloves, peeled & crushed

1 red chili, deseeded if you like it less hot, finely chopped

1½ tsp ground cumin

2 tsp ground coriander

½ tsp ground turmeric

½ tsp honey or agave

3 tbsp tamari or soy sauce

1 tbsp rapeseed oil or olive oil
Peanut satay sauce:
½ cup sugar-free smooth peanut butter

½ cup coconut milk

¾ tbsp tamari or soya sauce

2 tsp lime juice

½ tsp chili flakes

1½ tbsp protein powder (Pulsin' soya, hemp & pea derived protein powder work well).

2 slices of chili, lime wedges
Directions:
If you are using wooden skewers, soak them for about 20-30 mins in cold water so that they do not burn when you cook the satay.
Make the marinade. Finely chop the lemon grass, ginger, chilies & mix with crushed garlic in a bowl. Add the ground cumin, coriander, turmeric, honey or agave, lime juice, tamari or soya sauce, rapeseed or olive oil. Alternatively, you can blitz this all in a food processor to form a paste.
Prepare the protein. Slice the tofu into thick slices about ½ inch thick (or cubes if you are skewering them).
Coat the tofu with the satay marinade for at least 30 minutes in the fridge.
To make the satay protein-enriched peanut sauce:
Put the peanut butter, coconut milk, chili flakes, tamari or soya sauce, lime juice & protein powder of choice into a small saucepan, & on a low heat melt the peanut butter & mix all the ingredients together to form a thick sauce. Pour into a bowl & decorate with 2 slices of fresh red chili.
Broil marinaded tofu slices for about 4-5 mins each side. (Note: these are also great on the barbecue).
Season with a twist of ground black pepper. Serve with warm protein peanut satay sauce, wedges of lime (the sharpness contrasts beautifully with the creaminess & spicy marinade) & salad. Makes a high protein great low carb snack or packed lunch when cool!
Recipe by @sobodyuk
Join the 1000s of People Who Are Discovering the Benefits of Turmeric.
---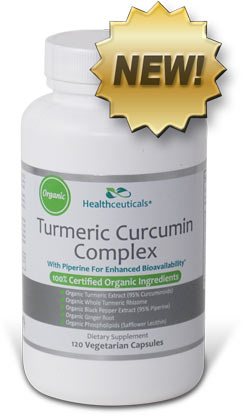 Healthceuticals® Turmeric Curcumin Complex
100% Certified
Organic ingredients
Organic Turmeric Extract - standardized to 95% curcuminoids.
Organic Whole Turmeric - provides full spectrum antioxidant, anti-inflammatory turmeric benefits, including turmerones and numerous vitamins, minerals, and phytonutrients
Organic Black Pepper Extract - standardized to 95% piperine; dramatically enhances bioavailablity.
Organic Phospholipids - markedly improve absorption.
Organic Ginger - works synergistically with turmeric to provide more powerful benefits.
Absolutely FREE of potentially harmful additives and fillers such as magnesium stearate.