Matzo Ball Soup with Turmeric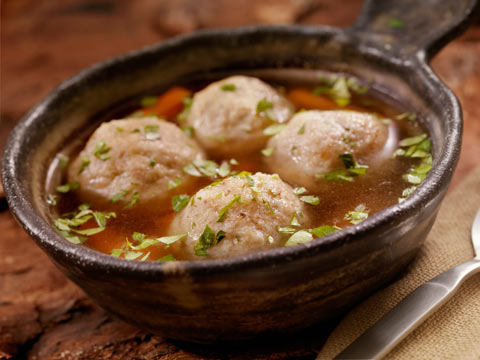 Matzo, also spelled Matza or Matzah, is an unleavened flatbread that is part of traditional Jewish cuisine and is featured in the Jewish Passover festival. Enjoy this warm, bright, herb-filled soup any time of the year, including Passover. When made with chicken broth, it makes a healthy chicken and turmeric soup as well.
Cook Time: plus chilling time
Makes: 8 servings
Ingredients:
1 cup

matzo meal

4

large eggs

2 tablespoons

olive oil

1 teaspoon

ground turmeric

2 teaspoons

ground coriander

1 teaspoon

freshly grated or ½ teaspoon ground ginger

½

onion, chopped

4 tablespoons

garlic, minced

2 teaspoons

kosher salt

2 teaspoons

baking powder

8 cups

of

water or chicken broth

Cilantro or parsley for garnish
Directions
Pulse onion and garlic in food processor to create a paste
Combine matzo meal, turmeric, coriander, ginger, onions, garlic, baking powder and 1 teaspoon salt in a bowl.
In separate bowl, whisk together eggs and oil.
Add dry ingredients to wet ones and mix until just combined.
Cover with plastic wrap and chill in the refrigerator for 2-24 hours.
Once chilled, roll into 1-2" balls (about 2 tablespoons of dough each)
Bring water or chicken broth and 1 teaspoon salt to a rolling boil in a large pot.
Drop balls into water and return to boil.
Lower heat to fast simmer and cook until centers of balls are done, about 40 minutes.
Serve matzo balls in some broth; garnish with parsley or cilantro.
Join the 1000s of People Who Are Discovering the Benefits of Turmeric.
---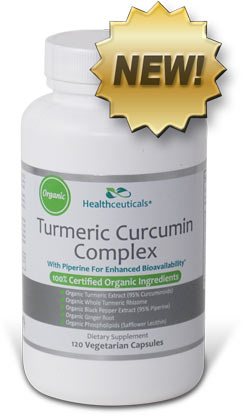 Healthceuticals® Turmeric Curcumin Complex
100% Certified
Organic ingredients
Organic Turmeric Extract - standardized to 95% curcuminoids.
Organic Whole Turmeric - provides full spectrum antioxidant, anti-inflammatory turmeric benefits, including turmerones and numerous vitamins, minerals, and phytonutrients
Organic Black Pepper Extract - standardized to 95% piperine; dramatically enhances bioavailablity.
Organic Phospholipids - markedly improve absorption.
Organic Ginger - works synergistically with turmeric to provide more powerful benefits.
Absolutely FREE of potentially harmful additives and fillers such as magnesium stearate.