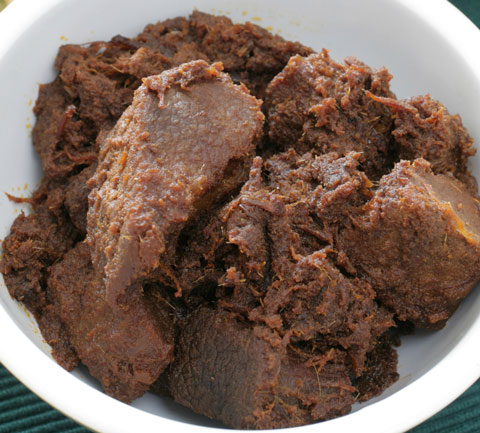 Beef Rendang
Try a spicy beef dish recipe made with turmeric leaf. The meat is prepared by sautéing cubes of beef (stew meat) in a base of coconut-milk, fresh turmeric leaf, lemon grass, ground turmeric, fresh chopped ginger, red chilies, and shallots, dried Thai ginger, and dried asam gelugar fruit. This may also be prepared with potatoes and peanuts.
Prep Time: about 2.5 hours
Serves: 6
Ingredients:
1 tablespoon turmeric, minced
⅓ cup toasted coconut flakes
1 tablespoon palm sugar
Salt, to taste
Directions:
In a food processor, combine chilies, onion, garlic, lemongrass, galangal, ginger, and 2 tablespoons oil. Process until a paste is formed.
Heat 1 tablespoon oil over medium heat in heavy-bottomed pan. Add beef and brown on all sides.
Remove beef from pan and set aside.
Decrease heat to medium-low, and add spice paste made in first step. Cook, stirring, for about 3 minutes.
Add beef and remaining ingredients. Bring to simmer, and then turn heat down to maintain slow simmer.
Cover and allow to simmer for 75 minutes.
Remove cover, increase heat to medium, and cook additional 30 minutes, stirring often, until liquid is reduced and beef is very tender.
Serve with rice.
Also called galangal.
Garcinia atroviridis.
Join the 1000s of People Who Are Discovering the Benefits of Turmeric.
---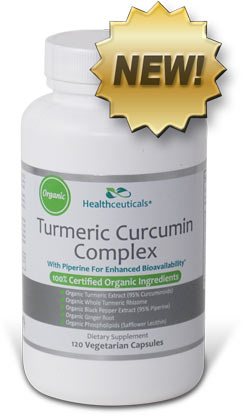 Healthceuticals® Turmeric Curcumin Complex
100% Certified
Organic ingredients
Organic Turmeric Extract - standardized to 95% curcuminoids.
Organic Whole Turmeric - provides full spectrum antioxidant, anti-inflammatory turmeric benefits, including turmerones and numerous vitamins, minerals, and phytonutrients
Organic Black Pepper Extract - standardized to 95% piperine; dramatically enhances bioavailablity.
Organic Phospholipids - markedly improve absorption.
Organic Ginger - works synergistically with turmeric to provide more powerful benefits.
Absolutely FREE of potentially harmful additives and fillers such as magnesium stearate.