Cauliflower Turmeric Steaks
Recipe by @sobodyuk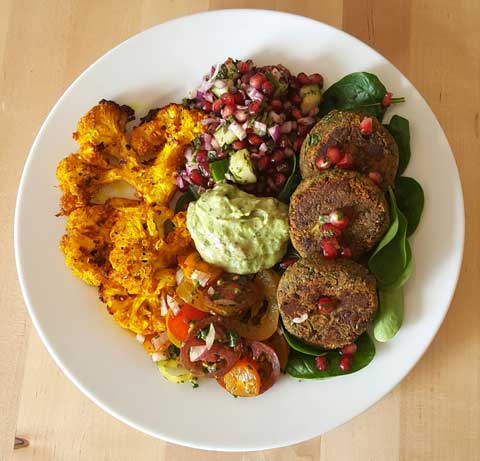 Meat-free steak night? Yes! Turmeric-roasted cauliflower steaks! By slicing cauliflower into thick slices, coating them in coconut oil & spices & roasting them, you have an easy, healthy (cheery yellow) low carb side dish. It is very easy to prepare, full of flavor & is a great way to get more veggies in.
Serves: 2
Prep Time:
Cook Time:
Ingredients:
Half a large head of cauliflower

1½ tbsp coconut oil, melted

1 tbsp ground turmeric

2½ fresh root ginger, finely chopped
2½ tsp garlic cloves, chopped finely
½ tsp chili flakes (fresh chopped chili is great if you have it!)

Juice of 1½ limes (lemon juice also works too!)

Salt & pepper
Directions:
Preheat the oven to 350ºF & line & grease a baking sheet with coconut spray oil.
Soak the cauliflower half in warm water for 10 mins. Invert on a tea (or dish) towel & allow excess water to drip away.
Slice the cauliflower into thick slices, approx. 1 inch thick.
Wearing gloves & in a shallow dish, mix together the melted coconut oil, turmeric, ginger, garlic, lemon (or lime juice) & a pinch of salt.
Dip & coat the cauliflower steaks on both sides in the turmeric sauce (a pastry brush may help). Place on the greased baking sheet & sprinkle with chili flakes (or fresh chopped chili) & a little ground black pepper
Bake in the pre-heated oven for 25-30 mins, when the cauliflower is soft (test with a fork) & golden brown. Enjoy!
Recipe by @sobodyuk
Join the 1000s of People Who Are Discovering the Benefits of Turmeric.
---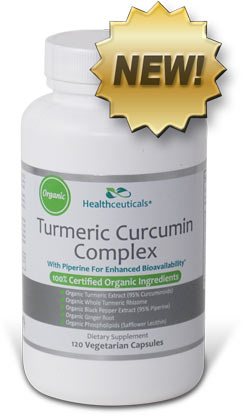 Healthceuticals® Turmeric Curcumin Complex
100% Certified
Organic ingredients
Organic Turmeric Extract - standardized to 95% curcuminoids.
Organic Whole Turmeric - provides full spectrum antioxidant, anti-inflammatory turmeric benefits, including turmerones and numerous vitamins, minerals, and phytonutrients
Organic Black Pepper Extract - standardized to 95% piperine; dramatically enhances bioavailablity.
Organic Phospholipids - markedly improve absorption.
Organic Ginger - works synergistically with turmeric to provide more powerful benefits.
Absolutely FREE of potentially harmful additives and fillers such as magnesium stearate.