Orange Chocolate Swirl Cake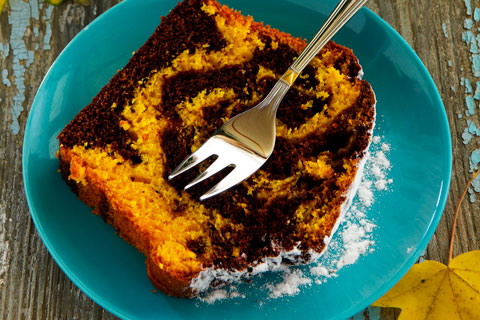 A moist chocolate butter cake made with turmeric for flavor and color.
Serves: 8-12
Total Time:
Ingredients:
1 and 1/4 cup orange puree: cooked pumpkin, orange squash, or sweet potatoes
1/2 cup milk, dairy or almonds

1/4 cup honey or maple syrup

3 tablespoons coconut oil

1 teaspoon fresh lime or lemon juice

1/2 cup sugar or 6 teaspoons powdered stevia
2 cups flour

2.5 teaspoons baking powder

1/4 teaspoon baking soda

1/4 teaspoon salt

3 teaspoons pumpkin pie spice

1 teaspoon ground turmeric and 1 teaspoon water, mixed together

3 tablespoons cacao powder, 1/2 teaspoon vanilla, and 2 tablespoons water, mixed together
Directions:
Preheat oven to 350° F.
In a small bowl, combine orange puree, milk, honey or maple syrup, coconut oil, lemon or lime juice, and sugar or stevia. Mix well.
In a second bowl, combine flour, baking powder, baking soda, salt, and pumpkin pie spice. Mix well.
Add dry ingredients to wet ingredients and mix well.
Divide the batter into two bowls.
To one bowl, add the turmeric mixed with water.
To the other bowl, add the cacao, vanilla, water mixture.
Into a greased loaf pan, pour alternating layers from the two bowls until batter is used up.
Bake for 60 minutes or until inserted toothpick comes out clean.
Join the 1000s of People Who Are Discovering the Benefits of Turmeric.
---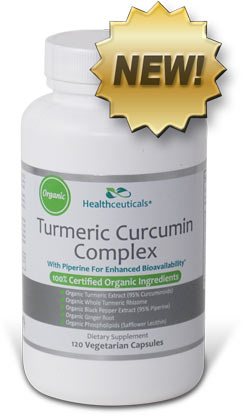 Healthceuticals® Turmeric Curcumin Complex
100% Certified
Organic ingredients
Organic Turmeric Extract - standardized to 95% curcuminoids.
Organic Whole Turmeric - provides full spectrum antioxidant, anti-inflammatory turmeric benefits, including turmerones and numerous vitamins, minerals, and phytonutrients
Organic Black Pepper Extract - standardized to 95% piperine; dramatically enhances bioavailablity.
Organic Phospholipids - markedly improve absorption.
Organic Ginger - works synergistically with turmeric to provide more powerful benefits.
Absolutely FREE of potentially harmful additives and fillers such as magnesium stearate.