Turmeric Groats and Eggs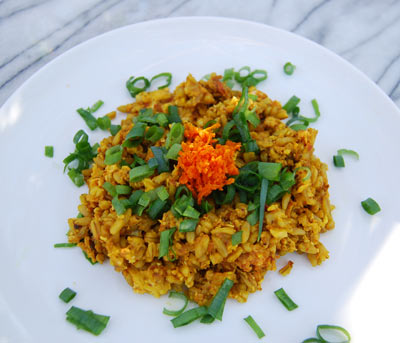 Oat groats are the hulled kernel of an oat grain, and they can be prepared as a healthy breakfast or snack. A great source of whole grains, they can be eaten plain, but they also make a wonderful base for adding many other nutritious ingredients. In this recipe, the spice turmeric, with its anti-inflammatory and antioxidant properties, and garlic, an excellent source of quercetin (with its anti-viral, immune-boosting, and antioxidant power) combine to make a delicious as well as nutritious breakfast.
Serves: 2
Prep Time:
Cook Time:
Ingredients:
1 cup cooked oat groats

#AD

, drained (Prepare as directed on package except substitute chicken broth for water and add 1/2 teaspoon organic tomato paste)

2 tablespoons organic coconut oil

1 teaspoon turmeric

2 cloves garlic, crushed, or 1/2 teaspoon dried garlic powder

2 whole eggs, whipped, or 1/2 cup egg whites

Green onions, chopped for garnish
Directions:
Heat coconut oil in a large sauté pan over low heat.
Add turmeric and garlic, and sauté for 1 minute.
Increase heat to medium, and add groats.
Cook until desired level of crunchiness is achieved.
Add egg or egg whites, and cook until set.
Use spatula to flip groats mixture over, and cook through.
Garnish with green onion, grated, fresh turmeric and serve.
Join the 1000s of People Who Are Discovering the Benefits of Turmeric.
---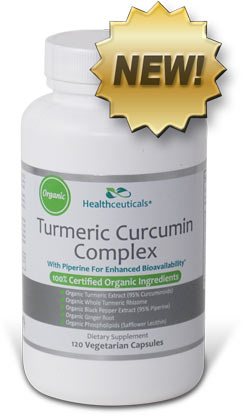 Healthceuticals® Turmeric Curcumin Complex
100% Certified
Organic ingredients
Organic Turmeric Extract - standardized to 95% curcuminoids.
Organic Whole Turmeric - provides full spectrum antioxidant, anti-inflammatory turmeric benefits, including turmerones and numerous vitamins, minerals, and phytonutrients
Organic Black Pepper Extract - standardized to 95% piperine; dramatically enhances bioavailablity.
Organic Phospholipids - markedly improve absorption.
Organic Ginger - works synergistically with turmeric to provide more powerful benefits.
Absolutely FREE of potentially harmful additives and fillers such as magnesium stearate.