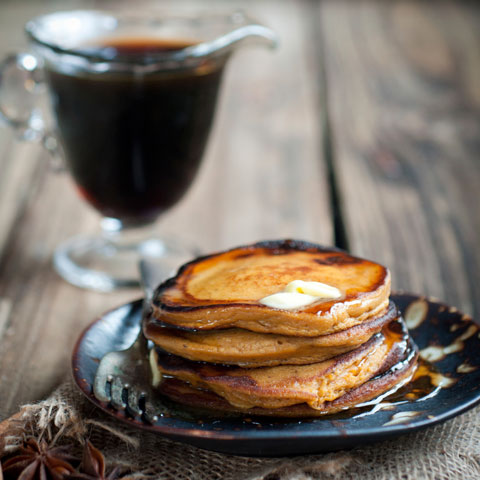 Sweet Potato Turmeric Chocolate Chip Pancakes
The odd combination of ingredients is surprisingly delicious in these sweet pancakes. Loaded with cancer-fighting foods such as turmeric, sweet potatoes, whole wheat, prunes, and dark chocolate, these pancakes pack a powerful antioxidant punch.
Prep Time: 15 minutes plus time to cook sweet potato
Serves: 4
Ingredients:
1 large sweet potato, cooked and mashed
1 cup flour of your choice
1 cup milk of your choice
1 ½ teaspoons baking powder
1 teaspoon turmeric
1 teaspoon vanilla extract
¼ cup dark chocolate chips
Directions:
Combine sweet potato, eggs, and milk, and whisk together.
In a separate bowl, combine flour, baking powder, salt, and turmeric. Mix together.
Add wet ingredients to dry and fold together.
Add vanilla and chocolate chips and combine.
Cook individual pancakes on heated, greased griddle over medium heat for about 4 minutes or until all bubbly on top.
Flip and cook an additional 2-3 minutes until done.
Join the 1000s of People Who Are Discovering the Benefits of Turmeric.
---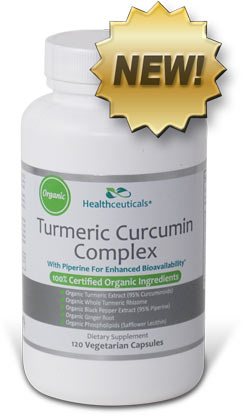 Healthceuticals® Turmeric Curcumin Complex
100% Certified
Organic ingredients
Organic Turmeric Extract - standardized to 95% curcuminoids.
Organic Whole Turmeric - provides full spectrum antioxidant, anti-inflammatory turmeric benefits, including turmerones and numerous vitamins, minerals, and phytonutrients
Organic Black Pepper Extract - standardized to 95% piperine; dramatically enhances bioavailablity.
Organic Phospholipids - markedly improve absorption.
Organic Ginger - works synergistically with turmeric to provide more powerful benefits.
Absolutely FREE of potentially harmful additives and fillers such as magnesium stearate.