Turmeric Roasted Garbanzo Beans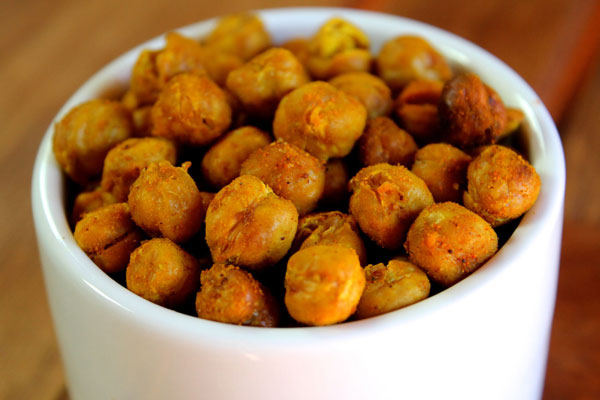 Garbanzo beans are infused with plenty of flavor in this versatile dish incorporating our favorite smoky spices, turmeric and cumin. Add a little cayenne and each bean becomes a flavor bomb perfect to satisfy cravings for salty, crunchy snacks. You can even throw a scoop on a salad to add protein and transform an otherwise average lunch.
Serves: about 4 cups
Prep Time:
Cook Time:
Ingredients:
Directions:
Preheat oven to 375 degrees Fahrenheit. In a colander, rinse the chickpeas thoroughly under cold running water. Drain well then pat dry using clean paper towels (or let dry for an hour or two on baking racks).

Tip: It is important that the garbanzo beans are dry so that the oil distributes easily. If not, you may end up with scorched beans.

Transfer the garbanzo beans to a large mixing bowl. Drizzle oil over and toss until evenly coated. In another small dish, combine the spices. Sprinkle over the beans and toss again until the seasoning is distributed well. Pour onto a cookie sheet and spread into a single layer. Bake until the beans are sizzling and golden brown, about 45 minutes.

Tip: If you don't bake the beans long enough, they won't have that satisfying crunch. Allow them to dry out a little so that the texture is right and they are no longer soft.

Serve warm as a side dish, or let cool for a protein-packed salad topper or a fun salty snack.

Tip: The roasted chickpeas can be stored in the refrigerator for up to 3 days. However, they may lose some of their crunch. If you want to enjoy them as a crunchy snack, it is best to devour them immediately upon cooling.
Notes:
*If your home is cold, the coconut oil may be in a solid form. In a microwave-safe dish, warm the coconut oil for 10 seconds or so, just until it has melted. Do not overheat or it may splatter.
Join the 1000s of People Who Are Discovering the Benefits of Turmeric.
---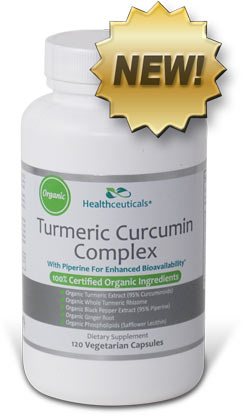 Healthceuticals® Turmeric Curcumin Complex
100% Certified
Organic ingredients
Organic Turmeric Extract - standardized to 95% curcuminoids.
Organic Whole Turmeric - provides full spectrum antioxidant, anti-inflammatory turmeric benefits, including turmerones and numerous vitamins, minerals, and phytonutrients
Organic Black Pepper Extract - standardized to 95% piperine; dramatically enhances bioavailablity.
Organic Phospholipids - markedly improve absorption.
Organic Ginger - works synergistically with turmeric to provide more powerful benefits.
Absolutely FREE of potentially harmful additives and fillers such as magnesium stearate.