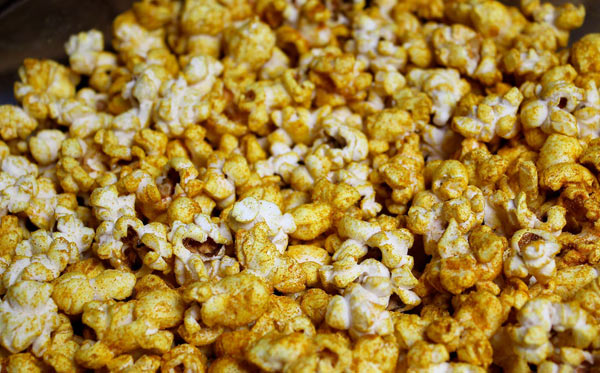 Savory Guilt-Free Popcorn with Turmeric
Move over, butter! Turmeric and nutritional yeast transform ordinary popcorn into an addicting, savory snack. Low in calories yet high in flavor, we promise you won't be able to put the bowl down. Don't worry—you can snack away without feeling guilty.
Serves: about 4 quarts
Total Time:
Ingredients:
½ cup

organic corn kernels

2 tablespoons

coconut oil

#AD

(could also use

avocado oil

#AD

or cooking oil of your choice)

1 tablespoon

nutritional yeast

½-1 ½ teaspoons

turmeric

¼-½ teaspoon

sea salt

¼-½ teaspoon

black pepper
Directions:
In a small dish, mix together yeast, turmeric, salt and pepper. Set aside.
Heat oil in a large pot over high heat. Add corn kernels and cover immediately.

Tip: It is best to use a lid with a small hole that allows steam to escape. If you do not, the steam may condensate on the inside of the lid then drip, causing soggy popcorn. If you don't have a lid with a hole, try lifting the lid a tiny bit every few seconds to let the steam out.

Give the pot a shimmy or shake every five seconds or so to make sure all kernels are coated in oil and pop evenly. When the pops begin to slow, remove from heat and set aside. When the popping has ceased, take off the lid and let cool.
Pour the popcorn into a large bowl. Adding just a little at a time, sprinkle the seasoning over the top then toss with clean hands. Continue until all seasoning has been evenly distributed.
Notes:
You may also prepare this recipe using a popcorn maker. Simply follow the directions for the appliance, then season per usual. An additional option is to prepare store-bought microwave popcorn. Make sure it is unsalted and unflavored (usually marketed as 'Light'). Prepare according to the directions then season as directed above.
If you really want to spice up your snack, add ¼ teaspoon cayenne pepper or ½ teaspoon granulated garlic. Try creating your own flavor twists to keep your mouth watering and your tummy happy. The options are endless.
Join the 1000s of People Who Are Discovering the Benefits of Turmeric.
---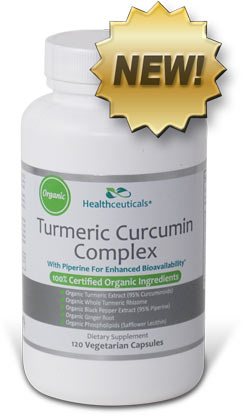 Healthceuticals® Turmeric Curcumin Complex
100% Certified
Organic ingredients
Organic Turmeric Extract - standardized to 95% curcuminoids.
Organic Whole Turmeric - provides full spectrum antioxidant, anti-inflammatory turmeric benefits, including turmerones and numerous vitamins, minerals, and phytonutrients
Organic Black Pepper Extract - standardized to 95% piperine; dramatically enhances bioavailablity.
Organic Phospholipids - markedly improve absorption.
Organic Ginger - works synergistically with turmeric to provide more powerful benefits.
Absolutely FREE of potentially harmful additives and fillers such as magnesium stearate.