Caramelized Fig Cake with Lemon Anglaise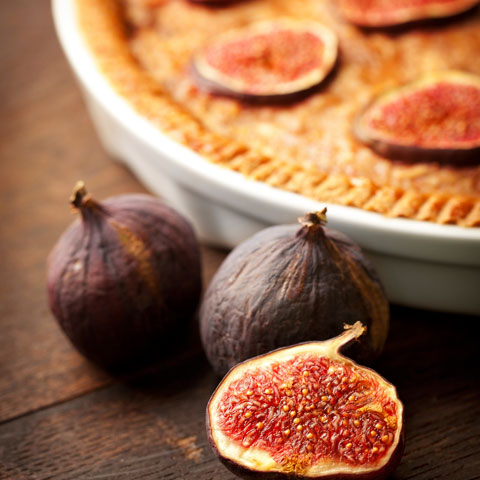 A lower carb delicacy with protein & fiber too.
Serves: 8
Total Time:
Ingredients:
For Fig Cake:
3 tablespoons avocado oil

1.5 teaspoons sugar

3 cups figs, sliced thin

1/4 cup almonds, sliced

1 and 1/4 cup flour

1.5 teaspoons baking powder

1/4 teaspoon baking soda

1 egg

1/4 teaspoon salt

1/2 cup coconut milk

5 tablespoons honey

1 and 1/2 teaspoons vanilla

1 and 1/2 tablespoons fresh-squeezed lemon juice

1 and 1/2 tablespoons dry red wine

Zest of 1 lemon
For Lemon Anglaise:
1 cup soy milk

1 cup coconut milk

1/4 cup honey

Zest of 1 lemon

2 teaspoons fresh-squeezed lemon juice

1/4 teaspoon vanilla extract

1/4 teaspoon lemon extract

1.5 teaspoons arrowroot or cornstarch

1 teaspoon turmeric

1 pinch salt
Directions:
For Fig Cake:
Heat oven to 350°.
Grease 9-inch cake pan and line with parchment paper, then grease again.
Sprinkle pan with sugar, then line with figs.
Grind almonds in food processor.
In a bowl, combine almonds, flour, baking powder, baking soda, egg, and salt. Mix together
In a separate bowl, combine milk, honey, avocado oil, vanilla, lemon juice, red wine, and zest. Whisk together.
Pour wet ingredients into dry ingredients and fold together until combined.
Pour into pan on top of figs.
Bake for 35-40 minutes or until toothpick inserted in center comes out clean.
Remove and let cool for 10 minutes, then remove from pan, being sure to remove parchment paper.
For Lemon Anglaise:
In a saucepan, combine all lemon anglaise ingredients and whisk together.
Heat on medium, stirring consistently, until simmering.
Simmer about 7 minutes, until thickened, and remove from heat.
Let cool for 10 minutes, then strain out lemon zest and place lemon anglaise in refrigerator.
Serve cake warm with cooled lemon anglaise spooned on top of each piece.
Join the 1000s of People Who Are Discovering the Benefits of Turmeric.
---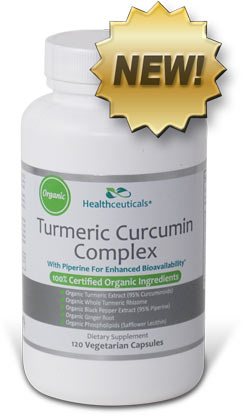 Healthceuticals® Turmeric Curcumin Complex
100% Certified
Organic ingredients
Organic Turmeric Extract - standardized to 95% curcuminoids.
Organic Whole Turmeric - provides full spectrum antioxidant, anti-inflammatory turmeric benefits, including turmerones and numerous vitamins, minerals, and phytonutrients
Organic Black Pepper Extract - standardized to 95% piperine; dramatically enhances bioavailablity.
Organic Phospholipids - markedly improve absorption.
Organic Ginger - works synergistically with turmeric to provide more powerful benefits.
Absolutely FREE of potentially harmful additives and fillers such as magnesium stearate.